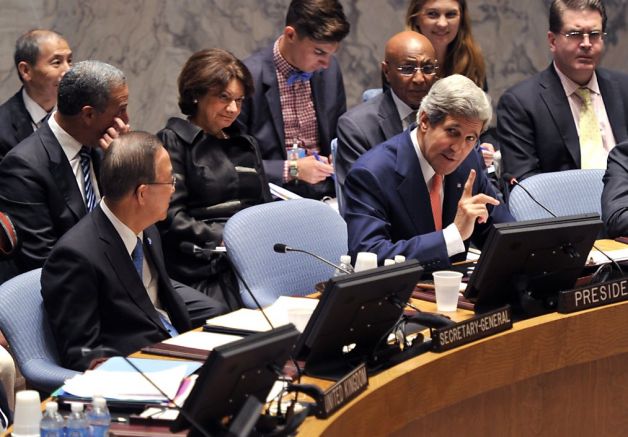 "Ukraine has been united by common disillusionment," Rybachuk explained to the Kyiv Post. "The country needs a more responsible citizenry to make the political elite more responsible."
Who could argue? Certainly not Rybachuk's Western backers. New Citizen consistently framed its democracy agenda as part of a greater integration within NATO, Europe, and the trans-Atlantic world. Rybachuk himself would head the "Civil Expert Council" associated with the EU-Ukraine Cooperation Committee.
Continuing to advise on "strategic planning," in May 2010 Pact encouraged New Citizen "to take Access to Public Information as the focus of their work for the next year." The coalition campaigned for a new Freedom of Information law, which passed. Pact then showed New Citizen how to use the law to boost itself as a major player, organize and train new activists, and work more closely with compliant journalists, all of which would seriously weaken the just-elected Yanukovych government. Part of their destabilization included otherwise praiseworthy efforts, none more so than the movement to "Stop Censorship."
"Censorship is re-emerging, and the opposition is not getting covered as much," Rybachuk told the Kyiv Post in May 2010. He was now "a media expert" as well as civic activist. "There are some similarities to what Vladimir Putin did in Russia when he started his seizure of power by first muzzling criticism in the media."
One of Rybachuk's main allies in "Stop Censorship" was the journalist Sergii Leshchenko, who had long worked with Mustafa Nayem at Ukrayinska Pravda, the online newsletter that NED publicly took credit for supporting. NED gave Leshchenko its Reagan Fascell Democracy Fellowship, while New Citizen spread his brilliant exposés of Yanukovych's shameless corruption, focusing primarily on his luxurious mansion at Mezhyhirya. Rybachuk's Center UA also produced a documentary filmfeaturing Mustafa Nayem daring to ask Yanukovych about Mezhyhirya at a press conference. Nothing turned Ukrainians – or the world – more against Yanukovych than the concerted exposure of his massive corruption. This was realpolitik at its most sophisticated, since the US and its allies funded few, if any, similar campaigns against the many Ukrainian kleptocrats who favored Western policy.
Under the watchful eye of Pact, Rybachuk's New Citizen developed a project to identify the promises of Ukrainian politicians and monitor their implementation. They called it a "Powermeter" (Vladometer), an idea they took from the American website "Obamameter." Funding came from theUS Embassy, through its Media Development Fund, which falls under the State Department's Bureau of Democracy, Human Rights, and Labor. Other money came from the Internews Network, which receives its funding from the State Department, USAID, the United States Institute of Peace (USIP) and a wide variety of other government agencies, international organizations, and private donors. Still other money came from Soros's IRF.
New Citizen and its constituent organizations then brought together 150 NGOs from over 35 cities, along with activists and journalists like Sergii Leschchenko, to create yet another campaign in 2011. They called it the Chesno Movement, from the Ukrainian word for "honestly. " Its logo was agarlic bulb, a traditional disinfectant widely believed to ward off evil. The movement's purpose was "to monitor the political integrity of the parliamentary candidates running in the 2012 elections."
This was a mammoth project with the most sophisticated sociology. As expected, the Chesno monitoring found few honest politicians. But it succeeded in raising the issue of public integrity to new heights in a country of traditionally low standards and in building political interest in new areas of the country and among the young. The legislative elections themselves proved grim, with President Yanukovych's Party of the Regions taking control of parliament.
What then of all New Citizen's activism, monitoring, campaigning, movement-building, and support for selective investigative journalism? Where was all this heading? Rybachuk answered the question in May 2012, several months before the election.
"The Orange Revolution was a miracle, a massive peaceful protest that worked," he told Canada's Financial Post. "We want to do that again and we think we will."
He Who Pays the Piper
Rybachuk had good reason for his revolutionary optimism. His Western donors were upping the ante. Pact Inc. commissioned a financial audit for the Chesno campaign, covering from October 2011 to December 2012. It showed that donors gave Rybachuk's Center UA and six associated groups some $800,000 for Chesno. PACT, which regularly got its money from USAID, contributed the lion's share, $632,813, though part of that came from the Omidyar Network, a foundation set up by Pierre and his wife.
In a March 12th press release, the network tried to explain its contributions to Rybachuk's Center UA, New Citizen, and the Chesno Movement. These included a two-year grant of $335,000, announced in September 2011, and another $769,000, committed in July 2013. Some of the money went to expand Rybachuk's technology platforms, as New Citizen explained.
"New Citizen provides Ukrainians with an online platform to cooperatively advocate for social change. On the site, users can collectively lobby state officials to release of public information, participate in video-advocacy campaigns, and contribute to a diverse set of community initiatives," they wrote. "As a hub of social justice advocates in Kiev, the organization hopes to define the nation's 'New Citizen' through digital media."
Omidyar's recent press release listed several other donors, including the USAID-funded Pact, the Swiss and British embassies, the Swedish International Development Cooperation Agency, the National Endowment for Democracy, and Soros's International Renaissance Foundation. The Chesno Movement also received money from the Canadian International Development Agency (CIDA).
Figures for fiscal year 2013 are more difficult to track. Washington's foreignassistance.govshows USAID paying PACT in Ukraine over $7 million under the general category of "Democracy, Human Rights, and Governance." The data does not indicate what part of this went to Center UA, New Citizen, or any of their projects.
What should we make of all this funding? Some of it looks like private philanthropy, as back in the days when the CIA channeled its money through foundations. Was the Soros and Omidyar money truly private or government money camouflaged to look private? That has to remain an open question. But, with Rybachuk's campaigns, it makes little difference. USAID and other government funding dominated. The US Embassy, through Pact, coordinated most of what Rybachuk did. And, to my knowledge, neither Soros nor Omidyar ever broke from the State Department's central direction.