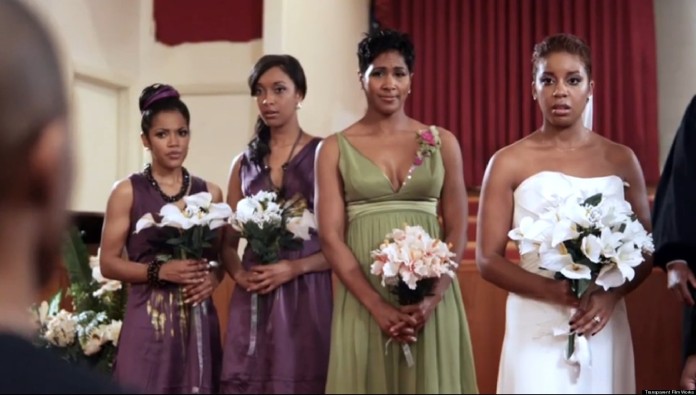 Director: Matthew Cherry
Written By: Reagan Gomez
Stars: Reagan Gomez, Michael Moss, Terri J. Vaughn, Barry Floyd, Sinorice Moss
Director Of Photography: Zubari Duniani
Edited By: Reginald Harrison
This film is dedicated to the men and women who have given their lives to protect our country. And their family members with whom their memory lives on — A soldier back from war tries to win the love of his life back before she marries another man.
This Time deals with the realities that many people have to face when an estranged loved one returns. Cheyenne (Reagan Gomez) loses her boyfriend, Kevin (Micheal Moss), to Military Relocation (a sorta Return-To-Unit), an all too familiar tale in the Military. But when Kevin returns from war, Cheyenne is engaged and about to wed another man at Bethlehem Church. She still loves Kevin but Kevin has to figure that out and rescue his long lost love, albeit with some help from Cheyenne's own sister, Janet (Terri Vaughn).
Just when you thought Kevin had finally rescued Cheyenne, you find out that she was day dreaming the whole former-fiancé –rescue-mission, right before her wedding. The sad part was that Kevin was actually dead.
Moving, is what I call it. Not because there was a dead man, but because This Time pushes you hard to want Cheyenne and Kevin to be together. So much so that when you realize that he was in fact dead, you want to weep not only for Cheyenne, but for the whole situation of war – why he had to die in a war? The philosophical and sociological interpretations continue to weigh down on you immediately.
Then, unlike most short films or movies where you turn off the rolling credits, you keep staring at the screen admiring what you have just witnessed. Wait a second, I didn't mean all that but I hope you get the gist.
This Time is a true work of art. It is brilliantly directed, it's simple, it's structured, it's shot very well and it has a story. It is a film that proves a point. That a short film is in fact a film – not part of a film, not a movie montage, certainly not a trailer, nor the beginning, middle or end of a film – it is a whole film!
Many amateur filmmakers fall victim to the shoddy believe that a short film is only a prelude to a feature film they might want to make in the future. Well, now you can take a look at This Time. Study it. And believe it, it will help you.
There's more. What This Time teaches the young filmmaker is also the art and technique of drawing its audience into the movie and telling a cohesive story.
Immediately, we are drawn into the movie when the camera drones behind the sexy bottom frame of a hottie in a beautifully lit bar. She turns onto a staircase and the camera kinda loses her and we zoom into a bevy of ladies – here sits Cheyenne at her spinster party – giggling and chuckling gleefully to her friends, and making the bar light with joy. You want to visit this bar on your next visit to Atlanta. This is what I call a film – you feel as though you should be in there chilling with the characters.
From thence, the structure the script imposes on the story makes it unravel at a pace you can't fight. You fall in tune with the characters, the beautiful Cheyenne, the handsome Kevin, the exquisite Janet, and all the others. It is an impressive piece of display of talent in acting. The direction and the cinematography are as pin-point as they come, neat and effective. They earn a huge applause.
So the advice This Time throws up to new directors and filmmakers is succinct – get an idea, work on it, polish it, several times, months or years if need be, get a script, make sure you work at it, get a crew, not your buddies – and go to work.
But, the young filmmaker might argue, 'what if I don't like a cohesive story, why slap structure on my story?' 'What if I want to get creative and make a short film about the emotional life of daffodils?'
True. Maybe you are not a conformist. But be careful that what may seem like pioneering may be merely evasion, or laziness – the disinclination to submit to the discipline of trusted and tested technique. Good filmmaking, like the one I have seen in This Time, is no cinch, and before you may have managed it, you will have encountered enough rough water to satisfy the fondest of your imaginations or even the most adventurous of spirits.
And if you still find space in your mind to not listen, then go ahead! Be a non-conformist. But don't be surprised when you get your feelings hurt the day your short film escapes your tiny Google+ circle. Because most of us, the public, love cohesive, three-act structured stories. We love films like This Time.
Watch it now.
Check out some more Black Short Films and Foreign Short Films here on FilmClique!
Memorable Mentions for This Time:
Film Festival Official Selections: Rincon International Film Festival, Boston international Film Festival, GI Film Festival, San Fransico Black Film Festival, Martha Vineyard African American Film Festival, Roxbury Interational Film Festival, Hawaii International Film Festival, Miami Short Film Festival.
Producer: Liberty Madison, Sinorice Moss, Quetaya Scott
Producers: Enitan Bereola, Portia Jenkins, Shauna Faith-Graham
Production Company: Cherry Entertainment in association with Liberty Madison Productions and Supremacy Films