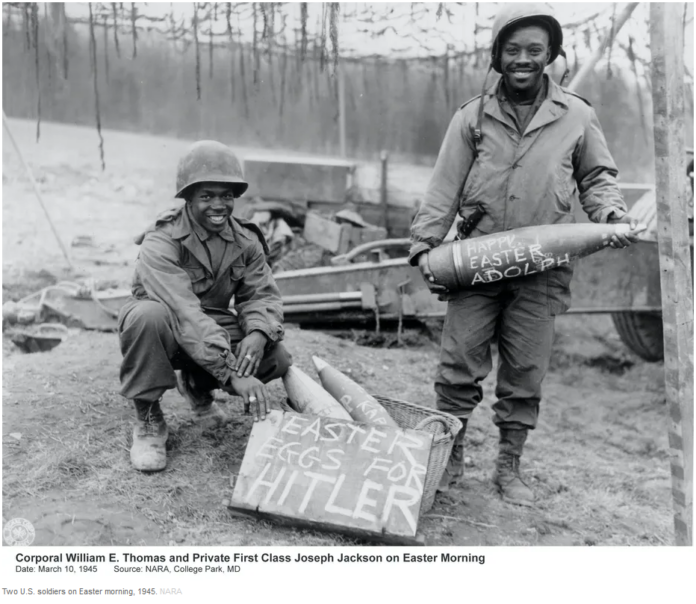 Fighting for Your Colonialists: Or the Irony of Saving Their Skin.
It is sad, even traumatic, that African American soldiers, who were suffering under US domestic colonialism, fought and died in WW2 to save the Nazi Elite from the Revenge-March of the Soviets, only to come home to the US and have Black Businesses and Black Communities wiped out by the Racist Policies of the Nazi Elites, who had fully integrated into the US Federal Government, by hook or crook.
Even Hollywood Filmmakers fully integrated Nazi filmmakers, who later argued against the integration of Black filmmakers in Hollywood (Book: "The Hollywood Jim Crow"). Everywhere that Nazi run-away cowards were integrated into American society, they in turn argued against policies that served any African American interests.
Worse, they enacted policies inimical to African American livelihoods! It is no wonder that you read about so many African American businesses and communities from Philadelphia through North Carolina to the California's in the 1930s and 40s, which were properly wiped out, torched and destroyed well after WW2.
Sad. Traumatic, and yet fascinating.
Why would the US Federal Government and oftentimes the State Governments employ or rather fully integrate into a racially-fraught American society, the run-away Nazi elite cowards from Germany after WW2? Why the Nazis and not the job-seeking, fully-employable, talented African Americans?
You see? Whiteness. European-ness. Eurocentrism! The Nazi represented the finest specimen of the Euro-American nightmare. Plain and simple. That's why German American businesses funded and bank-rolled the Nazi Regime in Germany in the first place, much to the detriment of funding and bankrolling the betterment of American society itself!
That's why! That's why Integration (the controversial Nazi idea of moving African Americans from their businesses and their communities to largely white ones) even, never worked. That's is why Segregation would not have worked either.
The Nazi-Germans had been imported into the United States en-mass after WW2 and nothing was going to stop them from fully integrating as Germans (the largest ethnicity in the US) in American society, and continuing in their Nazi, Anti-Black, Anti-African genocidal policies.
Think the State of Wisconsin alone, in order to begin drawing the picture. Think the War on Drugs and Mass Incarceration under Reagan and the Clintons proper, "The New Jim Crow" (by Michelle Alexander), i.e. under the new Nazi-German US Federal Government architecture!
And boy! You wonder why race relations in the United States after WW2 cannot get any better. You wonder why so-called Neo-Nazi groups in the United States are growing in number and strength.
Fighting for your colonialists is always a bad idea. A very bad idea. Of course, hindsight is clairvoyant. Sad. Traumatic, and yet a fascinating thesis in history.