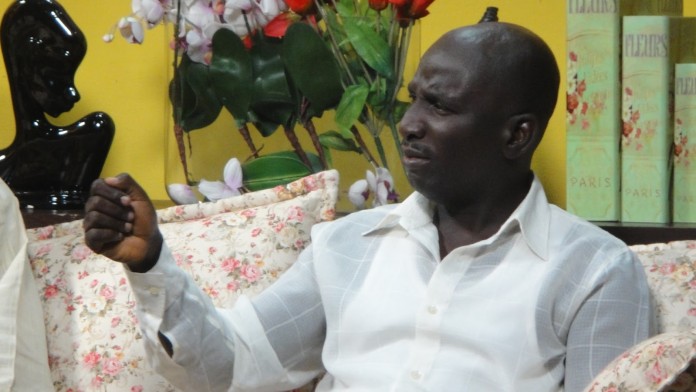 Yet again, the Ghanaian movie producer Socrates Sarfo has come under intense fire for his sexually explicit film What Sex Can Do. Socrates became notoriously known as the Hot Fork Man after his earlier movie, Hot Fork, garnered substantial controversial reviews by the Ghanaian and Nollywood public.
Meanwhile, Socrates himself is particularly adamant about his style – and his new movie, What Sex Can Do, coming up this April 18, sheds more light on his burly belief in his craft. He took a swipe at the Ghanaian media, accusing journalists and reviewers of being ignorant about the difference between a 'pornographic movie' and an 'erotic movie'.
He once called on Peace FM's Entertainment Review and claimed that while the Ghanaian media had classified Hot Fork as porn and taken him to the cleaners, a group of American Researchers had rated it as far from pornography.
While this may be true, the definition of pornography or porn is not as straightforward, even in the most advanced movie industries in Europe and America. Certainly the definition encompasses a portrayal of explicit sexual subject matter, all for the purposes of sexual excitement and/or erotic satisfaction.
That is how far the definition goes!
Censorship and legal restraints are all based on the grounds of obscenity. And the very definitions of what is or is not obscene' have differed in different historical, cultural, and national contexts.
This is where Socrates Sarfo locks horns with the Ghanaian public. What may classify, as sexually explicit material in the Ghanaian culture today may be entirely different from that in Hollywood.
For example, in the USA, all the NC-17 movies released since 2005 have all managed to stay at the R rating at worst. In Canada, the R has the same conditions as an NC-17 movie in the USA. Granted Canada's 18A is the same thing as an American R, and for the most part if it's R in the USA, Canada gets the 18A. Blue Valentine (2010), Zach and Miri make a Porno (2008) and Eyes Wide Shut (1999) are some explicit examples of movies that managed to escape the NC-17 rating after vehement appeal hearings – when in Canada, there wasn't even a discussion – they were all rated 18A . Even some of the movies we see in the USA today in torture porn horror or in crude comedy, seem far more socially offending than what we put up with in the 80s.
So have the standards become more relaxed? Who's right? Socrates Sarfo or the Ghanaian public?
This question stands in the face of the fact that despite the Ghanaian public hullabaloo, Hot Fork has sold, as of February this year, some 80,000 plus copies and is still doing well on the Ghanaian market.
But that is not all. Socrates goes even further than just making a movie with sexually explicit material. One of his crew had this to say during the What Sex Can Do shoot:
We were on set shooting the movie and one of the actresses had to shave her pubic hair in front of the cameras but she was being dull so Socrates took the shaving stick and did it for her in front of the cameras.
A Ghanaian critic had this to say:
It is not clear why any particular actress will open her vagina for Socrates to shave… but it's dirty, it's un-Ghanaian, un-African.
You can read the rest of that controversy HERE.
It is not surprising that the controversial producer Socrates has not yet succumbed to the incessant insults on his character. Why? Socrates has a way of beating the Ghana Censorship Board though it is still not clear whether What Sex Can Do will go through this time around.
Perhaps with the emergence of social attitudes more tolerant of sexuality in Ghana and with more explicit definitions of obscenity in Ghanaian Film Laws, an industry for the production and consumption of pornography can arise and become Socrates Sarfo's eternal niche. But until then, his movies will continue to draw public outcry and uproars.
However, his brawn needs commendation. If the Ghanaian media's bashing is doing anything at all, it is only helping Socrates Sarfo build an empire! Talk may be cheap, but the more talk, the more copies of Hot Fork and What Sex Can Do Mr. Sarfo will seem to sell!