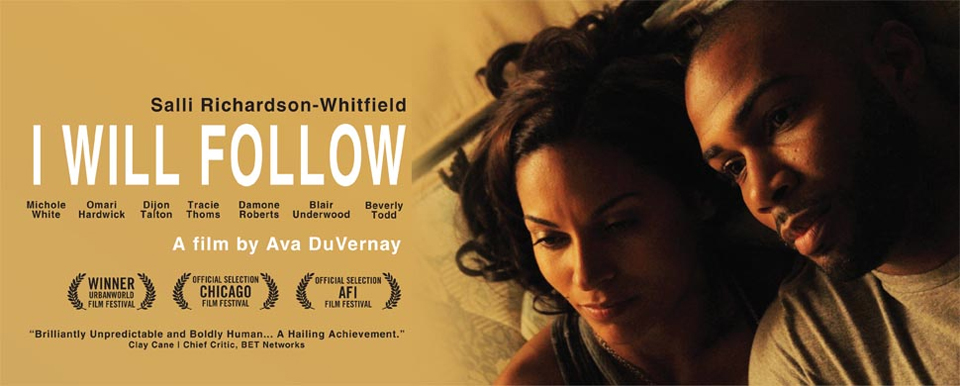 I Will Follow is the first in the series of Black films of the African-American Film Festival Releasing Movement (AFFRM). It featured Maye (Salli Richardson-Whitfield), Fran (Michole White), Amanda (Beverly Todd), Raven (Dijon Talton), Tiffany (Tracie Thoms), Troy (Omari Hardwick) and Blair Underwood.
I beg to differ with Roger Ebert. He seems to claim that I Will Follow does not need to have the traditional three-act structure. Because, according to him, every life closes in death, and only supporting characters are left on stage at the end. I seriously doubt he meant that, and I can only agree with him when he admits full well that I Will Follow did not tell a story! So where is the inspiration in I Will Follow?
Some of Roger Ebert's approach to critiquing some black filmmakers/black films is questionable. The rationale in not imposing structure on I Will Follow is only encouraging mediocrity and it may be offensive in other cases. I am furious! Unless, as I like to believe, it was his sincere but failed attempt at redeeming a movie that had serious weaknesses. Every critic should hold black movies to the same standard as white movies. Black movies are not looking for a pat on the back or a hand-out. Black filmmakers are equally capable. I Will Follow is an okay movie, not a wonderful black film.
I am not an expert in filmmaking, neither do I claim any understanding of the amount of work that goes into making a movie, but we all understand full well that a film, story, whatever it may be, must have three acts. Please! Whether you like it or not. Otherwise, I beg you to show it to the likes of Spike Lee, Neema Barnette, Tyler Perry, Sanaa Hamri, Tim Story, Antoine Fuqua, and the list can be endless.
On one hand, the actors did a great job. Beverly Todd had an important presence in the movie flashbacks as Amanda. She induced the aura Maye (Salli Richardson-Whitfield) felt, and that gave some weight to the present-day scenes. Salli Richardson-Whitfield was memorable. I was enthused by the presence of such class act performers in Blair Underwood and Omari Hardwick.
Together they embodied emotions the script could not have wisely spelled out. I am glad they brought a much needed zest to an otherwise student direction, amateur storyline and apprentice cinematography. The script clearly needed some revision.
In I Will Follow, Amanda had breast cancer and spent the last year of her life with her favorite niece Maye, in a home in Topanga Canyon, a secluded area north of Los Angeles. She refused chemo because she wanted to die on her own terms in her own house.
So the movie opens with Maye who spends the day packing up after Amanda's death. She's moving out of the house. While remembering the fondness she felt for her aunt, mostly in flashbacks, Maye also recounts her aunt's exploits as a powerful and charismatic woman and a recording session drummer to Raven (Dijon Talton), Amanda's grandson.
I wanted to feel. I wanted to be enthralled – by the story. Only every time I tried, I found myself in a dilemma.
So I searched my heart for the emotions that this well-intended independent film wanted out of it. I found perhaps to my surprise – Grief, Anger, Loneliness, Confusion and a sense of Lost Direction. But as much as I sympathized with the storyline and the import and moral of what I Will Follow attempted to portray, I found it incredibly hard to empathize with the story. The emotions the scenes attempted to invoke in me, marched completely out of step with mine.
What you will find in I Will Follow, in effect, is an invitation to empathy. But really, in my opinion, it only blows a sympathetic horn and beats a compassionate gong – not empathetic ones – and even if it got you to assemble, you didn't stay.
It is only a little touch of genius that inspires life into the marble of the sculptor, into the painted canvas of the artist, into the written words of the author and into the spoken words of the orator.
And I think the same can be said of filmmaking. Yes, genius may be 1 percent inspiration and 99 percent perspiration. Alas, who said so? The touch of genius needed to inspire life into the reels of the filmmaker is even more – the genius of cast and crew combined. So no matter how hard we may have worked, our profuse perspiration must equally reflect our passionate inspiration.
Hence if the African-American Film Festival Releasing Movement (AFFRM) is going to be successful, they need to get more hands on deck and fetch some more talent, especially in scripting, directing and cinematography. I hate to be the one that bursts the bubble, but hey, wake up! It's noon and you are still in bed.
The corporate entities we plan to bypass, the traditional industry studio tactics we want to circumvent and the hurdles of the theater structures that impede the growth of black movies that we hope to scale, cannot be overcome by mere heart, frictionless elbow-grease, profuse sweat, true love and unbridled care alone. We need a touch of genius – technique, experience or talent; we need story-tellers, very good ones; and sheer artistry wherever we may find it.
Because, when it comes down to it, no matter how hard we may have worked, it is still that little touch of genius that will inspire life into the reels that our filmmakers send to the editing rooms and into the profuse sweat they burst at their work stations. Are we prepared to do that? Because I Will Follow may be a start in the right direction – it may show perspiration, but it must pick up – we have to show some inspiration!
Genre: Drama
Director: Ava DuVernay
No MPAA rating
Opened: March 18
Running time: 83 minutes
I WILL FOLLOW Live Commentary Experience