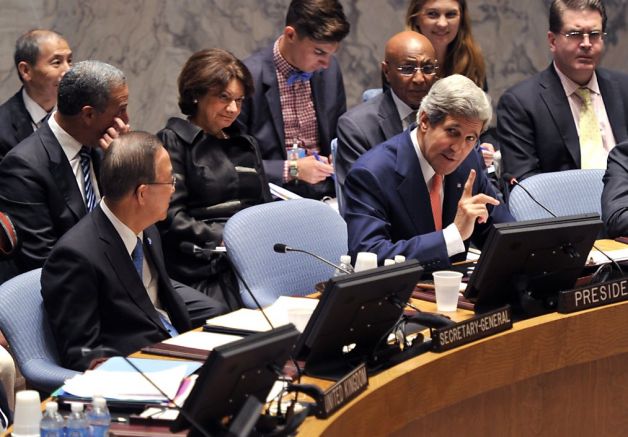 March 26, 2014 "Information Clearing House – If the US State Department's Victoria Nuland had not said "F**k the EU," few outsiders at the time would have heard of Ambassador Geoffrey Pyatt, the man on the other end of her famously bugged telephone call. But now Washington's man in Kiev is gaining fame as the face of the CIA-style "destabilization campaign" that brought down Ukraine's monumentally corrupt but legitimately elected President Viktor Yanukovych.
"Geoffrey Pyatt is one of these State Department high officials who does what he's told and fancies himself as a kind of a CIA operator," laughs Ray McGovern, who worked for 27 years as an intelligence analyst for the agency. "It used to be the CIA doing these things," he tells Democracy Now. "I know that for a fact." Now it's the State Department, with its coat-and-tie diplomats, twitter and facebook accounts, and a trick bag of goodies to build support for American policy.
A retired apparatchik, the now repentant McGovern was debating Yale historian Timothy Snyder, a self-described left-winger and the author of two recent essays in The New York Review of Books – "The Haze of Propaganda" and "Fascism, Russia, and Ukraine." Both men speak Russian, but they come from different planets.
On Planet McGovern – or my personal take on it – realpolitik rules. The State Department controls the prime funding sources for non-military intervention, including the controversial National Endowment for Democracy (NED), which Washington created to fund covert and clandestine action after Ramparts magazine and others exposed how the CIA channeled money through private foundations, including the Ford Foundation. State also controls the far-better-funded Agency for International Development (USAID), along with a growing network of front groups, cut-outs, and private contractors. State coordinates with like-minded governments and their parallel institutions, mostly in Canada and Western Europe. State's "democracy bureaucracy" oversees nominally private but largely government funded groups like Freedom House. And through Assistant Secretary of State for European and Eurasian Affairs Victoria Nuland, State had Geoff Pyatt coordinate the coup in Kiev.
The CIA, NSA, and Pentagon likely provided their specialized services, while some of the private contractors exhibited shadowy skill sets. But if McGovern knows the score, as he should, diplomats ran the campaign to destabilize Ukraine and did the hands-on dirty work.
Harder for some people to grasp, Ambassador Pyatt and his team did not create the foreign policy, which was – and is – only minimally about overthrowing Ukraine's duly elected government to "promote democracy." Ever since Bill Clinton sat in the Oval Office, Washington and its European allies have worked openly and covertly to extend NATO to the Russian border and Black Sea Fleet, provoking a badly wounded Russian bear. They have also worked to bring Ukraine and its Eastern European neighbors into the neoliberal economy of the West, isolating the Russians rather than trying to bring them into the fold. Except for sporadic resets, anti-Russian has become the new anti-Soviet, and "strategic containment" has been the wonky word for encircling Russia with our military and economic power.
Nor did neoconservatives create the policy, no matter how many progressive pundits blame them for it. NED provides cushy jobs for old social democrats born again as neocons. Pyatt's boss, Victoria Nuland, is the wife and fellow-traveler of historian Robert Kagan, one of the movement's leading lights. And neocons are currently beating the war drums against Russia, as much to scupper any agreements on Syria and Iran as to encourage more Pentagon contracts for their friends and financial backers. But, encircling Russia has never been just a neocon thing. The policy has bi-partisan and trans-Atlantic support, including the backing of America's old-school nationalists, Cold War liberals, Hillary hawks, and much of Obama's national security team.
No matter that the policy doesn't pass the giggle test. Extending NATO and Western economic institutions into all of a very divided Ukraine had less chance of working than did hopes in 2008 of bringing Georgia into NATO, which could have given the gung-ho Georgian president Mikheil Saakashvilli the treaty right to drag us all into World War III. To me, that seemed like giving a ten-year-old the keys to the family Humvee.
Western provocations in Ukraine proved more immediately counterproductive. They gave Vladimir Putin the perfect opportunity for a pro-Russian putsch in Crimea, which he had certainly thought of before, but never as a priority. The provocations encouraged him to stand up as a true Russian nationalist, which will only make him more difficult to deal with. And they gave him cover to get away with that age-old tool of tyrants, a quickie plebiscite with an unnecessary return to Joseph Stalin's old dictum once popular in my homestate of Florida: "It's not the votes that count, but who counts the votes."
Small "d" democrats should shun such pretense. Still, most journalists and pollsters on the scene report that – with the exception of the historic Tatar community – the majority of Crimeans want to join the Russian Federation, where they seem likely to stay.
Tensions will also grow as the US-picked interim prime minister Arseniy Yatsenyuk – our man "Yats" – joins with the IMF to impose a Greek, Spanish, or Italian style austerity. Hard-pressed Ukranians will undoubtedly fight back, especially in the predominantly Russian-speaking east. According to Der Spiegel, a whopping three quarters of the people there do not support the coup or government. What a tar patch! A domestic conflict that could split Ukraine in two will inevitably become even further embroiled in the geo-strategic struggle between Russia and the West.
On Planet Snyder, as in most Western media, these realistic considerations make absolutely no difference. Ideology rules, masked as idealism. Fine sounding abstractions fill the air. Ukrainians are making their own history. They are acting with great courage. They are seeking the rule of law and their rightful place in "European Civilization." They are defending "sovereignty" and "territorial integrity." Russians remain vicious. Big bad Vlad is the new Hitler. He is seeking his own Eurasian empire (as opposed to NATO's), which could soon include parts of Moldova, Belarus, and Kazakhstan that the West needs like a "lok in kop," a hole in the head. And those watching in the West must abandon what Snyder calls "our slightly self-obsessed notions of how we control or don't control everything."