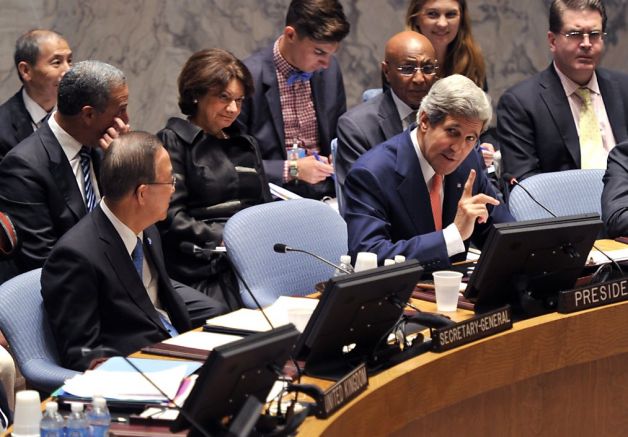 "It was a classic popular revolution," proclaims the professor. An undeniably popular uprising against "an unmistakably reactionary regime."
Writing in The Nation, Professor Stephen Cohen shreds Snyder's argument. My concern is more pointed. Popular uprisings deserve our support or opposition depending on who comes to control them and to what ends. As McGovern puts it, "The question is: Who took them over? Who spurred them? Who provoked them for their own particular strategic interests?"
Detailed evidence provides the answers. For all the courage of the Ukrainian minority who took to the barricades, US Ambassador Geoffrey Pyatt and his team spurred the protests in Kiev and exercised extensive – though never complete – control over them. Tactically, Pyatt and his fellow diplomats showed unexpected skill. Strategically, they should have stayed home.
Revolution on Demand
Arriving in the Ukrainian capital on August 3, Pyatt almost immediately authorized a grant for an online television outlet called Hromadske.TV, which would prove essential to building the Euromaidan street demonstrations against Yanukovych. The grant was only $43,737, with an additional $4,796 by November 13. Just enough to buy the modest equipment the project needed.
Many of Hromadske's journalists had worked in the past with American benefactors. Editor-in-chief Roman Skrypin was a frequent contributor to Washington's Radio Free Europe / Radio Libertyand the US-funded Ukrayinska Pravda. In 2004, he had helped create Channel 5 television, which played a major role in the Orange Revolution that the US and its European allies masterminded in 2004.
Skrypin had already gotten $10,560 from George Soros's International Renaissance Foundation (IRF), which came as a recommendation to Pyatt. Sometime between December and the following April, IRF would give Hromadske another $19,183.
Hromadske's biggest funding in that period came from the Embassy of the Netherlands, which gave a generous $95,168. As a departing US envoy to the Hague said in a secret cable that Wikileaks later made public, "Dutch pragmatism and our similar world-views make the Netherlands fertile ground for initiatives others in Europe might be reluctant, at least initially, to embrace."
For Pyatt, the payoff came on November 21, when President Yanukovych pulled back from an Association Agreement with the European Union. Within hours Hromadske.TV went online and one of its journalists set the spark that brought Yanukovych down.
"Enter a lonely, courageous Ukrainian rebel, a leading investigative journalist," writes Snyder. "A dark-skinned journalist who gets racially profiled by the regime. And a Muslim. And an Afghan. This is Mustafa Nayem, the man who started the revolution. Using social media, he called students and other young people to rally on the main square of Kiev in support of a European choice for Ukraine."
All credit to Nayem for his undeniable courage. But bad, bad history. Snyder fails to mention that Pyatt, Soros, and the Dutch had put Web TV at the uprising's disposal. Without their joint funding of Hromadske and its streaming video from the Euromaidan, the revolution might never have been televised and Yanukovych might have crushed the entire effort before it gained traction.
For better or for worse, popular uprisings have changed history long before radio, television, or the Internet. The new technologies only speed up the game. Pyatt and his team understood that and masterfully turned soft power and the exercise of free speech, press, and assembly into a televised revolution on demand, complete with an instant overdub in English. Soros then funded a Ukrainian Crisis Media Center "to inform the international community about events in Ukraine," and I'm still trying to track down who paid for Euromaidan PR, the website of the Official Public Relations Secretariat for the Headquarters of the National Resistance.
Orange Revolution II
Preparing the uprising started long before Pyatt arrived in country, and much of it revolved around a talented and multi-lingual Ukrainian named Oleh Rybachuk, who had played several key roles in the Orange Revolution of 2004. Strangely enough, he recently drew attention when Pando, Silicon Valley's online news site, attacked journalist Glenn Greenwald and the investor behind his newFirst Look Media, eBay founder Pierre Omidyar. Trading brickbats over journalistic integrity, both Pando and Greenwald missed the gist of the bigger story.
In 2004, Rybachuk headed the staff and political campaign of the US-backed presidential candidate Victor Yushchenko. As the generally pro-American Kyiv Post tells it, the shadowy Rybachuk was Yushchenko's "alter ego" and "the conduit" to the State Security Service, which "was supplying the Yushchenko team with useful information about Yanukovych's actions." Rybachuk went on to serve under Yushchenko and Tymoshenko as deputy prime minister in charge of integrating Ukraine into NATO and the European Union. In line with US policy, he also pushed forprivatization of Ukraine's remaining state-owned industries.
Despite US and Western European backing, the government proved disastrous, enabling its old rival Yanukovych to win the presidency in the 2010 election. Western monitors generally found the election "free and fair," but no matter. The Americans had already sowed the seeds either to win Yanukovych over or to throw him over, whichever way Washington and its allies decided to go. As early as October 2008, USAID funded one of its many private contractors – a non-profit called Pact Inc. – to run the "Ukraine National Initiatives to Enhance Reforms" (UNITER). Active in Africa and Central Asia, Pact had worked in Ukraine since 2005 in campaigns against HIV/AIDS. Its new five-year project traded in bureaucratic buzzwords like civil society, democracy, and good governance, which on the public record State and USAID were spending many millions of dollars a year to promote in Ukraine.
Pact would build the base for either reform or regime change. Only this time the spin-masters would frame their efforts as independent of Ukraine's politicians and political parties, whom most Ukrainians correctly saw as hopelessly corrupt. The new hope was "to partner with civil society, young people, and international organizations" – as Canada's prestigious Financial Post laterparaphrased no less an authority than Secretary of State Hillary Clinton.
By 2009, Pact had rebranded the pliable Rybachuk as "a civil society activist," complete with his own NGO, Center UA (variously spelled Centre UA, Tsenter UA, or United Actions Center UA). Pact then helped Rybachuk use his new base to bring together as many as 60 local and national NGOs with activists and leaders of public opinion. This was New Citizen, a non-political "civic platform" that became a major political player. At the time, Pact and Soros's IRF were working in a joint effort to provide small grants to some 80 local NGOs. This continued the following year with additional money from the East Europe Foundation.