The city of Boston has had an unprecedented amount of snow dumped within its vicinity during this winter–a record amount in recent decades.
And how precisely does the city plan to remove the mountains of snow? The city of Boston is turning to prison labor to help dig it out of its blizzard.
The city of Boston and its Massachusetts Bay Transit Authority are opting to hire prisoner laborers, because they have the mindset of cutting costs.
Prison labor in the US is deployed only so the government and private companies can have essentially "free labor"–appraised at a value so cheap that it is virtually free–at its disposal.
The median wage for prisoners in the state of Massachusetts is just 20 cents per hour.
In stark contrast, city offers union workers thirty dollars an hour for the same work, 150 times the amount offered to prisoners.
How can one man's labor be devalued 150 times less than the same labor put forth by another man? Unfortunately, the argument that one man is a prisoner and the other is not simply does not answer the question sufficiently.
What choice do US prisoners, essentially men kept inside cages 90 percent of the time and shackled in chains otherwise, have but to submit to the unjust atrocity of laboring in below freezing temperatures to shovel snow for 20 cents, just one-fifth of a dollar?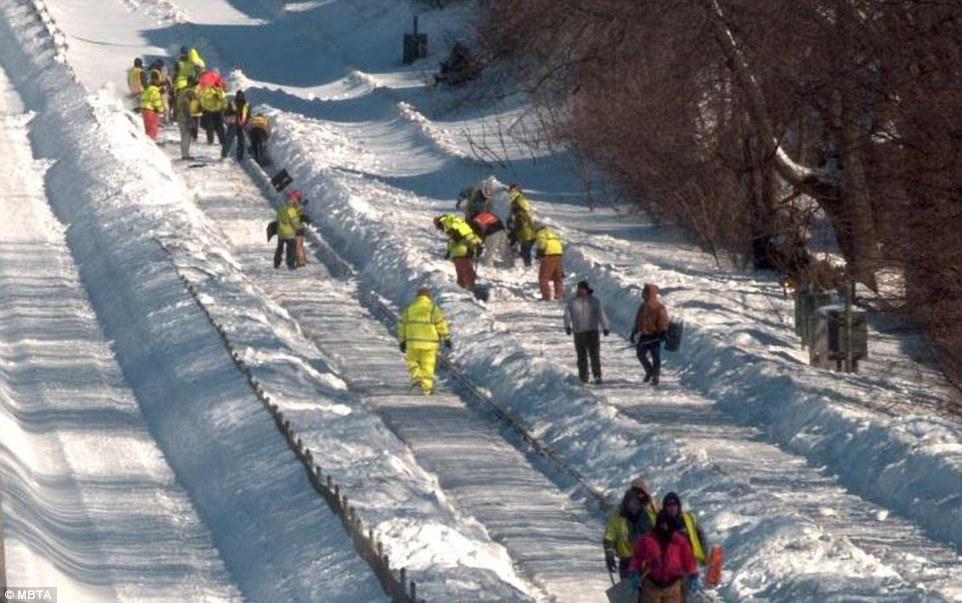 Unionized city workers have been hired to clear some of the snow from commuter rail tracks, but state prison inmates provide a huge share of the labor, laboring at temperatures well below freezing.
The problem with prison labor is a human rights issue.
To value a man's work at a small fraction of one dollar per hour is a sin. It is a formula to enforce modern day slavery in the US, a system in which government and private companies can always turn to near-free labor when desiring to cut costs.
It is a move that will also hurt everyday Americans who will lose jobs to cheap prison labor.
Moreover, federal inmates in the US are stripped of their voting rights. They have no ability to lobby for their own freedoms, but must rely upon others to do so for them.
While to most observers, the prison labor system in the US is unclear.
In the city of Boston and in its surrounding areas in the state of Massachusetts, the Massachusetts Department of Corrections refused to answer questions about the prison labor system that is in charge of transporting tons of snow out of the city.
When, if ever, will the US realize that prisons should not be run like private companies? They should be reserved for only offenders–the violent ones.
Prison labor for snow in Boston is inhumane.
All workers, even prisoners, not only need to have a real choice of whether or not to labor; they also need to have fair wages.