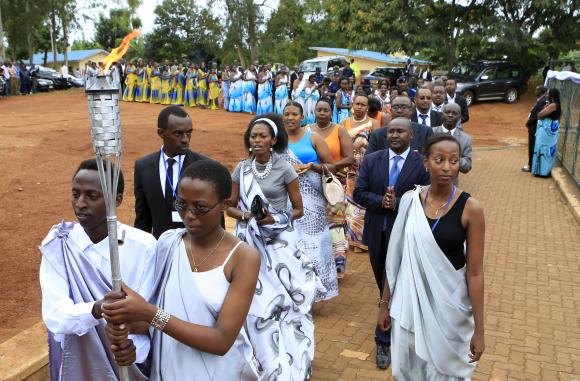 Rwanda will begin a week of official mourning to mark the 20th anniversary of the country's genocide today.
At least 800,000 people – mostly ethnic Tutsis and moderate Hutus – died at the hands of Hutu extremists in 1994.
Most of the victims of the genocide were attacked with machetes during 100 days of slaughter that began on 6 April 1994, shortly after President Juvenal Habyarimana was killed when his plane was shot down over the Rwandan capital.
President Paul Kagame will light a torch that is scheduled to burn for 100 Days.
When the killings ended in July 1994 the Rwandan Patriotic Front (RPF) entered the country from Uganda, marched on Kigali and seized control of the country.
No 'boycott'
The week of mourning begins with a wreath-laying ceremony at the national genocide memorial followed by the lighting of a flame at the Amahoro Stadium in the capital, Kigali.
The torch has been carried across the country for the past three months, visiting 30 districts and passing from village to village.
International leaders including South African President Thabo Mbeki and UN Secretary General Ban Ki-moon are due to attend the ceremony.
A diplomatic row has prompted France's justice minister to pull out of the commemorative events, but Paris says its ambassador will be present.
Meanwhile, France has denied that it is boycotting the event.
Last Sunday, hundreds of people attended a Mass at Sainte-Famille Catholic church in Kigali to remember those who died in the church itself and elsewhere.
Christiane Taubira had cancelled her plans to attend the events in Kigali following an accusation by Mr Kagame that France, as an ally of Mr Habyarimana's government at the time, had participated in the mass killings.
In an interview with the French-language weekly news magazine Jeune Afrique, Mr. Kagame even though denounced the direct role of Belgium and France in the political preparation for the genocide, did not totally rule out their hand in it.
The French foreign ministry said the comments went against reconciliation efforts between the two countries. Rwanda responded by calling out the French government overreaction.
France has previously acknowledged that serious errors were made during the genocide in Rwanda.
A Rwandan commission in 2008 said France was aware of preparations for the genocide and helped train militias who participated in killings.
Paris said its forces had helped protect civilians as part of a UN-mandated intervention in Rwanda. But Mr. Kagame said French troops had protected the militias carrying out the killings.
In recent years there has been a thaw in relations between the two countries, with a visit by Mr. Kagame to Paris in 2011 and the establishment by France of a genocide investigation unit.
Last month, a Paris court sentenced former Rwandan spy chief Pascal Simbikangwa to 25 years in jail for his role in the genocide – the first such conviction in France.