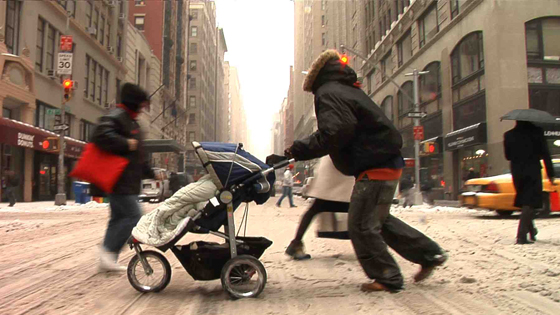 Director: Sean Baker
Writers: Sean Baker, Darren Dean
Stars: Prince Adu, Karren Karagulian and Aiden Noesi
Have you ever found yourself in the middle of nowhere, in chaos, and life called on you to hustle your way out? Or quit? Or even run? As it turns out, Prince of Broadway is not only a cinematic depiction of Prince Adu's life – a Ghanaian immigrant stuck between the streets of New York City – but in addition, it is a striking extension of Prince's own lived experiences and cultural grounding as a basis to transcend the most difficult times.
Prince of Broadway is about a knockoff product salesman, Lucky (Prince Adu) who gets roped into fatherhood, probably by his own doing. The real trouble starts when Lucky's one-night-stand ex girl, Linda (Kat Sanchez) comes by and drops off her infant son (Aiden Noesi), "He's yours," ordering him to take care of the boy for two weeks, three weeks, a month and on.

Though in no position to care for a child – he's an illegal immigrant trying to make ends meet barely for himself – Lucky is basically a decent man, so he doesn't call social services or the cops, perhaps for fear of deportation. Instead, he goes shopping for diapers, baby food, toys and a stroller, perhaps due to his cultural responsibility even in a tough time.
Fighting to convince his girlfriend Karina (Kayali Mayaga) to be a mother to his newly named infant, Prince, he's reluctant to take a DNA test. Even when he does, he wouldn't read the laboratory result himself. We come to fully understand the metaphor in his name, Lucky, when his baby Prince causes him to lose his life saving of $2K while hustling. With his girlfriend threatening and breaking off, Lucky is not so lucky, and he still wouldn't take the paternity test.
Then, during one of his hustle and bustle of steering budget-minded fashionistas past the storefront manned by his boss, the Armenian Levon (Karren Karaguilian), the police, who have always been a constant threat, finally badge in, cracking in on the merchandise and its illegal peddlers. Lucky's close friend is arrested and deported. But, Lucky gets of the hook. Alas who saves him? His baby boy, Prince. For once, Lucky is lucky, and brings the movie to a satisfying revelation.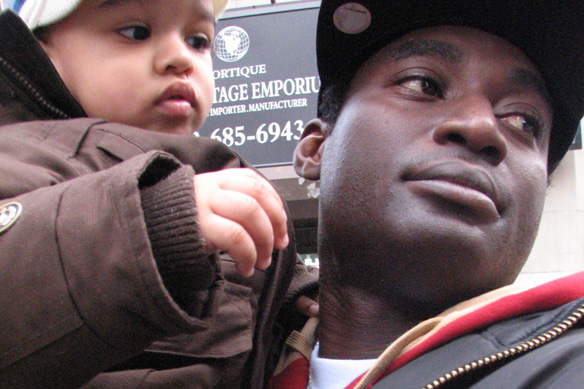 Eventually the DNA test results arrive in the mail and Lucky could only hand it to his friend Levon who, now separated from his wife and is on bail, is grappling with his age and desires to start a family. Levon's interpretation of the results – Prince is Lucky's baby afterall – is one that we question even after the movie is over. The directorial implications are far reaching in my opinion.
Imagine one day you are grown up and you hear that your own father took you to social services? Ha? How would you feel? Your own father! I didn't think he was my baby but part of me wouldn't let him go. Just because of that.
This sums in part, the moral of the story in Prince of Broadway. Because we never know for sure whether Levon told Lucky the truth about the paternity test, the movie begs for a more humanistic insight into who parents and who is suppose to be responsible for a child; "Why does it even matter?" Undeniably, Lucky was the more responsible parent than Prince's own mother could ever be. What more could a child want and society expect?
Hence this is a movie that I feel should appeal to the conscience of the many absentee fathers out there – no matter how hard your hustle out there might be, there can be no excuse for being irresponsible – and a call to duty. The West African cultural orientation on this topic as seen through the lens of Prince Adu's story is admirable and above all something many men in this country could emulate.
Filmmaker Sean Baker is no stranger to these immigrant dramas however, having produced 2004's Take Out, which similarly followed the dilemmas of a newcomer in a fringe industry. But in Prince of Broadway, Sean Baker attempts a style that is more collaborative in its neo-documentary fiction than his hitherto more assertive forms.
This is self evident in the plot. When he set out to research about the world of the wholesale district of New York City for close to a year, the only plot he ended up with was to use Karren Karagulian as a shop owner, and besides that, the filmmaker had no idea what this film would eventually be.
When he finally contacted Prince Adu, who told him:
If you put me in your film and make me the lead, I will help you cast your film, find locations, and help you tell an authentic story of the West African experience in this district.
It underscored the effort and determination intrinsic in Prince Adu's attitude towards portraying a culture in America whose values are not so much tainted by the material pressures of it. But his dreams are even more far reaching. Prince of Broadway may just be the hustle that Prince Adu needs to establish himself as an actor. And he may have perhaps achieved this, in no ordinary terms!