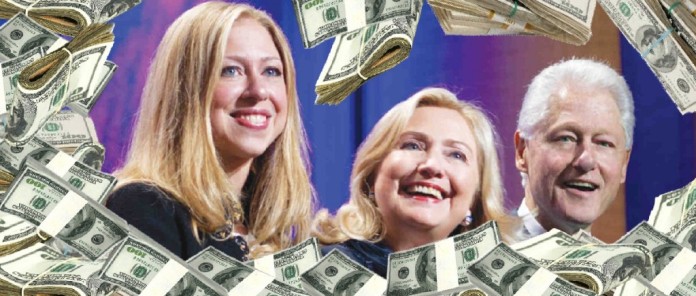 Hillary Clinton supporters often brush aside Bernie Sanders's concern that there is too much money in politics.
When Bernie says that Hillary Clinton accepts too much money from big financial firms and that she will be indebted to them, her supporters rebut: What else? Is that all you got? As if taking big money from wealthy donors will have no impact whatsoever.
In fact many Hillary Clinton donors are private firms, led by 7 million dollars from the Soros Fund Management, a private investment management firm headquartered in New York City. Euclidean Capital the New York-based financial investment firm and family office for hedge fund billionaire James Simons added another 3.5 million dollars to Hillary Clinton's political coffers.
She also received 2.8 million dollars from Pritzker Group, a private venture capital and asset management firm run by billionaire brothers J.B. and Tony Pritzker, whose Chicago family also owns the Hyatt hotel chain. Plus another 2.5 million dollars from Paloma Partners, a private investment company near NYC in Greenwich, Connecticut.
And another 2.5 million dollars from private investment firm, Saban Capital Group in California. And yet another private investment management hedge fund firm which manages assets of over twenty-five billion dollars, Renaissance Technologies, based in New York City, gave 2 million dollars.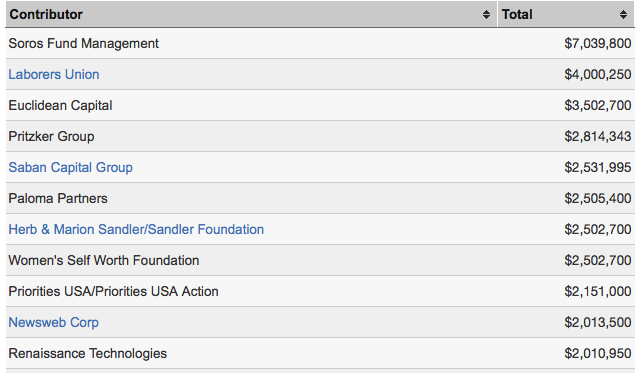 In contrast, most of Bernie Sanders's top donations pooled come from publicly-traded businesses, public universities, or non-profits—not private businesses. Not to mention, he just doesn't receive all that much money from any groups. His top donation is around 255,000 dollars more than twenty-seven times less than Hillary Clinton's top donation of 7 million dollars.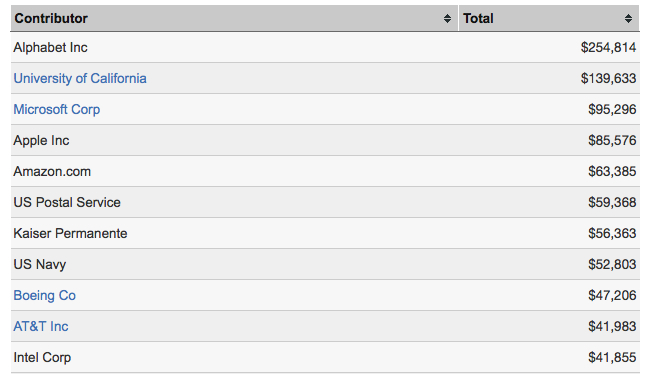 Clearly, what Bernie Sanders means when he wants money out of politics is that he wants more people than Hillary Clinton's privately-run hedge fund buddies in and around New York City to have a say in the political system.
On top of that, Hillary receives tons of financial support from U.S. corporate media. The Chicago-based Newsweb Corp founder Fred Eychaner is worth at least 500 million dollars and has personally given the Clinton Foundation twenty-five million dollars or more, according to the foundation's website.
Eychaner is well-linked to the inner circles of the political elite. He is among those who supported Hillary in 2008, then switched his support to one young, ambitious senator and was generously awarded by President Obama in return.
Hillary received the Secretary of State position for yielding her and Bill's powerful Clinton machine to Obama. Eychaner received a presidential appointment as a General Trustee to the Board of Trustees of the government's John F. Kennedy Center for the Performing Arts.
Eychaner's influence on President Obama is worth nothing. He has been an activist for gay rights and has rallied Obama to support the LGBT community. Not coincidentally, Eychaner gave 14.1 million dollars to Democratic super PACs in the 2012 presidential election cycle, including 4.5 million dollars to a pro-Obama super PAC, among other donations. Meanwhile, during the Obama presidency gay marriage became legal in the U.S.
Those who say the wealthy don't influence politics are truly missing the bigger picture.


Not just the ultra-wealthy but also the fairly-wealthy are donating to Hillary's campaign. Most of Hillary Clinton's money from individual contributors has come from the wealthy. In comparison, Bernie Sanders receives most of his individual donations from less wealthy individuals.
Newscorp founder Eychaner, who has also hosted former President Bill Clinton in his home several times, recently gathered political donors at his Chicago mansion. There, he urged rich Democrats:
"Everybody working together needs to make Hillary the next president."
Again, I ask Hillary Democrats, is it still frivolous to assume that big money doesn't influence politics?
Disagree with Bernie Sanders on other issues, if the arguments are sound and valid. But here, Bernie has a point.
Hillary Clinton does accept tremendous amounts of money from financial companies that lobby the U.S. Securities and Exchange Commission for favorable rulings so that wealthy families and corporations can evade taxes.
So far these campaign contributions to Hillary's presidential run total at least twenty million dollars—with much of the primary and all of the general election still looming ahead.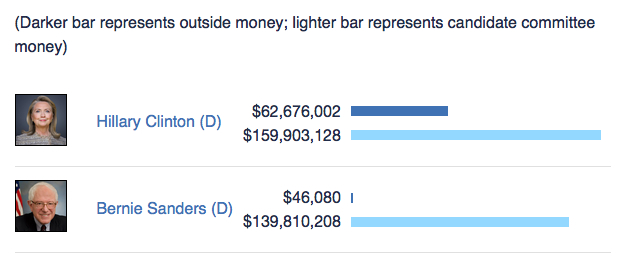 How much will U.S. citizens be indebted to wealthy Hillary Clinton donors when the campaign is over? Certainly more than the general public would care to repay.
This is one issue where Hillary certainly cannot wiggle her way out of a murky situation.
Although it may not be the only issue that concerns voters, money definitely talks. It appears that if elected, Hillary Clinton donors will have a lot of say in the U.S. political system.