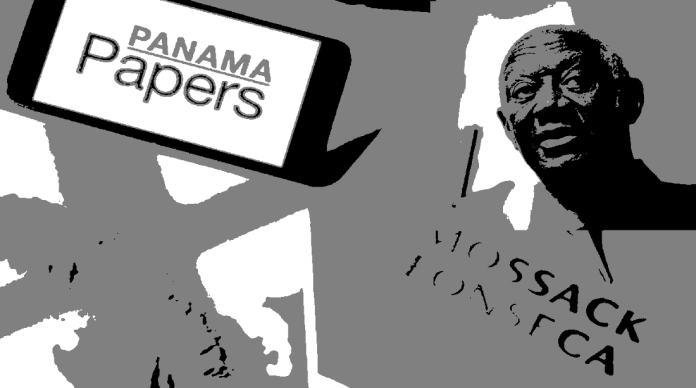 ACCRA — It sounded like a scene from a spy thriller reminiscent of the high stakes game of shadows during the Cold War. Its shock waves reaching the very apex of the global power elite. An anonymous contact who went by the name John Doe contacted the German Newspaper Sueddeutsche Zeitung (SZ) about a year ago. This is how the exchange began.
[John Doe]
Hello, This is John Doe
Interested in Data?
[Sueddeutsche Zeitung]
We're very interested
[John Doe]
There are a couple of conditions. My life is in danger. We will only chat over encrypted files. No meeting, ever. The choice of stories is obviously up to you.
[Sueddeutsche Zeitung]
Why are you doing this?
[John Doe]
I want to make these crimes public.
Thus began the drama of the great leak. John Doe began to provide SZ encrypted internal documents from Mossack Fonseca one of the world's five biggest providers of offshore secrecy, a firm based in Panama that provided offshore company services to clients around the world that wanted to evade taxes or hide their shady business dealings. From a trickle of documents, it grew into a torrent until John Doe had provided about 2.6 terabytes of data to SZ. The contents were explosive spreading its tentacles into the morally torpid sanctum of the global power and business elite. The 11.5 million leaked internal files that John Doe provided, contained 40 years of data, and had information about more than 210,000 companies spread over 21 offshore jurisdictions from Hong Kong to Panama. The leaked files reveal the offshore holdings of 140 politicians and public officials from around the world. Offshore holding designed to evade taxes and hide ill-gotten loot from the righteous anger of their citizens.
Mossack Fonseca partners in the offshorization high class act were 14,000 banks, law firms, company incorporators and other intermediaries. They set up companies, foundations and trusts for customers, many of whom were evading paying taxes or hiding their wealth.
The ten banks some among the biggest in the world, supposed paragons of the moral high ground of corporate ethics, that requested from Mossack Fonseca the most offshore company services for their clients were;
Experta Corporate & Trust Services
Banque J. Safra Sarasin – Luxembourg S.A
Credit Suisse Channel Islands Limited
 HSBC Private Bank (Monaco) S.A, HSBC Private Bank (Suisse) S.A
 UBS AG (Succ. Rue Du Rhône)
Coutts & Co. Trustees (Jersey) Limited
Société Générale Bank & Trust Luxembourg
 Landsbanki Luxembourg S.A
 Rothschild Trust Guernsey Limited
Among the ten top countries where its intermediaries operated were the US, UK, Switzerland, Luxemburg, Hong Kong, Panama and a host of other countries in Latin America. The most popular tax havens used by Mossack Fonseca and favored by its ultra-rich clients run the gamut from the Bahamas through the US states of Nevada and Wyoming, the UK, Panama and then ending in Uruguay.
The power players ensnared in the tax evasion offshore high-class thug life act includes high-ranking members of the western power elite. The father of the current British Prime Minister David Cameron, sister of the former king of Spain, members of the British House of Lords and House of Commons, the Prime Minister of Iceland Sigmundur David Gunnlaugsson and his wife Anna Sigurlaug Pálsdóttir, are among those currently known.
The African power elite drenched in the morass of this sordid affair include John Addo Kufuor the eldest son of Ghana's former president John Agyekum Kufuor. Mr. John Addo Kufuor a trained accountant had been beset by allegations in 2005 that he had gained juicy government contracts and private sector business deals through his paternal connections of being the son of a sitting president. An official commission cleared him of any wrongdoing. The Fonseca leaked files tell a different story about their client Mr. John Addo Kufuor. The leaked data shows that his offshore company controlled a $75,000 account for himself and his mother, then Ghana's first lady. This is an excerpt from the Panama Papers,
In early 2001, shortly after the start of his father's first presidential term, Kufuor appointed Mossack Fonseca to manage The Excel 2000 Trust. Later that year, it controlled a bank account in Panama worth $75,000. His mother – Theresa Kufuor, then-Ghana's first lady – was also a beneficiary. In November 2010, an employee in Mossack Fonseca's compliance office in the British Virgin Islands suggested to colleagues that "due to the apparent prevalence of corruption surrounding Mr. Kufuor we would not recommend us taking him on as a client or continuing business with him." Mossack Fonseca, however, continued to do business with Kufuor. In 2012, Kufuor asked Mossack Fonseca to close the trust. Files also connected Kufuor with BVI companies Fordiant Ltd and Stamford International Investments Group Limited. Both were registered when Kufuor's father was president of Ghana and became inactive in 2004 and 2007.
Mr. John Addo Kufuor was not available for comment when queried.
Another member of Ghana's power players' tribe, in the Fonseca database is Kojo Annan the only son of former UN Secretary General Kofi Annan who had served as Secretary General from 1997 to 2006. Kojo Annan's public brush with corruption started in the mid-nineties. Kojo Annan was hired in 1995 by the Swiss company Cotecna to do work for it in Nigeria.  After about three years working for the Swiss firm, he quit and became a consultant to the company in early 1998. This was about a year after his father had become the UN Secretary General. Just a few months after the start of his consultancy for Cotecna, Cotecna was awarded a UN contract as part of the infamous Oil- For-Food Humanitarian Program in Iraq then under debilitating American inspired sanctions.
The careful coincidence of his father's UN secretary generalship and the award of the contract to Cotecna raised charges of unethical behavior. An independent panel was constituted to investigate the charges. It dutifully went through the motions of investigations and dutifully came out with a verdict of no conflict of interest. It was the year 2005, just a year before Kofi Annan finished his UN secretary generalship.  The leaked Fonseca database showed he used an offshore to buy a $500,000 dollar apartment in London.  The Panama Papers goes on to discuss his dealings in the offshore entity that purchased the apartment in London;
Kojo Annan was sole director of the Samoan company Sapphire Holding Ltd, originally incorporated in Niue in 2003, which he had used to buy an apartment in central London. The apartment was purchased in a transaction completed in 2003 for more than $500,000, according to U.K. records. Sapphire Holding used unnamed shareholders until 2015 when Kojo Annan became a listed shareholder with a Ghana address. Mossack Fonseca continued to communicate with Annan at the central London address, Argyll Mansions, into 2015. Kojo Annan was also a joint shareholder and director of two British Virgin Islands companies incorporated in 2002.
When contacted for commentary, a lawyer for Mr. Kojo Annan said that his companies "operate in accordance with the laws and regulations of the relevant jurisdictions and, insofar tax liabilities arise, they pay taxes in the jurisdictions in which taxes are due to be paid. In other words, any entity and account held by Mr. Annan has been opened solely for normal, legal purposes of managing family and business matters and has been fully disclosed in accordance with applicable laws." 
Another member of Africa's power elite mentioned in the Fonseca database of operating offshore entities is Clive Khulubuse Zuma a nephew of South Africa's president Jacob Zuma who also doubles as a mining magnate. His offshore registered companies were accused of bribery and other improprieties in the acquisition of oil fields in the Democratic Republic of Congo
The widow Mamadie Toure of former Guinean president Lansana Conte is another name mentioned in the Fonseca database. Fonseca helped her set up an offshore company into whose accounts were payed a $5.3 million bribe by a mining company, that then obtained the mining rights to the world's richest iron ore deposits situated in Guinea.
Jaynet Désirée Kabila Kyungu the twin sister of Joseph Desire Kabila president of the Democratic Republic of the Congo is mentioned in the Fonseca database. Fonseca helped her set up an offshore company, which manages her business interests in the mobile communications sector in the Congo. The Panama Papers describes the structure of the offshore holding;
Keratsu Holding Limited was incorporated in Niue on June 19, 2001; a few months after Kabila's brother became president of the Democratic Republic of the Congo. Jaynet Désirée Kabila Kyungu appeared as co-director with Congolese businessman Kalume Nyembwe Feruzi. Kabila is reportedly close to Feruzi, whose father was a confidant of Kabila's father Laurent Desire Kabila, according to respected magazine Africa Confidential. Feruzi has also worked for the Laurent Desire Kabila Foundation of which she is president. The DRC Company Keratsu Holding Ltd has owned stakes in one of the DRC's major mobile phone operators.
She also did not respond to repeated requests for comments. After all, she is busy being a plutocrat.
There are many other African names tailing the galaxy of human rights and business ethics preaching western politicians ensconced in the murky world of offshorization and tax evasion unearthed by the Panama Papers. We wait for the day when the African masses woken out of their colonial imposed stupor would come with pitchforks after these corrupt festooned monkeys parading as leaders and power players in Africa.