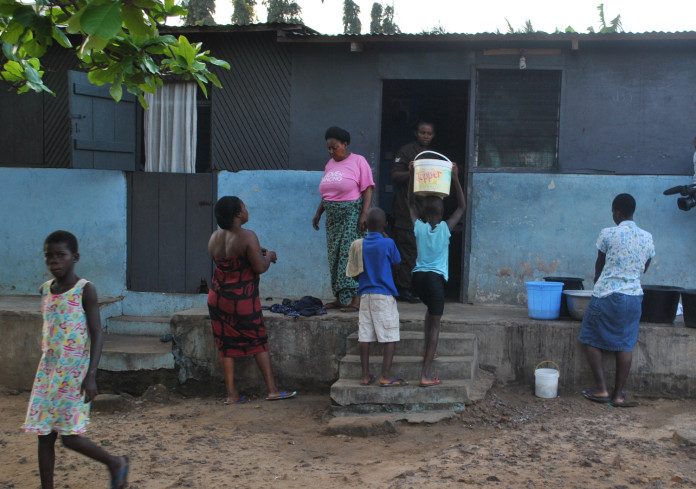 "Every Man has a Property in his own Person. This no Body has any Right to but himself. The Labour of his Body, and the Work of his Hands, we may say, are properly his. The great and chief end therefore, of Mens uniting into Commonwealths, and putting themselves under Government, is the Preservation of their Property." ~John Locke, English philosopher and political theorist, 1632-1704.
TESHIE, Accra — Shoot me. That's the only chance you've got before you have forced me and my family into paying Property Tax to some Government. I don't care what the money is collected for. I really don't. Why pay someone somewhere on something my ancestors have owned for 700 years? This is the question. I will spare you our 700 year history and how we came to acquire our lands and homes in Teshie-Maamli.
But, I recently helped my family put a new roof on a family building in Teshie, near Tiafi-Ahe, on the seashore side of town. Only to be sent a letter that my great grandfather whose name is still on the house owes the Ghana IRS back taxes amounting to much more than the house is worth. I had no idea that Ghana, under the auspices of the IRS, collected property rates on immovable property – on our lands and on our homes. My cousins have lived in Teshie all their lives, they have heard of no such thing.
The tax is apparently levied annually by the Ledzokuku Constituency Local Authorities on the estimated value of the land and the structure(s) on the land. Mind you, we have a seven chamber-and-hall house, a two-bedroom self-contained, a fishmongers shed (featuring four drum-ovens for smoking fish and two deep fry ovens), two car garages, another shed for two Blo'odo ovens (bread ovens), a Kenkey shed (three stalls for fermenting corn dough and three wood stoves for boiling Kenkey), a street-view store for selling 'tinapa' and banku, six outdoor showers and ten outdoor Kumasi Ventilated Improved Pits (KVIPs). Grass in between, a tiny dusty playground on the side for newly arriving babies and a well centered concrete circle (formerly for mixing cement) for bathing new babies!
A cursory look over historical rates will put all these structures on my ancestral land – which my ancestors paid for in blood – within a range of taxation from 0.5 percent to 3 percent of the value of the property. Before you forget, our children, including my own strong two, recite "wo tsemei shwie la shi, dani ame kpor ke ha wo" at the Nshornaa Basic School every day. Meanwhile, around the nation other kids recount the blood their ancestors also poured for their own lands and access to private property: "Mogya a nananom hwie gu, nya de to ho ma yen," or "Mia togbuiwo tso wofe agbe gbledeta xoe name."
So, shoot me. Property tax? Over my dead body.
I was even accosted by a tax representative from Kotobabi over a morning palaver that these rates were by far, the highest rates paid on properties in the capital, Accra, in comparison with other regions of Ghana. I shall desist from the obvious, but let me make a quick point. If my ancestral land is in Teshie, and my family house is built on it, then if I have to pay tax at all, I must pay more tax than someone from Kpanlogo-Dzidzinabu in the Eastern Region?
Add to this, the AMA (Accra Metropolitan Assembly) announces new rates at general meetings with fanfare at their behest, without any attention to the decorum of regularity, without the accountability of a government institution and without the civility to consult the elders of Teshie or the descendants of the men and women who poured blood to acquire these lands and homes. The last Assembly that my tax representative could recall was held on 31st October 2013 and published in the Local Government Bulletin, No.4, of 24th January 2014. But, who was there?
"Taxation on ancestral lands and property was unimaginable fifty years ago," my clan head would insist. And, I agree, it is a Trompe-l'œil of nationhood. How much more 100 or 200 years ago? Even one's labour – now heavily taxed in Teshie – would have been unheard of to tax, unless the community agreed that labour be contributed to benefit the whole community for a specific period. Not forever! I don't recall my grandfather ever paying ten percent of his Okro harvest to the functional illiterates of the Government of Ghana every year. And that was only 20 years ago. He will turn upside down in his grave if I failed to protect the land and the customary laws of my ancestors. I cannot be punked into relinquishing my duties to my ancestral land and home to the Government of Ghana. No.
Why?
If we have to pay tax on our ancestral lands in Teshie, then we can no longer own what we have already paid for in blood. A tax on our ancestral lands and homes should be considered a direct theft, an outright assault against our shared history, our heritage and above all, a daily travesty of our collective memory – garnished with our national anthem to boot – of land our ancestors bought for us in blood.
Well, the faineant Government of Ghana, whoever they think they are – those perksnifian tartuffes – would have to take it away in blood. I have thoroughly massaged the letter, I have used it appropriately and I have tossed it where it belongs, the KVIP. We wait for the IRS in Teshie. Tswa Omanye aba!