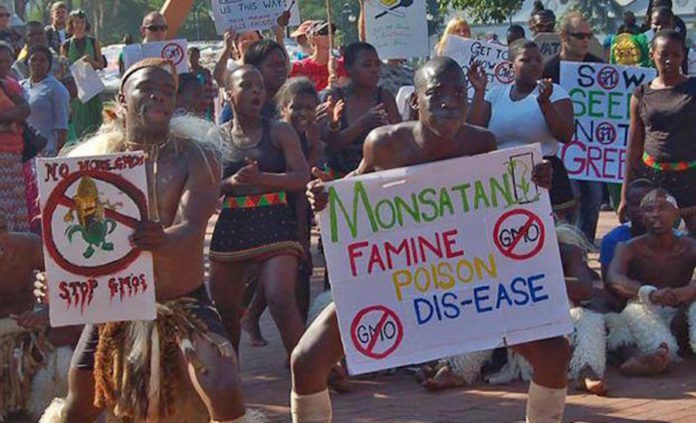 LAGOS — Crops that US scientists, particularly at Monsanto, have added new traits to, or characteristics to, via biotechnology methods rather than conventional breeding have taken on several names. Don't be cuckolded, those things are Frankenstein crops.
There are a few alternative names for America's Frankenstein crops. They call them, in general, Genetically Engineered (GE) crops, e.g., genetically modified (GM) or genetically modified organisms (GMOs), but genetically engineered is the term preferred by the U.S. Food and Drug Administration.
The whole purpose of this obscurantism remains a straight-forward one. To make money. And to make money, they need to fool the masses of any nation and beat down concern over Frankenstein crops and the ethics involved in ensuring these things don't pose a threat to a nation's food supply and food security.
Particularly in Africa, the incubus is on governments who need to convince, and if that doesn't work, force whole nations without much deliberation into believing in the benefits wherein or not, and to acquiesce to replacing God-given food crops with America's Frankenstein crops.
Arguments in support of the adoption of Frankenstein crops in Africa rest on boosting yields and increasing food security—which the U.S. government continues to claim have already been well articulated by "scholars" such as Calestous Juma of Harvard [the highest institution of learning in the U.S.].
In addition, [bribed] proponents of Frankenstein crops in Africa claim that these Frankenstein crops have the potential to play a significant role in climate change adaptation. In a Business Daily article, President Obama (the first Nobel Peace Prize winning drone president of the U.S. who is overseeing the poisoning [with lead] of African American children in Flint, Michigan) endorsed biotechnology as a way to face climate-related agricultural challenges.
Perhaps the most tooted advantage to Africa of Frankenstein crops, they say, rests on Africa's purported precarious food security problems that threaten her millions of growing children. America is seemingly worried about African food security, and the fact, they say, that it is exacerbated by an over-reliance on rain-fed agriculture, conflicts that displace farmers, and [insecure] property rights. America?
These Americans and pundits in Africa claim that the problem of climate change is placing severe constraints on Africa to be able to feed its people. It is quite evident that the "Africa rising" story is not sustainable unless Africa can adequately feed her people.
But with Frankenstein crops?
So far, ninety-five percent of India's cotton is grown from Frankenstein seeds, which have proved defenseless against pests and weather change, leading to devastating losses, according to May's Hindu Business Line.
Agricultural scientist and analyst, Dr Devinder Sharma, notes in a US report that the annual increase in sales of foods free of synthetic chemicals and Frankenstein ingredients in the US "indicate a rising preference for organically produced foods and that in the White House Michelle Obama, herself, grows only organic food in the sprawling gardens and is known to serve organic food to guests."
Dr. Sharma continues: Frankenstein crops: have, in most cases, led to the doubling in the application of cancerous chemical herbicides like glyphosate; its use has increased to over 283.5 million pounds in 2012; have led to the emergence of superweeds in some 60 million acres of crop land.
Furthermore, to date, Frankenstein crops have shown no increase in crop productivity – or as the US report admits: "there was no evidence in US agriculture records that GM crops had substantially increased yields".
And for that reason, and for so many other unpalatable reasons besides the fact that no Frankenstein 'thing' should be invited or welcomed into the home, Scotland, Wales and Northern Ireland want a total ban, as do 19 EU states including Germany and France.
Why should Africa introduce Frankenstein crops into her agriculture? On their merits or because of profits accruing to the already wealthy American corporation?