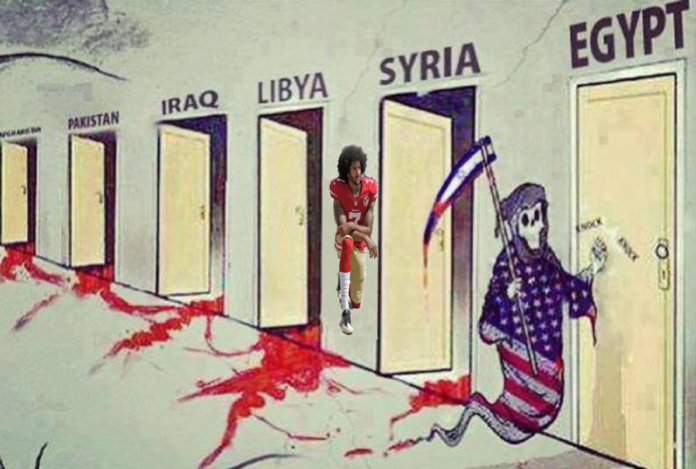 For America, there's only warball; a blood-sport. The president and his ilk gather every weekend over beer to celebrate various games of warball: Nigeria, South Sudan, Somalia, Libya, Afghanistan, Iraq, Syria, Ukraine, and the many more warballs expected on spy-television sets come the countdown to North Korea vs. The "Free" World.
Wars, and endless wars and preparations for wars, are the large canvas within which Warball is played, coached and commentated. Warball is supposed to "disport" – divert, amuse, carry away – people from real life experiences. It is supposed to veer the people away from what's really going on in their country – the suffering, the disease, the poverty, the lack of education, the lack of living – which all en-route concentrate wealth in the hands of the few. Not to speak of the returns in themselves of the organization of warball games to the few.
This is the American Genius. This is American Exceptionalism. It has never before been done; never before has warball been used to amass immense wealth without the players, the spectators and their coaches not actually realizing the full extent of the direct consequences of warball. While at the same time removing the exposure to the direct cost of errors, death, suffering, poverty and disease, from the pared down spaces of the few. Nothing has changed since the Prophet, Martun Luther King Jr., said that America is "the greatest purveyor of violence on earth."
Imagine what actually happened to the Prophet? The few got him crucified! The few, these architects of the American Genius, like Sadducees and Pharisees, are truly amazing! Colin Kaepernick should rather claim that he knelt to bring attention to the flaw of The Red Blue Flag of violence; not to honor it by wishing that America's white supremacist military cops live up to its ideals, which is nothing but perpetual barbarism. Kaepernick must fall on his knees just like his own ancestors – MLK, Malcolm X., Muhammad Ali – died on the cross for him, in order that he can stand up against barbarism. In order that he can have life, and have it more abundantly, he must altogether accept his crucifixion too on the battlefield of America's "Military Football."
For the world has never seen such cunning, such trickery and such thievery enacted upon the people by the few in such a short time. American exceptionalism is truly amazing. It is indeed, exceptional.
*****
Colin Kaepernick, an ex-American Football quarterback, took a valiant and principled stand last football season by taking a knee during the national anthem to protest the violent treatment of black Americans by the police and American society in general.