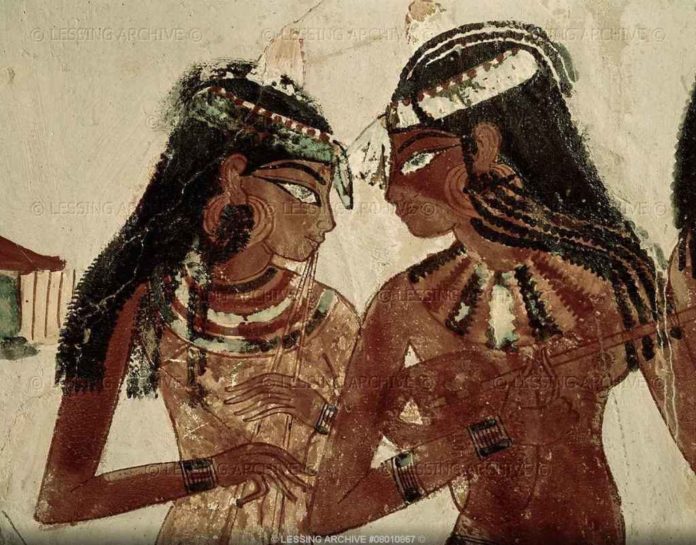 Pan-Africanism is a vital part of the 'renaissance' efforts of Africa and Africans but this same factor has been a major pawn in the European game of 'divide and rule'.  The obsessive fervor with which Pan-Africanists limit their scope of reference of the 'Black' world to the confines of the African continent contributes to the goals of White Supremacy. The mainstream Eurocentric world view that directs the study of Anthropology has been relied upon at different times to divide, define and separate 'Black' people in ways that causes these people to see themselves as different peoples when in fact the opposite is the truth. Many leading Afrocentric scholars have fallen victim to this ploy and in the process spawned entire movements of followers to see everything 'African' as Black and everything outside of Africa as 'White'.
This deception is what has led to the erroneous idea that 'Black' is a minority race and 'White' a majority race. Of course these labels of color do not remain fixed but change depending on the circumstances and goals of White Supremacy. When it suits the Eurocentric worldview then Indians, people from the horn of Africa and Semites may be seen as part of the 'White' family but when immigration policy needs to align with economic goals these same peoples will be defined as 'Black'. But, no matter the economic goals of White Supremacy, what you will never find is a change in definition of a certain kind of 'Black' that is pervasive in Sub-Saharan Africa; the so-called Negro phenotype. In associating the Negro phenotype with 'Black' in a permanent way it has created the perception that the true 'Black' race is the Negro peoples of Africa and everybody else by default isn't Black but 'White'.  As a consequence of this African people have become very defensive of what they consider to be elements of African heritage and in the process the Eurocentric model wins the day.
The Eurocentric model has caused artificial division between people of the horn of Africa and the Africans of the interior. It has caused Africans to see the people of the Middle East as other than 'Black' no matter the time frame in question. Indians, some of whom are darker than the darkest African, identify more with the Eurocentric definitions of race rather than with their actual skin color. It is this same Eurocentric model that rejects the notion that ancient Egypt was a 'Black' civilization simply because 'Black' is SOLELY defined by them as Negroid and Sub-Saharan.  So although they were 'Black' in skin complexion they weren't really 'Black' because, by and large, they differed from the Negro phenotype in hair texture and cranial features.  Many African-Americans don't share the typical hair texture and cranial structure of Africans yet it has never stopped white supremacists from labelling them as 'Black'.
How can we unravel this erroneous Eurocentric perception of 'races' that has so effectively divided peoples who otherwise should see each other as part of a common family? Well, first one has to be able to read in between the lines of Eurocentric scholarship. As the say, the devil is in the details.
Scholarship on Genetics
A cursory study of Haplogroups will unpack layers of Eurocentric deception that hitherto has prevented Africans from seeing themselves properly as it relates to Anthropology. A Haplogroup is a group of SIMILAR Haplotypes that SHARE a COMMON ANCESTOR with a single-nucleotide polymorphism (SNP) mutation. A haplotype, in the same fashion, is a group of genes in an organism that are inherited together from a single parent. This kind of study enables us to not only trace ancient migratory paths but also which peoples are closely related to specific ancient peoples more so than others.  In the study of Haplogroups one is able to trace lineages on the paternal (Y Haplogroup) and maternal (Mitochondrial Haplogroup) sides.
In Africa the major Y Haplogroup is E.  This means that almost 100% of African males share in this haplogroup E which scientists claim started about 50,000 years ago around either East Africa or on the other side of the Red sea in Arabia or the Middle East. This means that an SNP mutation, which we now call Haplotype E, started in a male in East Africa or the Middle East about 50,000 years ago and all males with this Haplotype are descendants of this person.  As time went on a mutation occurred in a descendant of this ancestor which scientists label Y Haplogroup E1, then another occurred which they label E2. A third one occurred which they label E3. Most Africans, almost 98% are descended from the E3 lineage. The E3 lineage itself split into two: E3a and E3b. E3a is the most common E Haplogroup in West, Central and Southern Africa as well as parts of East Africa. E3b, however, is common in the horn of Africa, North East Africa and parts of East Africa. E3b is also found in parts of the Middle East which is why some claim it started there rather than in East Africa.
A lot of things become evident as a result of these facts mentioned above. Firstly, East Africans, Africans from the horn of Africa ( including Egypt) as well as the rest of Africans below the Sahara share a common ancestor. We are the same people.
Secondly, we didn't start off from the interior but from the Eastern part of Africa or the Middle East.
Thirdly, a part of us broke off from the people in East Africa and trekked down into the interior where the Haplogroup E3a became a founding Haplogroup. These people are the West, Central and Southern Africans of today.  Although we migrated into the interior we kept many of our cultural practices including parts of the language which scholars today call the Afro-Asiatic language group.
The point above raises an interesting question: Why do Sub-Saharan Africans look different from the Africans from the horn of Africa? To answer this question we must approach it from a global perspective.
It's interesting that when the European explorers of the fifteenth and sixteenth centuries sailed the globe they found dark-skinned people wherever they went. Many of these dark-skinned people had 'straight' or 'curly' hair and cranial features resembling the European of today.  But when the Europeans sailed to the West coast of Africa they found these same dark-skinned people but with 'kinky' hair and cranial features unlike the 'Blacks' they had encountered in other journeys.
Perhaps the truth of the matter is that the 'Negro' phenotype is the exception rather than the rule and it is most likely that we started out looking like our brothers and sisters in the horn of Africa. Tomes have been written about how we developed our 'Negro' features and most of it point to a change in climate. Although our kinky hair was as a result of adaptation to the new climate we still carry relics of our past such as our 'straight' eye brows that show us what our hair looked like in the past. The excessive humidity and warm weather is what produced the Negro phenotype. It is this phenotype that is at the receiving end of most of the racism of today. It is also this phenotype that has allowed White Supremacy to divide Africans and Black people, in general, and made us to see ourselves as different people.
As stated earlier, many Afrocentric scholars fell right into the trap set by White Supremacy by reinforcing the division in their writings. The average Afrocentric scholar refuses to see any affinity with the ancient people of the Middle East or India or the Native Americans because it doesn't belong to the box that White Supremacy carved out for us.  Afrocentricity is ignorant of the fact that the parent Y Haplogroup of E is group DE. Y Haplogroup D is native to Asia which means the ancestor group DE which would birth group E and D started outside Africa. Y Haplogroup D is prevalent in the Andaman Islands, Japan (among the Ainu people), Tibet, Central Asia as well as some groups in China.  Yet Afrocentricity can't see beyond the sand box that White Supremacy provided.
The Afrocentric movement will attack anyone who dares suggest that they need to expand their tentacles with regard to what constitutes the 'Black' world. It is this flawed Eurocentric world view that makes the conception of a Black Jesus or Muhammad almost impossible because to them Black is synonymous with 'Negro'.  A Black Jesus means to them that he looked like Idris Elba and no other phenotype is an option.  But once one understands that ALL of the Haplogroups were started in Black people it becomes easy to grasp the universality of Blackness. Even Y Haplogroup R, which is the typical group to which Caucasians belong, evolved in Black people first who were the original Europeans. So when Anthropologists seek to cover up the racial identity of the ancient Egyptians by stating that many of the mummies had DNA belonging to Y Haplogroup J, which people call the Middle Eastern Haplogroup, one doesn't have to be a rocket scientist to know that Haplogroup J predates the gene that produced White skin and Blue eyes. Y Haplogroup J is as much a part of Blacks as Haplogroup E.
Scholarship on Anthropology
On Western Anthropology a simple point needs to be made. Western scholarship on this subject tries to cover up the racial identity of ancient civilizations by using terms like 'Eurasian', 'Middle Eastern' or 'Near Eastern' origins as if one can't be Black and Eurasian or Middle Eastern at the same time.
Black skin was a universal phenomenon in the ancient world and this fact needs to be understood. Afrocentric scholars need to expand their horizons and realize that Black civilizations go beyond Africa and that our achievements are global.