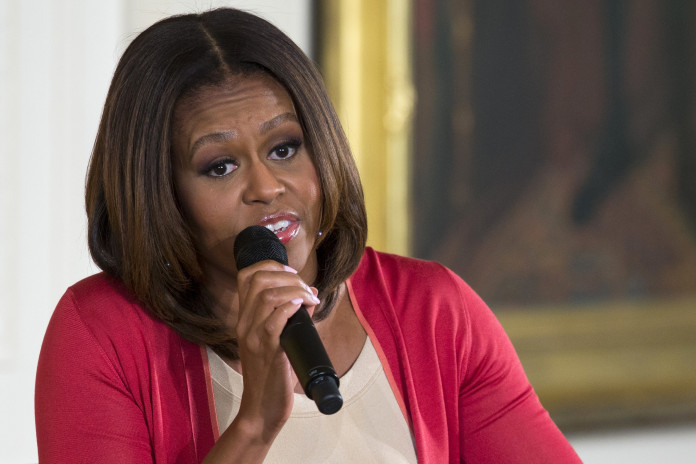 It seems that black women still have not fully accepted themselves as who they are. The most blatant disrespect that black women show themselves is covering up their natural hair. They have kinky hair, for the most part. But they'd like to ignore that and pretend otherwise.
This not meant to be a blanket statement to condemn the behavior of all black women. Of course, there are many of us who wear our natural hair proudly, who lock it up either for its unparalleled beauty or in celebration of its versatility, or simply because they think it's cute. This post is not in references to the actions of a few individuals, but the observation of a black majority—especially in the media.
The most visible African Americans in media always wear their hair bone straight or they don wigs that have the same effect. And who's the most visible of all black women?
Michelle Obama.
It's sad to say that it has been nearly six years since President Barack Obama first took office, and I have never once seen First Lady Michelle Obama, or her daughters Sasha and Malia for that matter, wear their hair in its natural and unaltered state.
Now I know that some of you are thinking that this is not a big deal and we should be worrying about bigger issues, but I disagree with you. And here's why.
How people treat their appearance and especially a visible facet of their appearance like hair says a lot about how they feel about themselves. Unfortunately, most black women feel they need to present themselves in a certain way to be accepted in American society. And I just don't mean to be accepted around white people.
Even in their own communities, black women wear the fake plastic hair, or the mane snipped off of some woman in India. And for what reason? To make themselves acceptable? To raise their self-esteem? I don't know, but it's a widespread epidemic that needs to be halted.
It messes up the psychology of black women and young girls. It makes them think they are innately imperfect and need to be changed in order to be loved. Believe it or not, the way black people treat themselves can be damaging to their psyche. And their hair is the first step to eradicate this vicious cycle of self-hate.
What is so wrong about black women wearing natural looks—locs, braids, twists, afros, curls? If Michelle Obama, one of the most visible black female figures, wears one of these hairstyles on a regular basis, or at least even once, won't that set in motion a broader movement of acceptance for young black girls? Won't they wake up the next morning and stop saying they want their hair to be straighter or longer? Won't they put their efforts, their frustrations, and their energies–that elbow grease–into other matters besides doing their hair?
People make blanket statements blaming the media for not accepting images of black women and girls as they are but as beautiful only if they conform to certain standards. Even for women with natural hairstyles, they only present themselves as fully polished accomplishments.
Most often the case, black women in film, television, and news wear bone straight hair or weaves from black women's favorite heroine Kerry Washington on Scandal to Cari Champion, the broadcast journalist on ESPN's First Take. While people are all obsessing over Olivia Pope, why don't they ask her to wear her hair naturally? And it's really hard to see Cari Champion's face with all those bangs.
Monique Nelson, the CEO of top ad agency UniWorld, is also guilty of always hiding her natural self under a wig.
Is real black hair so shameful and hideous to these women that they cannot bear to step out in public bearing their true selves?
There are also women who wear short, but straight styles like MSNBC's Tamron Hall and Joy Reid.
Straight or fake appears to be the unspoken norm. Black women wearing natural styles on-air is the exception.
It's hard to name black women who regularly wear their hair naturally in the media.
MSNBC political news anchor Melissa Harris-Perry gets props for wearing her hair in braids. But I've never seen her with braids like regular women have—she seems to have her braids redone every week. Jemele Hill on the ESPN sports show Numbers Never Lie (update: now His and Hers) also sports braids that are freshly done. For these women, if one of their braids is out of place or needs to be retouched, their natural look will be too natural for the mainstream.
The overall message is: black women, if you want to be professional and black, you need to leave the beauty salon not more than an hour ago. One day past due is not good enough.
There is a sell by date for black female acceptability in the media. You are only as acceptable as your hair is straight, fresh, and in place. You and your hair cannot be out of line, otherwise you are rough around the edges.
Why are black women in the media so quick to abandon who they are only to try to perform in someone else's image?
This not to say that Michelle Obama or any female celebrity should be the role model for all of our children more than their own mothers, aunts, grandmothers, older sisters, teachers, and other real women in their local communities should. Nobody is saying that black children need media personalities for role models or guidance. That is a model that is surely held up to fail.
When people in the media show imperfections, they are blown up out of proportion and are cast to overshadow the person's prior achievements. We just see the parts of celebrities' lives that are made for television. Not the full human being, their mistakes, and how they overcome them.
The importance here is that Michelle Obama is not just a celebrity figure, she is a real person. Just like visible black women who are not in music or entertainment, but are real people in the media—professionals in politics, journalism, and news. These women should provide a fitting example for black women and children.
Black professionals are part of Du Bois's talented tenth, the leading black class. Part of their responsibility is to set a standard for the black masses to aspire to. But why do they insist upon setting standards of how to be anything other than black?
Regrettably, real black women in the media set a standard for black professionalism that is artificial and untrue to the essence of blackness. If they are to be professional, they wear their hair in ways that are most un-black.
They do this all the time.
They send the message that in order to be successful as a black professional, you must present yourself in this way all the time. After some point, it becomes part of your identity and you lose the potential to be black in the way that you were born.
Michelle Obama, Kerry Washington, and black women wearing that unnatural straight hair need to step up, not just to be a role model for black girls and black women, but to be true to themselves.
The first way to say that you accept who you are and even more, that you love yourself, is to stop changing your image to try to be more like somebody else. And be who you are and love that image.