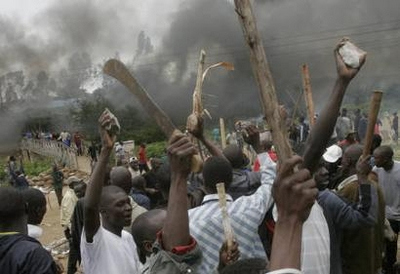 NIGERIA – The Asafo in Kala Balge bring their fighting equipment and Voodoo fighting techniques and strategies to repel Boko Haram Islamic terrorist attacks.
Almost 200 suspected members of the Boko Haram were killed today by residents of Rann, the headquarters of Kala Balge local government area in north eastern part of Borno State, officials and locals from the area said.
Sources said the terrorists, numbering over 300 stormed Rann and adjoining villages around 4AM today but met resistance from the local militia who has used Voodoo techniques to inform neighboring militia and residents of impending attack by Boko Haram terrorists.
This is the second attempt by Boko Haram on Rann. A similar attack was waged a few months ago but they retreated when they reportedly found it difficult to penetrate the town.
It has been gathered that this time around, the terrorists had succeeded in entering Rann where they killed a few residents and local militia, burnt some houses and looted property.
"The people in Rann and environs used Voodoo fighting equipment and charms to repel the attacks…they really confronted the terrorists who were equally ready for fight," a source said.
A state legislator from Central Borno, who does not want his name mentioned, confirmed the attack, pointing out that the local militia had successfully repelled Boko Haram.
"The residents succeeded in protecting their dwellings from the attackers. They killed about 200 members of the sect and many others escaped with serious wounds.
"Our people also recovered over 70 motorcycles that the terrorists came with. They also collected 2 Hilux vehicles and an Armoured Personnel Carrier (APC) while some of the attackers were captured alive," he said.
At the Gamboru Motor Park along the Customs area in Maiduguri, residents who came from the area said the terrorists were defeated in Rann during confrontations that lasted more than six hours.
However, Borno State police commissioner, Lawan Tanko, said he was not aware of the attack.
"The only information I heard today is that the terrorists have been sighted around Hamchika-Kala Balge road. We have informed sister agencies of the development," he said.
It is not yet clear whether Boko Haram are heading towards Kala Balge for a renewed attack. GSM services in the area have been vandalized by insurgents over two years ago and locals in the area rely on Cameroonian telephone facilities to reach out.
Kala Balge lies along the shores of the Lake Chad and is few kilometers away from Gamboru town where suspected terrorists killed nearly 400 people last week and destroyed over 300 vehicles, 650 motorcycles, dozens of residential houses, public buildings and the biggest market in the town that shares a border with Cameroon.