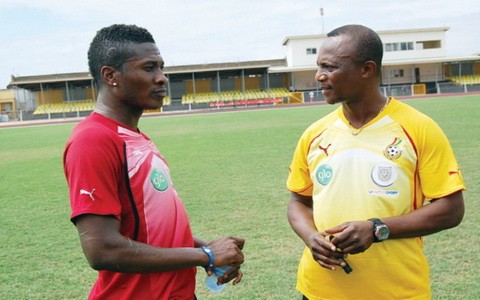 KORLE BU, Ghana – Kwesi Appiah failed to reach the finals – he must take the Blame! I would have been the last person to criticize the technical bench of the Black Stars for the simple reason that I am a strong advocate for and believe that some of our own former players have what it takes to control the affairs of the national teams.
However, I can not hide my disappointment in Kwasi Appiah's bench for such technical ineptitude and lack of foresight, especially in our last match against Burkina Faso. Right from the group stages to this disgraceful semi-final, our technical bench failed to see and read the opponents' game plans and how to counter them.
In our opening match against DR Congo, it was sheer luck and sacrifice from the individual players that won us a drawn game. The coach played Asamoah Gyan as the lone striker all throughout the match and withdrew most of our midfielders into defense as if we went in to protect any trophy. This brought enormous pressure in the midfield as well as in the defense causing the defense to cave in which resulted in the two goals from DR Congo to equalize.
This out-of-date "defensive" strategy was surprisingly used by our technical bench throughout all our matches. Therefore it did not come as a surprise to me when the team was unable to score any significant number of goals during the run of play. The same thing happened when we played Mali, Niger and Cape Verde. I believe Ghana was lucky even to have reached the semi-finals. Asamoah Gyan alone as the striker upfront was always overwhelmed by the defense of the opposing teams.
This was very obvious throughout all the matches that we played and yet the technical bench did not see the need to beef up our attacking line. Had it not been the penalties which were awarded to us in all the games I do not know if we could have made it to the semi-final stages.
Ghana went into the semi-final as the favorites but we became a disgraced side to the world due to poor judgment on the part of the technical team. I hope Kwasi Appiah does not point fingers at anybody for this shameful performance but himself. How could he defend when we had nothing to protect? How could he play a lone striker in a match that was going to be determined only by a win? And how could he not see and make the necessary changes to ensure results?
I am neither a coach, nor a soccer expert but I saw our elimination 30 minutes into the match. And nature would have been unfair to Burkina Faso if Ghana had won on penalties. They out-played and out-classed us in every department of the game. They looked stronger, sharper, well composed, and more tactically disciplined than our team. Each time they won the ball they were able to penetrate our defense.
Honestly speaking, after watching 30 minutes of the match, I told friends around me that it was going to be only by a miracle that Ghana was going to pass the semi-final stages. Kwasi Appiah was empty of ideas when it mattered most. Had it not been for poor finishing upfront, Burkina Faso would have eliminated us within the run of play.
We always had to rely on penalties to win our matches due to lack of a bite in our attacking line. In fact we did not even have any attacking line because Asamoah Gyan alone could not do much. The player gave off his all, but there was nobody upfront to assist him when it mattered most. Individually the Black Stars played their hearts out. From Fatau Dauda, John Boye, Vorsah, Paintsil, Asante, Afful, Atsu, K. Asamoah, Rabiu, Wakasso, D. Boateng, Gyan, and to all the rest, they performed their individual best. Kudos to you guys!
Kwasi Appiah has let the nation down. It would be a mistake for any body to blame our loss on the players. Penalty shoot-out has no formula. It depends mostly on the psyche of the player and the tension during the shoot-out. The boys did their outmost best but the technical bench was tactically bankrupt.
By: Owoahene Acheampong