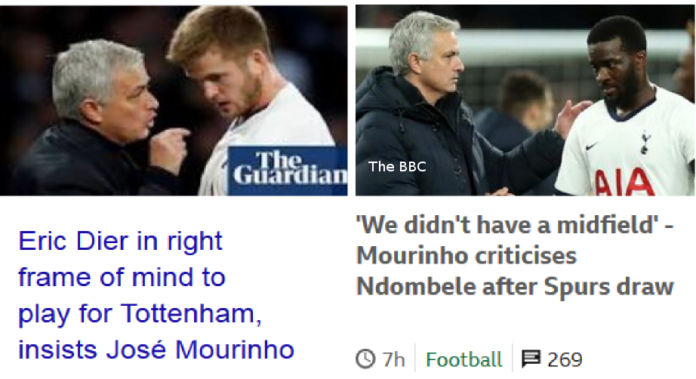 Fire Mourinho Now: Jose Mourinho is Deeply Racist.
LONDON, UK — Two players, same team, same alleged trouble, two different treatments from the manager.
This is what Mourinho does for a struggling white (English) midfielder (Eric Dier):
"I found a sad player, a player without confidence, and then I was trying to give him that confidence back," said Mourinho, who restored Eric Dier to the team in defensive midfield before, on the player's promptings, eventually giving him a try at centre-half. "Now we have the feeling that maybe his best position [is there."
In fact, Eric Dier was so bad this season that Mourinho himself had to substitute the guy before half time in one game. But Mourinho quickly apologized to Eric Dier after that substitution.
Furthermore, and this is obvious from the horses own mouth, Mourinho is doing all he can to find a lasting position for a player he respects although that player has been poor this season.
On the other hand, take what Mourinho says about a Black player whom he feels is struggling in Mourinho's tactless, uninspiring midfield (Tanguy Ndombele):
"I know the Premier League is difficult, and some players take a long time to adapt to a different league…. But a player [Tanguy Ndombele] with his potential has to give us more than he is giving us, especially when you see how Lucas, Lo Celso and those players are playing. I was expecting more in the first half from him."
Mourinho continues that Ndombele, "Is a player with great talent. He has to know he has to do much better and know I cannot keep giving him opportunities to play because the team is much more important."
Two players, Dier and Ndombele, same alleged troubles, yet we can all appreciate the treatment that Ndombele gets. Think about this for a moment.
I can recount many instances when Mourinho has defended player performances, when they are white (even Mkhitaryan) and berated players when they are Black (Pogba).
Clearly Mourinho feels as if he is running a Sugarcane Plantation in 1750 Caribbeans.
Those who refuse to see through this character mishap of Jose Mourinho are part of the problem of racism in football. Jose Mourinho should never go near Black players ever again. He clearly doesn't like them and he could care less about their self-assertive humanity.
Fire Mourinho now!