Director/producer Tamra Davis' documentary Jean Michel Basquiat: The Radiant Child (2010) gives an intimate portrait of how Basquiat went from being an unknown in the art world, scrawling his trademark SAMO (Same Old Shit) graffiti, to becoming one of the most recognizable faces in New York City and one of the world's most prolific artists. But Davis alludes to the perils of such overnight celebrity, as Basquiat reached international stardom at age 23 and overdosed on heroin at age 27.
Jean Michel's roots fall far from fame and fortune. After he left his middle class Brooklyn home at age 17, he slept in Washington Square Park, sought money on the floor at clubs, panhandled, and ate Cheese Doodles because they were only 15 cents. He sat in the back of the bar and observed for weeks until he could afford to buy a drink. But even after he sold his first painting for 200 dollars and later achieved millionaire status, he still didn't have a bank account and instead kept thousands of dollars hidden under seat cushions and between the pages of books.
Yet neither Jean Michel's rising celebrity nor his paintings were the favorite subject of his interviewers. Many journalists turned focus away from Jean Michel's remarkable artistic talent, to rather discuss his skin color. Does he like to be called The Black Picasso? He replied:
"Not so much. It's flattering, but I think it is also demeaning."
One interviewer described his work as
Some sort of… "primal expressionism."
Basquiat questioned
"Like an ape? A primate?"
The interviewer stammered
"Well, I don't know, is that.."
And Basquiat responded
"You said it."
Basquiat told Davis: "They have this image of me as a wild monkey-man." Sort of the image portrayed in his barefoot-in-Armani 1985 New York Times Magazine cover (above).
One incident that struck particularly close to Basquiat was when Michael Stewart, a young 25-year-old graffiti artist, was beaten to death by five white police officers. On the night of the attack, Stewart was arrested for scrawling graffiti in a Brooklyn subway. It happened at 3 AM. 30 minutes after his arrest, Stewart was in a deep coma in Bellevue Hospital. 13 days later he was dead.
Like Basquiat, Stewart was black and wore dreadlocks.
Basquiat's former girlfriend Suzanne Mallouk said:
"It really affected Jean Michel. He thought it could have been him. And it could have been."
Jean Michel painted "Defacement (The Beating of Michael Stewart)" (below) following this incident: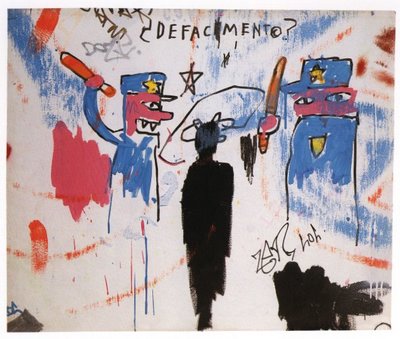 Davis skillfully intersperses Basquiat's artwork with scenes of New York and LA; interviews with friends, art dealers, and graffiti artists; footage of Basquiat when he was 25; and his encounters with celebrity figures. Yet more poignant than his friendship with Andy Warhol or his love affair with Madonna was Jean Michel's passion for his craft.
He was inspired by everything: music, art, history, literature. He painted quickly, intensely, and vividly. He yearned to express his soul visually and practiced art for art's sake, seemingly without much regard for monetary gain.
Fittingly, Davis leaves us with parting words from another venerated artist – a variation of Langston Hughes' poem Genius Child.
This is a song for the genius child.
Sing it softly, for the song is wild.
Sing it softly as ever you can —
Let the song get out of hand.

Nobody loves a genius child.

Can you love an eagle,
Tame or wild?

Wild or tame,
Can you love a monster
Of frightening name?

Nobody loves a genius child
Free him – and let his soul run wild.