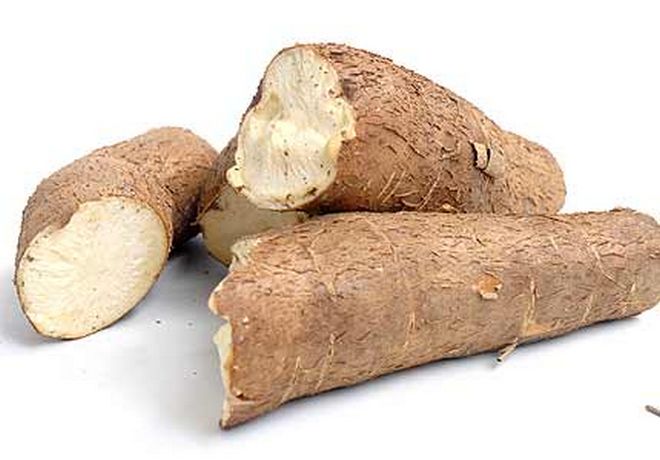 LAGOS, Nigeria – Three newly improved vitamin A cassava varieties with yellow roots, have been released by the Nigerian government, stepping up efforts to tackle the problem of vitamin A deficiency especially among women and children in the country.
These new varieties were developed jointly by the International Institute of Tropical Agriculture IITA and the National Root Crops Research Institute (NRCRI), the IITA said in a press statement copied to the GNA.
The three varieties, UMUCASS 44, UMUCASS 45, and UMUCASS 46 are the second in the series of pro-vitamin A varieties released in the country, and are commonly known as NR07/0220, IITA-TMS-IBA070593, and IITA-TMS-IBA070539.
The new varieties have a pro-vitamin A content that averages 10 parts per million (ppm) based on fresh roots as compared to the first series (UMUCASS 36, UMUCASS 37, and UMUCASS 38 commonly known as IITA-TMS-IBA011368, IITA-TMS-IBA1371 and IITA-TMS-IBA011412) that were released three years ago with a pro-vitamin A content of between 6-8 ppm.
Dr Peter Kulakow, IITA Cassava Breeder, said that the development of the varieties demonstrates strong collaboration between scientists at NRCRI and IITA, which benefits Nigerian farmers and especially women and children who suffer from vitamin A deficiency.
Afflicting almost 20 per cent of pregnant women and about 30 per cent of children, under the age of five, vitamin A deficiency results in stunting in children, and predisposes them to sicknesses such as diarrhea and measles, and even premature death. In pregnant women, vitamin A deficiency results in night blindness and increases the risk of mortality.
Measures to address this deficiency include dietary diversity, fortification, supplementation, and now bio-fortification.
In 2011, researchers from IITA and NRCRI, with funds from HarvestPlus developed the first series of biofortified pro-vitamin A cassava varieties to help reduce the incidence of vitamin A deficiency especially in the rural communities.
Dr Chiedozie Egesi, NRCRI Cassava Breeder, said this newer set of pro-vitamin A cassava varieties will play a role in attaining the goals of the Cassava Transformation Agenda of the Federal Government of Nigeria and help improve cassava food products such as gari, fufu, high quality cassava flour, cassava bread, and starch.
"This new set of pro-vitamin A cassava varieties have increased beta-carotene levels as well as matching agronomic characteristics as an incentive for better farmer adoption," he added.
Prior to their release, participatory varietal trials involving farmers were conducted across 10 states in Nigeria, the world's top cassava producer, cutting across the different agro-ecological zones.
The varieties have potential yields of 32–36 tons per hectare; they branch either moderately or profusely and possess yellow roots.
Farmers' love for the varieties is helping to increase the acceptance of "yellow cassava," Dr Egesi added.
The next steps to rapidly disseminate the varieties include the rapid production of breeders' and foundation seed stock so that commercial farmers will have access to these new varieties.
The development of these newer set of pro-vitamin A varieties demonstrates that plant breeders were not resting.
Dr Hernan Ceballos, cassava breeder from CIAT in Colombia has developed biofortified germplasm that IITA breeders are actively using in crosses to select for even higher beta carotene germplasm.
The research was funded by HarvestPlus. Other partners include the International Center for Tropical Agriculture (CIAT), the Brazilian Agricultural Research Corporation (Embrapa), and various Nigerian government agencies.