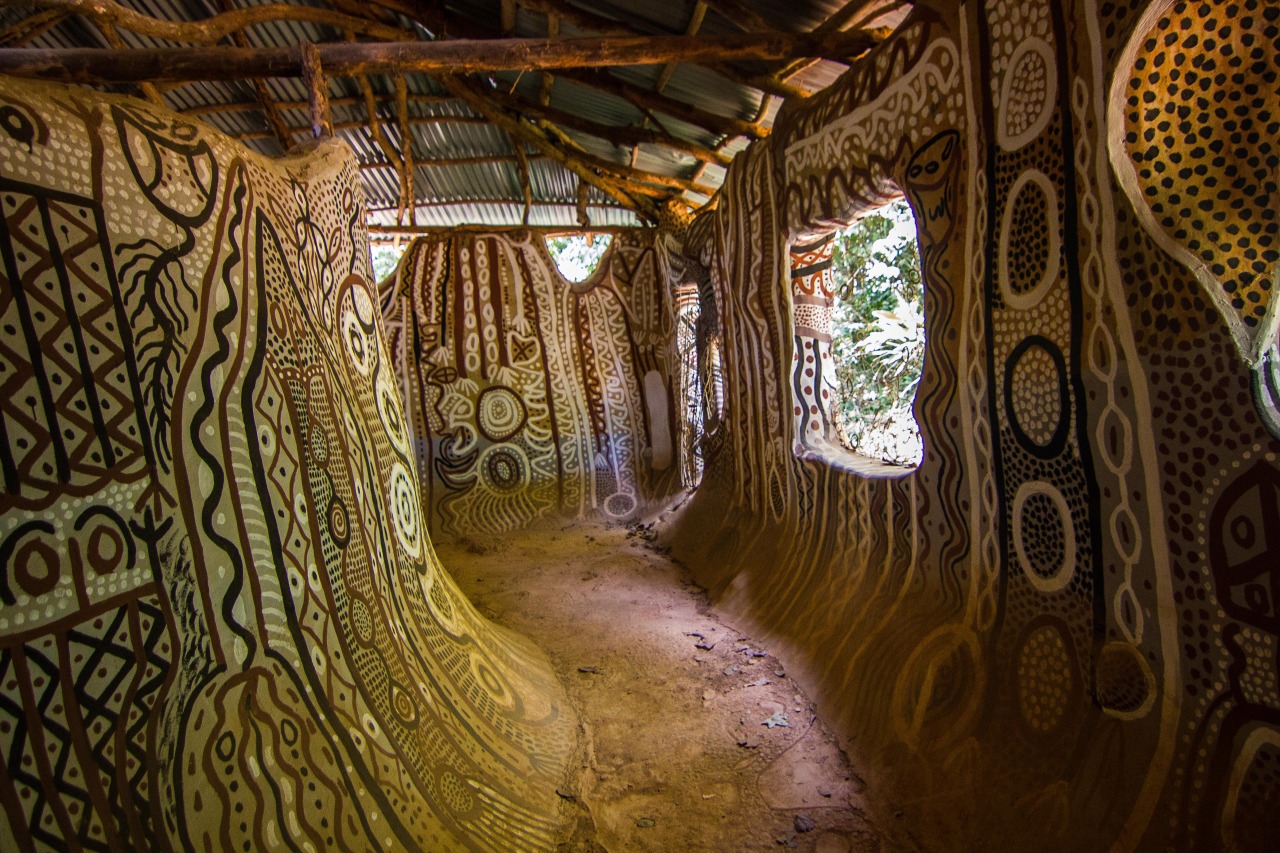 I met our distinguished author, painter and sculptor Ambassador Robin Rene Sanders at the threshold of her interest in Uli in 2008. Her hard work and unflagging interest over the last few years have crystallized into the book, The Legendary Uli Women of Nigeria: Their Life Stories in Signs, Symbols and Motif.
The book is the story of the ripples of a vanishing heritage; it is the story of Igbo classicists, who have now only become vanguards of a disappearing African art of the Igbo peoples.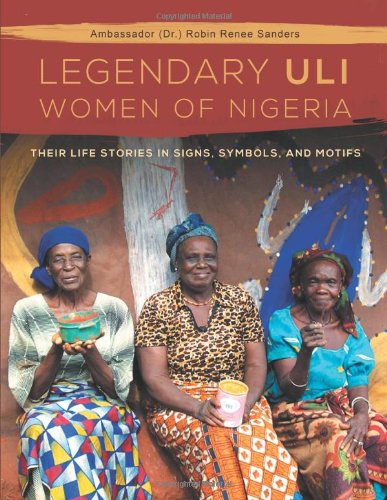 What is Uli?
It is the Igbo name for the indigo dye obtained from several species of plants grown in the Eastern parts of Nigeria. The berries of these plants are ground and the dye is pressed out of the marsh and used for drawing on the human skin (legs and arms, especially) with a Uli knife (mma nw'uli).
Uli is also the name for the resultant traditional Igbo mural, although the indigo dye does not form part of the palette in such paintings necessarily. Both the body and canvass wall variants are essentially a tradition most guarded in Igbo culture as the forte of women.
Uli artists were highly respected in Igbo society before colonial occupation in the late 1800s. Uli art was passed down from one generation to another – usually along family lines. This ensured continuity. Many scholars and artists have studied Uli art from various perspectives at different times but none has accomplished capturing the essense of Uli in so dramatic a fashion.
Sanders book is not the first but she broaches the subject in novel ways.
The book is written in accessible prose and is anchored on fresh perspectives that brings issues concerning Uli art to a new frontier. Beyond other studies of the Uli which assert only its esthetics among the Igbo, Sanders re-affirms Uli as an ancient communication tool essential to the preservation of Igbo society.
The centralizing thesis of Sanders' book portrays an extra-aesthetic and phenomenological quality that has hitherto not been explored in scientific writings about the art of the Uli. In other words, beyond the art embodying Igbo beauty and framed in Igbo thought, art, and aesthetics, Uli performs a much broader role in Igbo customs and tradition.
Uli captures and communicates in graphic terms the "lifeworld" collective experience and philosophy of the Igbo. Focusing on the lives and works of selected Uli women painters from Agulu, Inyi, Ogidi and Nri, Sanders underscores Uli as a cultural Igbo heritage needing preservation.
Sander's book is carefully calibrated into sections and further enriched with clear images of Uli women artists and their works.
The Legendary Uli Women of Nigeria appeals to readers of all backgrounds, although it still holds a formidable place in scholarly discourse.
In addition, Sanders continues to support efforts geared towards empowering Uli women economically through organized Uli retraining workshops that aim at preserving Uli heritage and Igbo culture.
In a place where heroic materialism, westernization and its attendant nihilism have taken a heavy toll on the culture and traditions of the Igbo, Sanders' book is a unique and significant call to arms – it steers the discussion of passing down Igbo culture in more pragmatic ways. In the style of the mythical Sankofa, it looks backwards while moving forwards and it says one thing to us:
[quote_box_center]Forward to the past; but not in a sense that celebrates our middle ages. It only reminds us to be mindful of ancient landmarks way before colonial occupation as our chariot of development hurtles across the path to empowerment. It tells us that much as the destination remains alluring, we must arm ourselves with the memory of our past in order to desire a future full of essence and our identity as a people.[/quote_box_center]