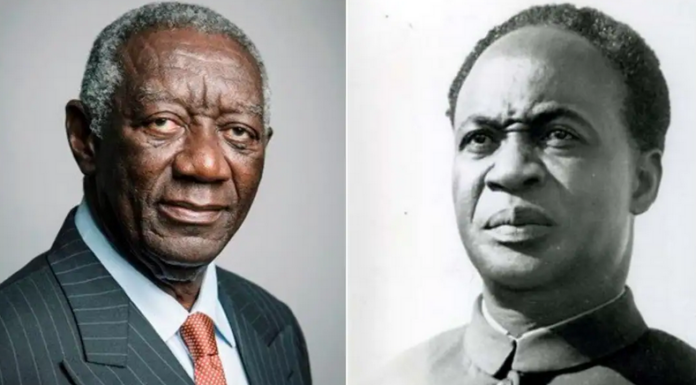 Kufuor vs. Nkrumah: How the Tortoise Chastised the Giraffe's Vision.
You ever hear of a High School Sprinter bleat about how Usain Bolt could have employed a better technique? No.
You ever hear of a tortoise bleat about how the Giraffe could have employed better vision? No.
Yet, in the land of the Mis-Educated Than His Ancestors (the Metha), a former head of state, who had the same opportunity to effect change in Ghana, but could not, coils backwards, not to fetch wisdom, but to drop-off his entire brain.
Fascinating! Indeed, Kufuor is still not aware that he had the same opportunity as Nkrumah, yet, outside of Kufuor's coterie of fans, few will remember him as a man of consequence, let alone a leader with any vision.
We know Nkrumah. We know what his vision entailed. We even know the man's philosophy. And what do we know of Kufuor? What will the world remember Kufuor for?
One thing: For being the tortoise who chastised the Giraffe's superior vision. What is it entirely? The case of a failed leader (Kufuor) calling another leader (Nkrumah) a failure? The case of a tortoise criticizing the height reached by the Giraffe?
We can critique Nkrumah, we can indulge some of his ideas, and so we can't say he didn't have vision. What about Kufuor? Is something in there to critique? What is it?