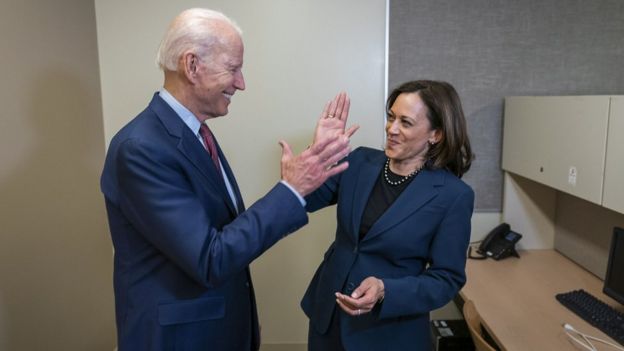 Joe Biden Lost The Elections Before Picking Kamala Harris.
It doesn't matter what the Euro-American Establishment calls Kamala Harris, the Democrat VP choice. It doesn't matter whether they tell the world now that she is actually Indian American (as opposed to American Indian), who is passing for a Black woman in America.
And it really doesn't matter that they refer to her often as a Black woman. Kamala Harris is not a Black woman. She is certainly not African American! Her failure to garner that support in the democratic primaries more than proves the fact that most African Americans know she is on the come up. We know she conveniently passed for Black to take away resources and positions from Black women!
But the problem of Biden's bid for president is not Kamala, the Indian American opportunist. The fact is that Joe Biden himself, as a white man, historically racist presidential candidate, had already lost the elections to President Trump, a full month ago. Back then, and now, the African American support for Joe Biden remained much lower than for Hillary Clinton. The Euro-American Mass Media have accepted that much!
Joe Biden lost the elections a full month ago. What the democrats are trying to do here, in the pick for Kamala Harri, is at best a greasy move. They are signifying and re-signifying their Plantation Master status in their relations to their African American voters: "We are white and we say so!" "You don't like Trump, here's Biden-Kamala!"
In the coming weeks and months, we are going to debate the "race" of Kamala Harris as if her "race" is not so abundantly clear! White media would like to paint the Black/African community as essentialist as we continue to reject the supposed Black/African American identity of Kamala Harris. But the fact remains that there's nothing as essentialist, as Anti-Black and as racist as calling an Indian woman — married to a Caucasian man, and whose father is an Indian Jamaican, and who barely remembers any Black ancestor in her own genealogy — as Black!
Nothing remains as racist and as an oily privilege of white terrorism as calling an Indian American woman — who has consistently worked to terrorize and incarcerate Black people en mass in America — as Black!
Joe Biden lost the elections way before he picked the Indian American senator from California to help him do it. Certainly, with Kamala Harris consistently insisting that she passes for African American, the democrats have lost yet again another pivotal election by appealing to identity politics, yet insulting the identity of African American descendants of Slaves (AADOS). The "I am white and I say so" mantra of running the Democratic Party is no longer acceptable to the African American community. It ends here.