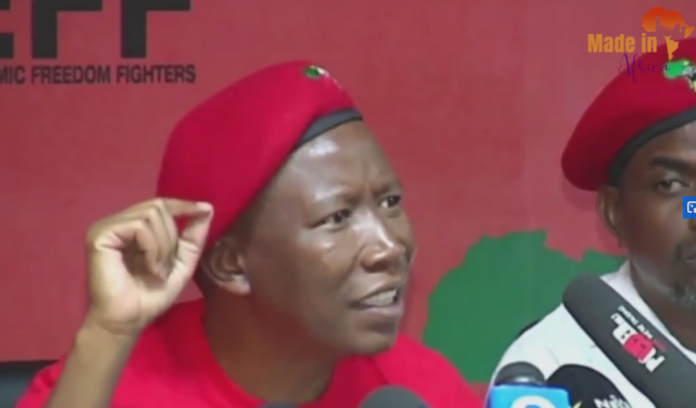 How to Become a Warrior Philosopher.
Let me start with a brief introduction to illustrate how a Warrior Philosopher (WP), like Narmer, thinks. Let's take for instance part of a speech/answer by Julius Malema of South Africa when he was asked about yt farmers threatening to leave South Africa over land reforms.
I take Malema's speech for this example because many people would assume that because Julius Malema is a famous activist in South Africa for human rights, and because he is locked in step with fighting white terrorists/supremacists in South Africa, he must invariably also think like a Warrior Philosopher. After all he is a Member of Parliament and the President and Commander-in-Chief of the Economic Freedom Fighters, a South African political party, which he founded in July 2013.
I also use Malemas speech as an example because it will push us all to strive to become the Warrior Philosophers we truly need to become to affect existing yt terrorist ideology. And so for that matter, there's no doubt in anyone's mind that Malema is a fighter, but he doesn't necessarily think like a Warrior Philosopher. Let me illustrate with parts of the speech I mentioned:
Let me reiterate a few parts of the quote for good effect: "I am Malema and I am not going to beg them [the yt farmers]. I will never beg them." This couple of sentences reflect the fact that Malema is naturally fighting against the fabricated, and artificially instituted privileged position that yt people occupy in South Africa, which is at the top of the caste system of South Africa. Here, we become aware that Malema is not only emphasizing his humanity alone, but that he is making it obvious that he is fighting against a system of yt people that continues to devalue his humanity.
Malema is a fighter. No doubt.
And then we get to the next few sentences in the series which I think are mistakes. Mistakes that a Warrior Philosopher will not make, and should not make: That is "They [the yt farmers] are going to stay here if they agree to be equal to Black people." Square this idea with the rest of the sentences in the quote and you quickly become aware that Malema is actually begging the yt farmers to stay if they accept to be equal to Black people. But then Malema himself agrees that yt people are afraid to lose any parts of their stolen, accumulated, African wealth.
All of which begs the question: If the yt people are not afraid to share in the wealth, why are they so scared of equality? You see, there's no such division between equality and sharing-in-the-wealth as Malema would like to believe. To be equal is to share!
Is Malema a fighter? Absolutely. Not only is he a fighter, he is a lovely one! Malema is also a very nice guy. He is a Peace-making Philosopher (PP). What he is not is a Warrior Philosopher. Warriors do not offer their enemies a cop-out.
The fundamental way a Warrior Philosopher would think about this is simple: There's no equality without the sharing of the wealth. In fact—and this part is even more important—there's no equality without returning what has been stolen from us, compensating us for stealing it, atoning for the thievery, and then begging us to accept your probationary equal humanity with us.
It doesn't matter that Malema may have mentioned these very demands somewhere, some place, but Warrior Philosophers do not have the luxury of not always making their ideas clear! In other words Warrior Philosophers come to force your submission at all times to their clear demands, by dint of pure human reasoning. Warrior Philosophers do not see yt supremacists, for instance, as human—since the very particular violence of yt terrorists against Black people have disqualified their equal humanity to us. They are animals.
That is, warriors come to the fight to win, at any costs with every word they can muster! A Warrior Philosopher does not express his ideas to lose an ideological battle, or to make room to fight the battle at another date. And certainly, a Warrior Philosopher does not pick a fight so that he can draw his enemy. Absolutely not.
To become a Warrior, and a Warrior Philosopher at that, is to accept that the chosen battle is one in which only one man stands. There are no cop-outs. Since what necessitated the battle makes it so—for instance, either we beat and defeat white supremacism and eradicate it from everywhere on Earth, or it will have us for dinner. There is no copping out. (And this is not to say that Malema is copping out, but by the actions of his wording he is allowing yt terrorists to cop out).
This is the reality that molds the mindset of the Warrior Philosopher. And this is a tiny illustration of the mind of the Warrior Philosopher (WP) in his unending battle to emphasize and enforce in full regalia not only his Black humanity, but his Black identity as well.
WP. Narmer Amenuti.