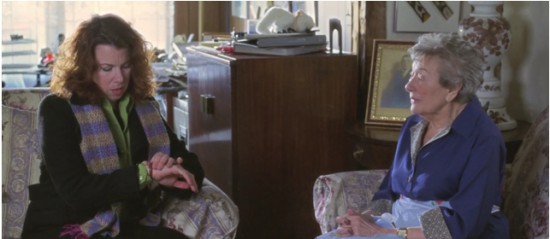 Written and directed by: Flavio Alves
Story: Joao Silverio Trevisan
Stars: Viola Harris, Siobhan Fallon, Beau Hauser, Jerry Jeffe, Richard Scott, Melvin Shrebnick
[sws_blockquote_endquote align="" cite="" quotestyle="style03″]To be an adult is to be alone.[/sws_blockquote_endquote]
To paraphrase Rostand's statement, "To be old, is to be alone." And this short film by the talented director, Flavio Alves, explores quite unintentionally the entire discourse on how we treat our elderly. It's only 15 minutes but it's golden.
At first I was surprised at the cast since not very many films center around older characters. I quickly appreciated the picture. The Secret Friend is about a reclusive, elderly widow, who living alone in the city, begins a mysterious friendship with a silent caller. Viola Harris from Sex And The City 2 fame gave the lead character, Anna, a depth and breath that is as equally thought-provoking as it's artsy. It quickly turns out that the import of it all is more so a dialogue on a social 'ill' – our treatment of the elderly.

Anna's (Viola Harris) life passes in modest retirement. She water's her plant and dusts its leaves. She does it with a certain meticulous intent that immediately strikes you with solemn empathy. She's lonely, but why?
In comes Julia (Siobhan Fallon), a much younger neighbor, with a small token of 'appreciation' for Anna. "Call me if you need anything, and I mean anything, ok," says Julia. But the whole meeting was short and awkward. It was forced. Julia must have felt 'a burden of society' on her shoulders – to show care for the elderly – something she quickly gets uncomfortable with. She wanted to leave shortly. A scene so symptomatic of a city ride – when the concern of our younger folk gives way to 'uneasy reluctance' to help the elderly who are often struggling to stand upright – in a rocking bus. Anna noticed that uneasiness in Julia and spotted Julia's face drenched with profuse reluctance . The visit, perhaps, remained meaningless to them both.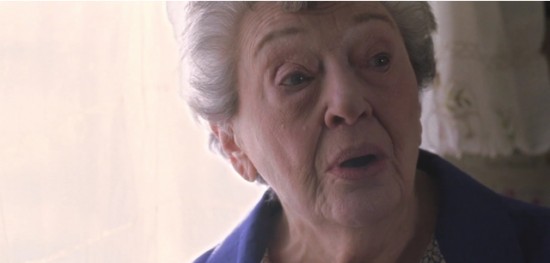 Easily, Anna becomes addicted to her loneliness and resorts to handle it in her own way as the plot trudges along. She soon becomes a friend of a secret caller (Jerry Jeffe) – reading bedtime stories to him and expecting him for dinner. She obsesses about this caller as the odd and mysterious friendship evolves between the two. Anna's empty days are given new hope.
One day the caller finally speaks through the phone and Anna is stunned! We become at once, unsure about the caller – is he real or fictive? And she tries to obtain the number from a telephone company manager (Richard Scott), but to no avail. The calls have abruptly ended and Anna is devastated.
But Anna will not give up. She's compelled to surprising action to fill the unbearable void. In the end, she picks up the phone and dials an old man (Melvin Shredbin). "Hello, hello," says the old man, but she wouldn't say a word and cracks a mocking smile – she herself has become a secret caller – an evolution worth appreciating in the plot but disturbing as it drills home the plight of loneliness that our elderly probably feel. The question that kept ringing in my ear through out the story was, 'Why we treat our elderly this way?'
[sws_blue_box box_size="630″]The film was entirely shot in New York City, and stars Viola Harris (Sex and the City 2, The Other Guys) and Siobhan Fallon (Men in Black, Forrest Gump). The Secret Friend entered more than 60 film festivals around the world and received 14 awards for Best Short Film.
It premiered at Palm Springs International Film Festivals, where it was chosen as 2010 Best of the Fest (Audience Favorites). It was also chosen as Best Women's Short at the Cleveland International Film Festival, Best Short Film at Indianapolis International Film Festival, Las Vegas Film Festival, and received the 2010 Jury Storyteller Award from Savannah Film Festival.[/sws_blue_box]
To learn more about this short film, please visit here.