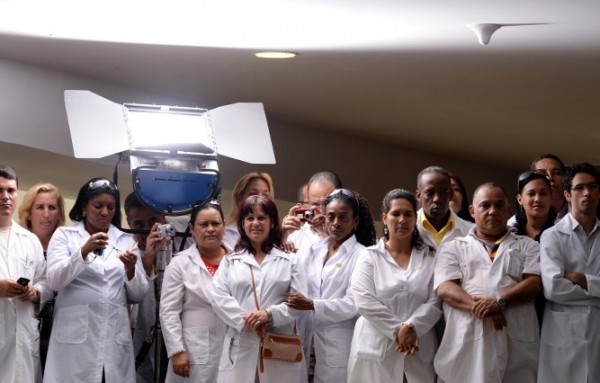 After months of inaction and neglect from the international community, the US, and the EU, the Ebola epidemic in West Africa is now spiraling utterly out of control.
But Cuba has never looked better. The outbreak of the dangerous Ebola virus in three countries, Guinea, Liberia and Sierra Leone, continues to prove a Cuban model of government that is now well beyond a mere consideration in West Africa.
Cuba is sending nearly 300 more doctors and nurses to West Africa to help fight the Ebola epidemic.
As these new African states continue to struggle for an identity of their own, in culture and in governance post-independence, the long forgotten accomplishment of the Cuban people since 1878, without Western influence and guidance, especially in Commerce and in Health Care, comes under strong consideration for many African states.
Liberia with a 4.2 Million people can only muster 51 doctors and 978 nurses and midwives in addition to some 269 pharmacists. Sierra Leone with some 6 million people can only summon 136 doctors, 1,017 nurses and midwives and only 114 pharmacists. Guinea cannot boast more than 120 doctors.
The Cuban announcement will bring to a total, 461 Cuban medical personnel, who would have been sent to help address the epidemic spreading across West Africa.
Not Nigeria with her oil wealth or even Ghana with her long history of gold and diamonds – which boasts some of Africa's best schools and medical schools at that – has committed more than one doctor each to help their neighbors contain this epidemic.
In a usual bow of shame and cowardice at the ongoing UN General Summit, the UN, the EU and the USA lauded the current president of Ghana, John Mahama for begging for aide – bringing attention once more to an epidemic the West continues to turn a blind eye on.
So much for our friendship and cooperation with the US and EU and so much more for the failed promises of Western Capitalism in West Africa, that in 2014, Guinea, Liberia and Sierra Leone put together cannot boast of more than 350 medical doctors – a 100 behind the number Cuba alone is sending them.
These three West African countries together have a landmass triple the size of Cuba in addition to far more promising natural resources. But they continue to lag light years behind Cuba in key developments – in commerce, in education and in health.
In extension, the leaders of Ghana, The Ivory Coast and Nigeria who form the crux of ECOWAS ought to be ashamed. They ought to creep into holes and never show their faces again. These awful statesmen, symptomatic of African leadership in general, have long written the death sentences of so many Africans with their lackadaisical and corrupt approach to governance. Yet they continue to command respect in the West.
One wonders why?
On the other hand, Cuba, the hand that is despised by the West, third only to Russia and North Korea, continue to show resolve and a commitment to the common humanity they share with Africans. Cuba's long history with Ghana, for example, cannot be overemphasized as it has educated more than a quarter of all Ghana's medical (doctors) staff.
Alas, is it because the Cuban government is committed to a shared responsibility in helping her partners develop? Or is it the nature of the Cuban people to be moral and respond to matters of moral responsibility no matter which part of the earth it falls?
In reactions to Cuba's decision has come many a health expert urging European countries and their governments to scale up manpower and resources to fight the Ebola epidemic, which could now be threatening "the entire world".
The Lancet medical journal pleaded with European countries to send trained medical staff, field laboratories, protective clothing, disinfectants and basic tools such as electricity generators and a putrid 44 public health professionals and academics – not doctors?
On Thursday. US President Barack Obama admitted that the global community had not done enough to respond to the crisis.
"There is still a significant gap between where we are and where we need to be," Obama said while addressing a high-level UN meeting on Ebola.
Margaret Chan, director of the World Health Organisation, addressed the Ebola meeting before Obama.
Chan said the virus was "still running ahead, jumping over everything we put in place to slow it down".
In this frenzy to finding a lasting solution, the American government has rather dispatched 3,000 US troops, who are not medical professionals, to Liberia claiming these soldiers are equipped to set up facilities and training camps to help treat patients.
Why troops? Why soldiers, America? Why?
While American uses this as an opportunity to increase its military presence in West Africa, and perhaps to curb a possible Cuban influence, the deadliest Ebola epidemic has now infected more than 6,200 people and claimed nearly half of them since late last year, according to the World Health Organisation (WHO).
Still, in this frenzy, we believe that God will touch good people, and West Africa will once again return to normal. But let us also remember to remove the US military presence on our lands in West Africa, and other parts of Africa for that matter, and perhaps avail ourselves to learning something anew from our Cuban friends.
The Cubans may not bask in the trinkets of materialism as our Western exploiters do, but they are doing something right in educating their people and in caring for and curing their sick.