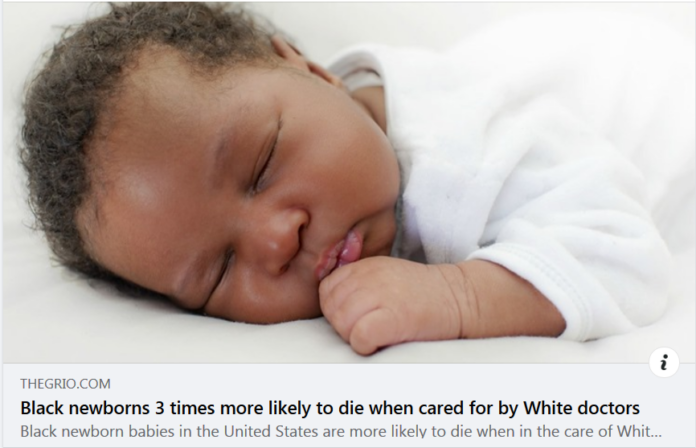 Don't Mince Words: White Physicians Kill Black Babies.
A study from 1992 to 2015, examined 1.8 million hospital births in Florida and found: Black newborn babies in the United States are more likely to die (at 3 times the rate under Black doctors) when in the care of Euro-American, white, doctors. The study discovered no mortality risks for white babies born to Black doctors, however. Of course this is the passive voice of the narrative—the peculiar way one needs to write it so that the Euro-American journals can accept the publication.
Nevertheless, the appropriate, and correct scientific expression of the fact is this: For every Black infant who dies in the hands of a Black physician, three Black babies are killed in a white physician's barbaric practice. Now turn it around: White doctors only kill their white babies at the same rate as Black doctors kill white babies.
There! The significant difference. Color matters to white doctors but it does not to Black doctors. Black lives matter to Black doctors, but it does not to white doctors! And so one needs to ask: Is it medicine that white physicians practice in Florida or is it some form of quackery masquerading as the practice of medicine? Why the significant differences in the Black-white infant kill rates among white doctors?
The answer to that question should be clear. If not, that's your problem.
Let's get straight to the lesson here: You cannot fix Euro-American terrorism against Black people. Everywhere one looks, white terrorism against Black people is present. It cannot be fixed. No amount of training (or, no amount of civilizing) white people will fix their in-bred barbarism against Black people.
If this narrative unnerves you, then you are an enemy of simple facts.
Caveat: Do Africans still believe that they are not being killed at an alarming rate from all the pharmaceuticals they import from Euro-America? Including the new Bill Gates vaccines? Do African/Black lives matter to Euro-Americans?
Do Africans really know the rate at which they are being killed by their blind belief in Euro-American medication? Or are we waiting for someone to do the research for us? Are we waiting for someone to paint the picture of Euro-American terrorism for us before we gathered our belongings and started running from the most brutal, sadistic, expression of terrorism the world has ever known?
Since it is now clear that physician-patient racial concordance (PPRC) is important to keep Black infants safe from the terrorism of Euro-American physicians, why does the discourse on law enforcement and policing in the United States lack the similar perspective on the police-citizen racial concordance in safeguarding Black lives? Black people are 5 times more likely than whites to be arrested by white police departments, yet no one cares to speak on the Cop-Citizen Racial Concordance (CCRC)?
It remains telling that in a US general election year, the presidential candidate for US Democrat Party, Jim Crow Joe (the Bigot) Biden together with his vice presidential candidate—his catamite, the Chief Black People Jailer from California, Copmala (Kamaleon) Harris—are still hard-bent on incentivizing the white police departments across the country with more than 300 million dollars for so-called better training. According to Bennie Sanders: "I do believe that we need well-trained, well-educated, and well-paid [white, racist, slave-raiding] professionals in police departments."
And there you have it. No matter the evidence exposing the glaring terrorism of Euro-American physicians against Black babies, or the evidence exposing the obvious violence of Euro-American Militias (or cops) against Black people in the United States, stooges of the white terrorist cartels will always bend towards emphasizing greater investigation by researchers and practitioners into drivers of inequality between [white ] physicians [and cops], and their Black counterparts, instead of the obvious solution: You cannot fix Euro-American barbarism.
If you accept that you cannot fix barbarism, then you have an obvious choice: separate from that barbarism, however best. Period.