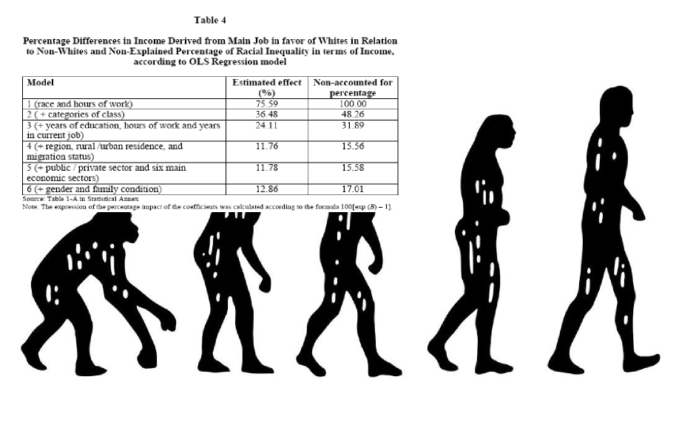 If there's one field of mathematics that social scientists have grabbed onto, it is statistics. Many sociologists, for instance, love the use of statistics so much so that the top sociology journals in the United States can't help but publish any highfalutin nonsense based on regression analysis that is simply wrong.

Let's examine one form of the incorrect regression analysis based on race. Social scientists would use race as a variable in numerous published works. They would say the following in the form:
Y(Income) = a. f(race) + b. f(class) + c. f(educational status) + ….
That is, income, they may say, is a function of race, class and educational status. What is wrong with this thinking is quickly obvious to a mathematician. Not to an American sociologist. Take any unit of analysis of the form above. Since social scientists deal with societies, or group effects, the unit of analysis here is an individual human being. Let's glean some rudimentary information from this expression as follows: (1) When the class of an individual human being changes, the income level will change. That is if an individual human being can change his class (from poor to elite, for instance) the income level of that individual will invariably change. Imagine a poor man winning a mega million lottery and now hangs around New York's elite. (2) If an individual can change his educational status, the income level of that individual will invariably also change. A man can go back to college and obtain post-graduate degree in order to boost his level of income. (3) The third issue, however, is what is worrying.
Now, how does a Black man change his race so that he can attain a higher level of income in the United States? By bleaching? Or by undergoing profound surgery? In what way can a white woman change her race in order to earn income as low as a Black woman? How can a Black child change her race in order that she can one day sit at home, like a white woman, and collect ninety bucks an hour of consulting fees from KPMG? By undergoing a kind of post-racial surgical operation? Race does not vary for an individual. Another way to put this is that race is not a variable. Independent or otherwise.
But in Europe, Canada, Australia and the likes of the United States of America, race has always been a variable. One way they like to satisfy themselves with this falsehood is to tell themselves the unflattering lie that race is actually an "independent" variable. By independent what they mean is that the variable is only dependent on itself (on its own choice). How is that? Does one determine himself to be Black the first thing in the morning, and then change it to white after lunch in preparation for that impending interview at KPMG? Absolutely not! But the lie pervades all aspects of social science work, and the lie has crept into genomics, biostatistics and such dubious fields of pseudoscience. The basic form of that expression above, no matter its renewed embellishments in journals, can be read almost anywhere one looks in social science.
Where social scientists derived this nonsense from is actually hidden right under their noses: the field of Statistics itself in the works of Darwinists. Evolutionary theorists adore the idea that an individual specie can actually metamorphose into another specie given just enough time. This metamorphosis has never been actually demonstrated in the field or in the lab. Not yet, at least. However that statistics describing how the form of a species depends on time remains insidious in all aspects of pseudoscience and social science:
Y(species form) = a. f(time) + ….
Almost readily, one can see why it is tempting to rewrite this in the following form (after all in many aspects of biological-speak, race and species are almost interchangeable):
Y(race) = a. f(time) + …..
That is, if the form of a species is dependent on time, then the race of an individual could also be dependent on time. Put another way given enough time a Black man for instance can become a white man and apply for that job at KPMG. Racist theorists in American and European sociology, for instance, still publish works of this form. For instance, the idea that Jews weren't (regarded as) white, or that the Irish or the Italians weren't (regarded as) white until much later in American society is used as evidence of trans-racial theorization. The idea then goes that given enough time Africans (people of African descent in the Americas) too will be considered as white in American society. Don't laugh! This sort of white supremacist incantation remains insidious and pervasive in American sociological thought because at its first assumption is that it regards whiteness as a thing for a person to aspire to become. Race then must be aspirational, not inherited.
Of course, a white supremacist incantation such theories remain, but once the species, and then the race, had been used as variables (dependent on time) in white supremacist evolutionary theories, the idea of using it as an independent variable in other analyses (not involving time) became a straightforward adaptation. Never mind that it is wrong mathematics.
There's motivation for continuing to use race as a variable in social science research. Sheer willful ignorance is part of it for many social scientists who simply do not have enough nerve cells in the brain to understand this article, for instance. The bigger reason exceeds all: Racism. White supremacism. This has no regard for logic. This has no regard for rationality. This has no regard for mathematics.