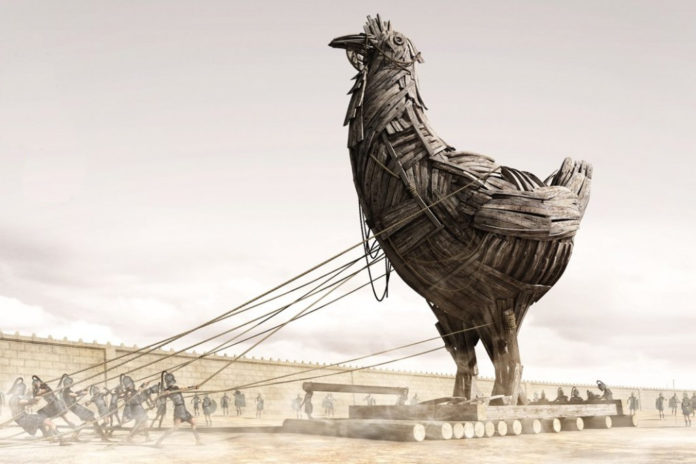 NTOABOMA — There's a story staged in 1555 in which an English Missionary [name withheld because he wasn't human] tooting a cross with the Blood of Jesus Christ on it arrives in a serene village near Mambolo on the coast of Sierra Leone. It is said that on this very day when the strange foreigner arrived in the village, thousands of Mamboloans were celebrating their harvest festival that year.
The English foreigner tells these extra-polite human beings who already thought he was a ghost that God had sent him to preach about Jesus the Christ. After one sermon, he asked some Mamboloans who were shocked and trounced by the apparition of a ghost in their village, how many would accept Jesus Christ as their Lord and personal saviour.
The story has it that as much as five hundred men and women raised their hands. The English foreigner invited these new converts to the beach where his slave ship, named Jesus, was docked. The English foreigner urged his new Christians to enter the belly of the ship for their salvation. That was the last that Mambolo ever saw or heard of these extra-polite human beings. The ghost had spirited the Mamboloans away.
Such is the nature of the world Africa was plunged into, notoriously, from out of nowhere. It was new. But it was going to mark the beginning of brutality and barbarism in Africa and around the globe. Europe had arisen, and not for the right reasons.
Fast forward to 2016. An American foreigner [name withheld because he's not human] who is worth 80 Billion US Dollars docks another ship at the beaches of Africa. He too, like that English foreigner in 1555, is tooting a life-changing, life-saving solution to "problems" in Africa.
What problem, you would ask? Poverty, this stranger will answer? What poverty, you would ask? The same kind that that stranger has in his own country, the USA? The same one that over 50 million Americans suffer from?
Only then you remember that strange foreigners offer not solutions to problems. They rather create problems. The villagers in Mambolo were self-sufficient and never needed a salvation from an English stranger wielding a bloody cross with a figurine of a ghost nailed to it.
This time, on all the beaches of Africa, except in Eritrea – which is also why America is trying to launch a military invasion here – millions of African families have raised their hands. Their government which are completely bought by America's billions and America's strange cowries (dollars) are leading them into the belly of another ship.
The name on the ship this time are many – imperialism, food insecurity, GMOs, Monsanto, neoliberalism, neocolonialism, wars, poverty and disease. These names are anything but good. They are clad in seven pillars underlying the new missionary project in Africa – the American Hegemonic Project. Namely (1) Big Banks (control of our money circulation), (2) Biotech (control of our food chain, for example, the 100,000 Trojan chickens), (3) Oil and Energy (control of our fuel sources), (4) Military Industrial Complex (control of our defense and policing plus the starting of wars and the sale of weapons), (5) Media (control of our media to propagate the propaganda of the American elite in Africa), (6) Big Pharma (control of our health and our healthcare and Medicine) and finally but not least (7) Water (control of the water we drink, cook with and farm with). 
Africans are super-nice. That is a part of the downfall – being human. Whether we like it or not, this is the project that has been carefully defined. We can embrace it or fight it. Our lives are at stake and the future is bleak whatever way we look at it.
So, onwards our African government are leading millions of African families into another slave ship. One friend noted precisely that these strange foreigners from Europe and America have something in common: Crafty, cunning and characteristically Caucasian.
I prefer to see it another way as well: Stupid, ignorant and characteristically African. Either way you look at it, the problem is well-defined. "There's a global plot to enslave everyone in this world and I am going to expose it," or so says the paraphrased words of a Caucasian who dared to stand up against injustice. The problem is well-defined.
But, again, I prefer to see it another way as well: Stupid, ignorant and characteristically African.
I say that with a heavy heart. Africans are super-nice people. They are the originals. But, you have to look at it this way to gain some insight. Bolivia refuses to allow 100,000 of these vaccinated chickens into their dear country. Africa has accepted the "offer" without knowing what these chickens might do to our entire Agriculture. We can't even grow chickens? Chickens?? Chickens??? Chickens???? Ourselves?