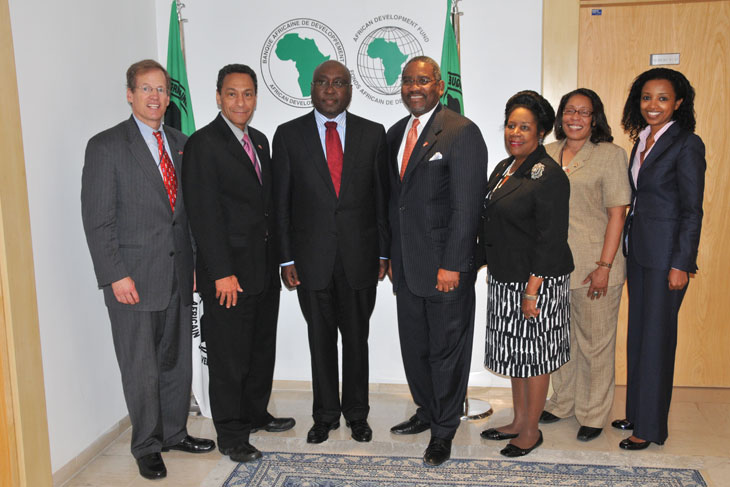 The 48th Annual Meetings of the African Development Bank (AfDB) opened on May 27 in Marrakech, Morocco, focusing on the need for Africa to turn economic growth into truly shared and sustainable economic transformation in the next half century.
"The quality of growth and the sustainability of growth" are the two main issues confronting Africa today, AfDB President Donald Kaberuka said on May 25, at the African Union's 50th Anniversary in Addis Ababa, Ethiopia.
The Annual Meetings are being held at a crucial time. For Kaberuka, "Africa is rising, and it needs a push. The rest of the world is languishing, and it too needs a push. Africa needs the world, and the world needs Africa. Each can give the other a push."
For the AfDB, Africa's challenge is to bring its extraordinary progress of the last decade to scale are: a critical lack of infrastructure – transport, energy, water, telecommunications – which is the basis for all growth; a lack of regional economic integration between what are still fragmented national markets; and the pockets of serious fragility that still persist across the continent.
"Africa, the African Development Bank, and our international friends are on the case with all three," Kaberuka says. "We have the will, we have the systems, but we still don't have all the funds. The Bank can work magic with what it is given, raising nine dollars for every one of its own," he added.
For Kaberuka, the Bank's two main financial challenges are: "First, we need our non-African members' full support in making a big injection into the Africa Development Fund – Africa's fund, for Africa's future. The ADF gives concessional loans and grants to our most vulnerable members, whose need is the greatest. Its track record is superb.
With a serious push now, it can bring lasting change to our fragile states, as it has done in Liberia and Sierra Leone, to name but two, and as it is in the process of doing in Somalia and Mali. Second, we need our African members' support in a new initiative, which we believe is a visionary solution to bring about the vision of transformation, and a revolutionary response to failings in finding, facilitating and funding infrastructure projects."
Furthermore, "Our new Jubilee infrastructure bond will combine public and private investment, both domestic and international, and bring projects to bankability. With a $10 billion start-up – that is just 2% of Africa's combined foreign exchange reserves – it will allow us to finance $100 billion worth of projects, more than the entire Programme for Infrastructure Development in Africa (PIDA) Priority Action Plan for 2020," says Kaberuka.
The Marrakesh meetings will also involve the AfDB Board of Governors' decision on the Bank's return to its original headquarters in Abidjan, Côte d'Ivoire.