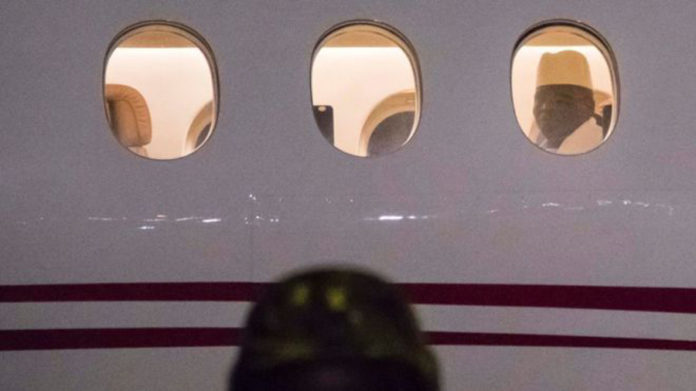 Gambia's former President Yahya Jammeh left the country in the wake of the invasion of The Gambia by ECOWAS-backed Senegalese forces. Mr Jammeh lost democratic elections after twenty-two years in power to Adama Barrow, who was sworn into office some 150 miles outside The Gambia—in Senegal.
Mr Jammeh challenged the results of the elections and called for ECOWAS judges in a litigation against what he deemed were gross election malpractices. But as a result of the ECOWAS-backed Senegalese invasion, Mr Jammeh boarded a plane to Guinea, thanks to The Presidents of Mauritania and Guinea who brokered a useful peace deal amidst the turmoil of an invasion.
Mr Jammeh will travel on to exile in Equatorial Guinea. Still yet, there are "no guarantees mentioned by ECOWAS which would indicate whether he would be subjected to extradition back to Gambia or to Europe as was done to former Liberian President Charles Taylor in 2003. After an ECOWAS intervention, Taylor was sent to Nigeria for a brief period and then in contravention to the agreement, he later wound up in The Hague for a Special Tribunal on the War in Sierra Leone."
Why would Mr Jammeh's fear of extradition be answered through an armed invasion by a nation that literally engulfs The Gambia in geography? Why would ECOWAS, an economic community without the mandate to use military force in any nation, back Senegal in a one-sided show of force? To understand why Senegal would dare invade a sovereign nation, one must appreciate the tectonic shifts in the business of war newly taking shape across the continent of Africa in general.
Moreover, many of the same West African states which demanded the invasion by Senegal have themselves experienced "numerous coups carried out by the military. Others have been involved in counter-insurgency operations within their own borders that remained absent of outside interference by neighboring states." So why the ECOWAS show of force in The Gambia? In addition, ECOWAS itself does not have the mandate to intervene in any nation in the region for any reason except to ensure the protection of civilians in case of a humanitarian crisis. Are imperialist forces at work?
Considering that 86 percent of the foreign trade by Gambia is conducted with Britain and EU states, and tourism constitutes at least 40 percent of its hard currency earnings, it is difficult to see how concise and consistent diplomatic pressure wouldn't have been more pragmatic against Mr Jammeh, especially in a country where majority of the people farm and fish. The imperialist governments abroad are surely in a position to place serious sanctions on the Jammeh administration without the necessity of an invasion. So why didn't they?
The United States is the sublime factor. It is a business interested only in invading nations. And for what? To promote democracy and the rule of law – or so they claim. The outgone administration of President Barack Hussein Obama signed in May 2016, a renewed military cooperation agreement with Senegalese President Macky Sall. "The U.S. and Senegal signed a defense cooperation deal. The deal, according to Global Risk Insights Dot Com was 'an upgrade of an existing agreement dating from 2001, and only entails increased access for U.S. military deployment in case of humanitarian crises, such as the Ebola crisis, and to contribute to the battle against terrorist groups in the region.'"
More recently the U.S. has invaded Libya, sodomized its leader, Muammar Gaddafi, and returned the prosperous nation to pre-historic pre-Gaddafi status: poor. All in the name of restoring democracy. Libya remains a failed state as two waring terrorist factions vie for total power. This is how Washington likes it – total chaos; so they can manage the chaos with a sophisticated management protocol that siphons money and resources from the poor in Libya into globalist elite hands in the West.
The nature of this story continues on in West Africa and in particular, The Gambia.
Although Senegal claims to be party to ECOWAS, Senegal's army is more a U.S. military outpost in West Africa than a representative for ensuring or restoring democracy under ECOWAS tutelage in any given country. Essentially the Senegalese deal with the U.S. can be interpreted as the direction and strategy of the U.S. Africa Command, AFRICOM.
One can't help but raise a cursory eyebrow at Operation Flintlock, which is coordinated by the U.S. Army Africa (USARAF), and which has been conducted in Senegal over the last few years. Washington attempts "to project these operations as merely training exercises requested by Senegal. Nevertheless, when interventions such as the developments in The Gambia manifest, it is quite obvious that they are part and parcel of a neo-colonialist project to guarantee the dominance of Washington in regional military affairs."
World Politics Review published an article on November 12, 2015 by Peter Dorrie emphasizing that Washington's policy "has led to some strange bedfellows. Cameroon's president, Paul Biya, has been in power 33 years, while Djibouti's Ismail Omar Guelleh and Uganda's Yoweri Museveni also show no signs of stepping down after decades in power. Of the 10 countries hosting U.S. surveillance assets, one is classified as 'worst of the worst, five as 'not free' and four as 'partly free' by Freedom House's 2015 Freedom in the World index.  U.S. military assistance in the form of training and materiel is also going to regimes that routinely use their security forces against their population, contributing to the drivers of terrorism. To make things worse, many of these countries could actually finance these programs themselves, if only their corrupt political elites did not squander their national wealth."
Come to think of the ECOWAS states, including Ghana, that backed Senegal's illegal invasion of The Gambia, one can only gawk at some of the worst atrocities being committed against citizens. In Nigeria for instance, Boko Haram is wreaking havoc. Instead of concentrate on finding the Chibok Girls, the Buhari-led Nigerian government was more interested in invading a sovereign nation, the Gambia, a nation which posed no threat to the regional stability of West Africa—but which Boko Haram poses that threat.
Until the Economic Community of West African States "develop a foreign policy that is genuinely independent of imperialism and neo-colonialism these ongoing military exercises and interventions will become common place to keep the nations in check. It will spell the factors that will continue to destabilize the region and foster its underdevelopment."
The invasion of The Gambia was not only illegal, it has undoubtedly set a bad precedent in West Africa and beyond.