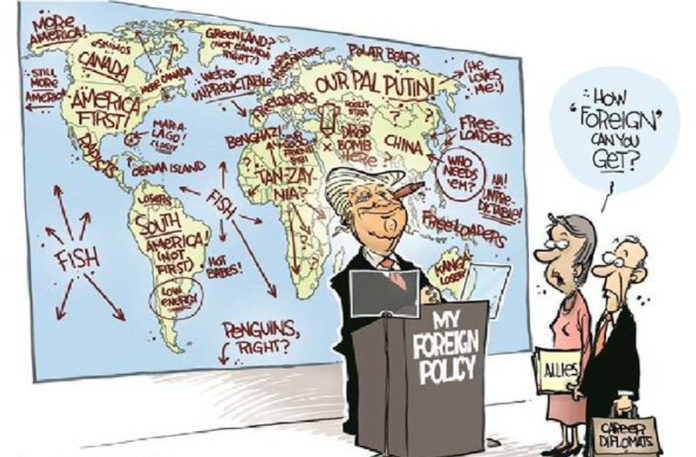 I take the opportunity to start this fourth of a series that began in 2016 on the premise, and in the context of a discussion that has recently weighed-in heavily on many Africans, which is the role of Gandhi on the psyche and colonial awareness of many Africans. I believe firmly that a big part of this challenge emanates from the constitution of the norms of operation of the world system, which is what I will touch on here in relation to decolonization.
Around the same times active colonization was winding down, some scholars warned that a lot of the issues we face in international intermingling might be due mainly to the systemic dichotomy of international versus national normative interpretive levels. These scholars noted that the dichotomy creates a situation where certain norms are implicitly accepted and others have to fight for credence. This has led to an embarrassing situation for those whose norms prevail; thus, while they will wish this situation changed, they are caught in the pleasure of its benefits and scared of consequences of letting it go.
International law is largely norms as it has no binding central authority and tends to be enforced through brute military power wielding. Beneficiaries of colonialism are often not too conscious of the role of this lack of binding authority because it serves their advantage. This lack of a binding authority, also known as the concept of systemic anarchy, makes International Relations (IR) stand out far more than international law, leading somehow to the overstretch of the literature and policy implication of IR. While classical IR theorists have over-stretched the concept of the anarchical nature of the international system, this anarchy, from an international law perspective, simply cements a norm that operates with the notion of "may the will of the materially superior be done on earth". A few scholars practically implied that international law stops where brute force takes over because law teaches us to see this force as a tool of enforcing compliance.
Scholars of international system analysis continue to have this international law versus international politics debate. Regardless of what the outcome, it has clear implications on various forms of colonialisms. Thus, based on the system's operating norms, law graduates into politics, translating into an imposition of Euro-judicio-cultural dominance, and enforcing the relics of the same colonial order. Hence, it becomes important to breakdown the normative context to get clarity on what informs and empowers the rules we apply in international socioeconomic life. Those wishing we had gone pass these issues often trivialize such investigations. But lack of the understanding of these issues and their importance may be some of the numerous reasons that are keeping colonize people away from real freedom.
The current normative order is maintained by assuming a persistent ideological war that technically exists between the two main IR schools – liberals and neo-realists – within the dominant norm at the international systemic level. The two groups engage in refinement and repetitive dialectics on this perceived systemic anarchy with their debate hinged on whether human nature is fundamentally good or bad. This argument is narrowed on the domestic level to inform the argument of the conservatives versus liberal in national politics. The conservative tilts towards the neo realist argument of the bad nature of the human, which for them, cement the importance of the central role of the state and its authority. The liberals on other hand over-stretch the good nature of the human to a condescending and victimizing extent. Those norms and values have long been perverted. Conservatism claims values are important but it is clearly driving towards big business and big money while liberalism heads towards nihilism, as both defy social boundaries in the respective directions.
Both sides do not think human values as they currently are, are good enough and continue to seriously test the boundaries. In this, colonize people must understand the freedom they fight for if achieved, will not exist in vacuum. They have been preaching the need for a new mind-set as a prerequisite for as long as colonization existed. The awareness about this need for a mind-set is fundamental in anti colonial struggles, and it's importance to self-reliance and proper freedom has been reiterated severally. However, even if that is achieved, under which norms should it operate? It definitely will not operate norm-free. But can the required mind-set operate with existing system operating norms? Upon a first glance, we see that current international norms antagonize decolonized mind-sets. But the antagonism is a passive one that may not disturb world peace so there is no need to be afraid of any repercussions.
Colonize people must see the antagonism between system operating norms and decolonize mind-sets as a form of contestation that norms go through when they descend from the international to the domestic levels. But before we attempt to address the various forms of contestations, frictions and antagonisms between colonialisms and norms; thus, between colonized mind-sets and norms; and ultimately, between decolonized mind-sets and norms, it is important for us to address the issue of how system level norms are produced and what effects they have on the world system. The most obvious and important reason for this is the fact that colonization exists within normative contexts that colonized people are often either not aware of, misconstrue, misunderstand and misinterpret. Contestations in norms hence, require scrutiny from anti-colonial struggles perspectives. This investigation holds a key role in the understanding of why decolonization is not reaching the level of changes in norms.
International norms are made at the domestic levels and collected to the systemic level before they again descend to domestic level as social codes and guiding principles for the system. All societies produce norms but European norms set the agenda for international law. This is simply because it is only the European norms that rises to the international level as illustrated in the diagram below.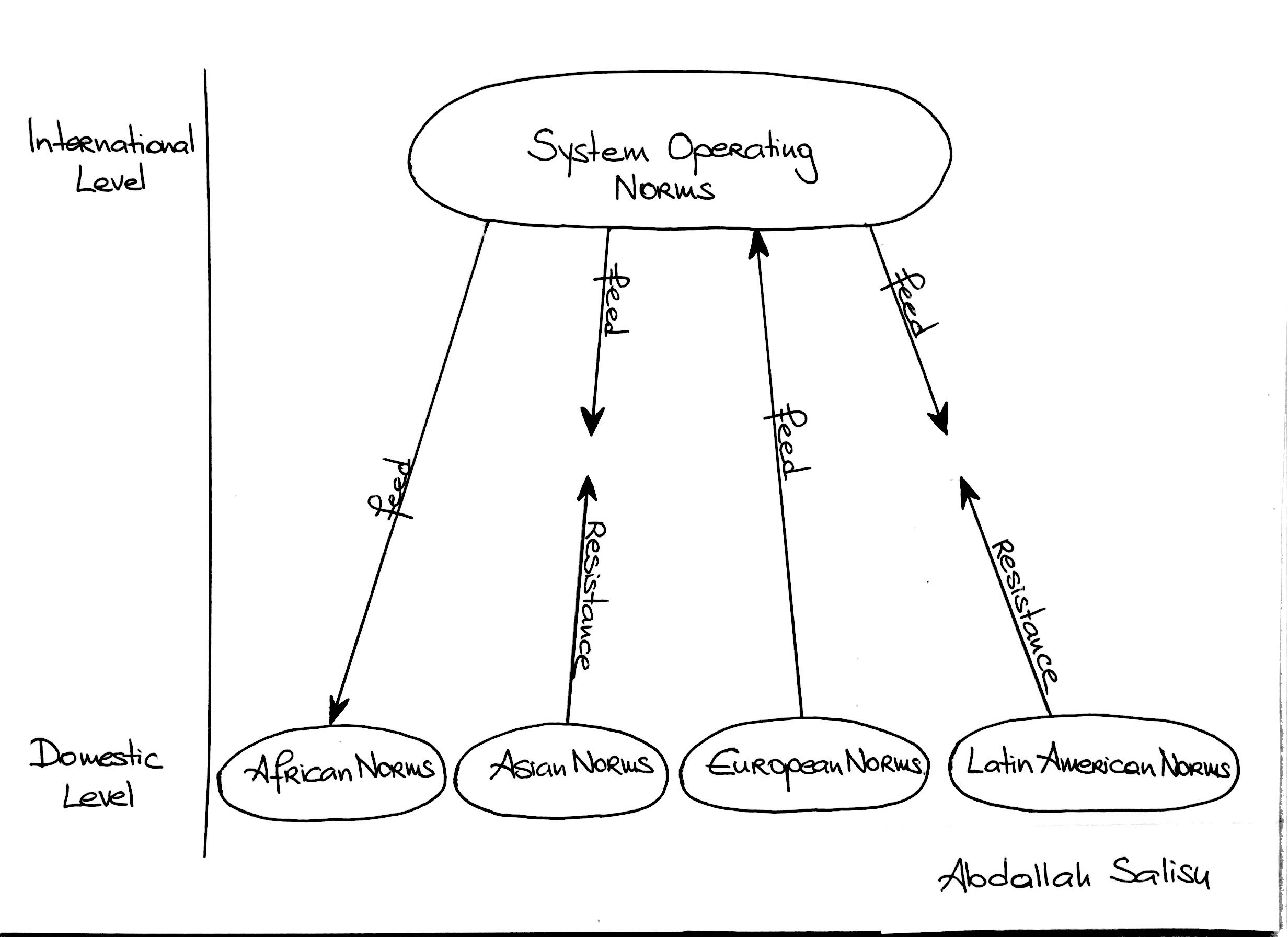 To understand this very well, one needs to think of norms in the scientific way rain is formed. Oceans, lakes, rivers and all collected water bodies play a role in this. The heat of the sun evaporates the water into the atmosphere where it remains as vapour until it condenses into clouds and then into raindrops. Similarly, norms are produced in all cultural contexts. But unlike with the rain where evaporation may be equally contributed from oceans, lakes, rivers and all other water bodies, in norms that contribute to governance of the world, only the European norms make it to the international level where the condensation takes place. As such, unlike with rains, in terms of norms, only the European norms will come down on the whole world as norms for operating the system.
The illustration and rain formation analogy show that only European norms feed into the systemic level normative arrangements. Therefore other norm producing contexts are left with no choice than to accept or resist the system level operating norms, with which international law and international politics work. Knowledge brokers in other colonize contexts such as Asia and Latin America charged with shaping norms try to get involved in norm brokerage at the international level. But they face resistance from the European norms descending into their domestic contexts. Whereas the Asia and Latin American norms make efforts and face resistance, African norms do not even evaporate from the ground level at all. Hence Africa accepted on the international normative level within the condescending posture of the good of humans created within the liberal order. Their norms are simply pre-judicially judged as not worthy of international systemic transactions, and hence provide no resistance whatsoever in norm brokerage.
It is important to note however, that the inability of the African norms to take off from the ground and provide any form of resistance is not a weakness on the part of knowledge brokers charged with norms creation. It is simply because the domestic normative order is built on an unparalleled dualistic sets of jurisprudential intermingling in which foreign rights systems trump over indigenous ones. Because legality in Latin American and Asian contexts are built on a single jurisprudence, they are able to gather momentum and provide resistance to the influx of Eurocentric norms into their local contexts. That helps them reject any form of condescension and allows them to resist normative impositions.
Having set the stage with how norms are produced, to give proper understanding of the whole issues, I will follow this next with various forms of contestations, frictions and antagonisms, first between colonialisms and norms; then colonized mind-sets and norms; and then ultimately, between decolonized mind-sets and norms. This is when the important issue of how this condescendingly good human nature from the liberal side of the norms play down on colonize mind-sets such as the mind-set that allows Africans to unreservedly celebrate people like Gandhi.