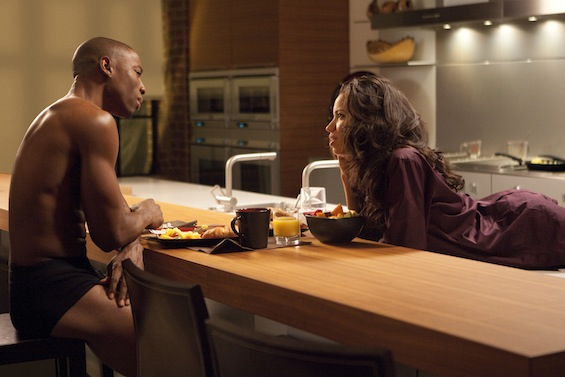 Written and directed by Tyler Perry
Director of photography, Alexander Gruszynski
Edited by Maysie Hoy
Music by Aaron Zigman
Production design by Eloise C. Stammerjohn
Costumes by Johnetta Boone
Produced by Mr. Perry, Paul Hall and Ozzie Areu
Released by Lionsgate
Running time: 1 hour 51 minutes
With: Jurnee Smollett-Bell (Judith), Lance Gross (Brice), Kim Kardashian (Ava), Vanessa Williams (Janice), Robbie Jones (Harley), Renée Taylor (Ms. Waco Chapman), Ella Joyce (Sarah) and Brandy Norwood (Melinda).
The movie 'polymath' Tyler Perry has stepped up to the pulpit in his new Temptation. This film is perhaps Tyler Perry's biggest stamp on his belief in conservative marriage and family structure.
There's no doubt that Tyler Perry's work has long proclaimed religion, thrusting Christian principles at the center of most of his films and triumphantly upholding those value systems in his movies.
But perhaps never have those biases been entrenched more so than in this floppy fable he has under his eloquent erudition decided single-handedly to call, "Temptation: Confessions of a Marriage Counselor."
Adapted from his 2008 play, "The Marriage Counselor," the movie Temptation speaks, with great hostility, about deviating from church marriage principles and values.
Some critics have also added that it inveighs against monogamy and the righteous path of a wife washing her husbands underwear.
I couldn't agree more except the import of Tyler Perry's message, though a tad exaggerated to some of these unpalatable proportions, still remains an appreciable appetizer for a section of audiences who consider these values important to family life.
The story is mounted on a saga that a couple's therapist imparts to a cheating wife. The wife in question is Judith (Jurnee Smollett-Bell) who is unfulfillingly married to Brice (Lance Gross), childhood friends in a small, golden-sepia Southern town, and who are destined for holy matrimony.
As wife and husband, they live in Washington, where Brice works at a pharmacy and Judith at a high-class dating service that is owned by Janice (Vanessa Williams, who drops a heavy and fake French accent from time to time).
Here is where it gets even more exciting. Janice also employs the gold digger Ava (a grating, tone-deaf Kim Kardashian, who entertains for all the wrong reasons).
This is where Janice is introduced to Harley (Robbie Jones), a dapper social-media magnate Janice covets as an investor. Judith, already bored stiff by the dutiful, spectacled husband in Brice and feeling professionally stalled, falls prey to Harley's seductions.
Soon Harley is busy plying her with flattery, Champagne, rides in his private jet and devil-red Ferrari and other sinful apples that any wife who is serious about her Christ could easily resist.
Meanwhile Brice is initially blind to all the apples Judith has been eating. Her fall from grace (and departure from the kitchen), is intermittently distracted by the gentle Melinda (Brandy Norwood, a k a the R&B singer Brandy), who is a recent hire escaping an abusive boyfriend.
However, Judith's mother, Sarah (Ella Joyce), a minister, knows that her daughter has gulped down so many forbidden apples. She admonishes her daughter, but even Sarah's prayer warriors can't save Judith from the cruel, heavy-handed lesson that God visits on her.
Encumbered by limp pacing, a haphazard storyline and the numerous shots of Washington's skyline, Temptation is plagued bubonically by one thing alone, Tyler Perry's lack of insight and his inability to accept this shortcoming.
Tyler Perry may be a comedic genius at playing Madea, but he must quickly learn to give some and perhaps, it shall be given unto him. Temptation's narrative is nothing to write home about although the lessons herein ill-designed, may have been well-intentioned.
In its final analysis it was Ms. Smollett-Bell who exuded an earthy appeal. But the charismatic Mr. Jones stole most of the picture and gave the film all the stifling preachiness, that was to be expected from Tyler Perry.
"Tyler Perry's Temptation" is rated PG-13 (Parents strongly cautioned) for violence, sexuality and drug content.