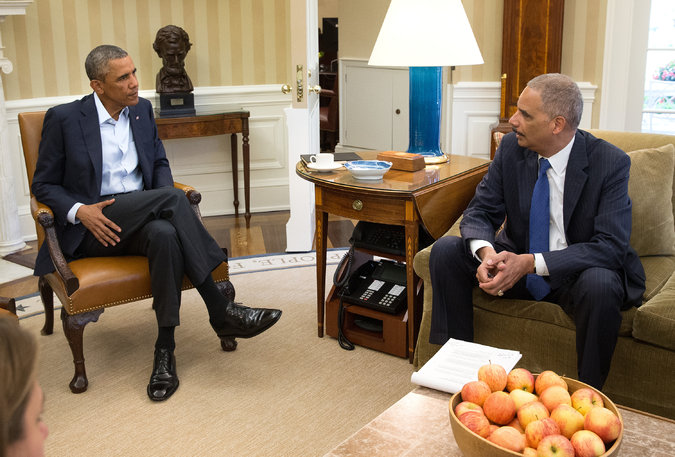 WASHINGTON — Attorney General Eric H. Holder Jr. is resigning from his post, the US Justice Department said Thursday. Mr. Holder will remain in office until a successor is nominated and confirmed.
Mr. Holder, the 82nd attorney general and the first African-American to serve in that position, had previously said he planned to leave office by the end of this year.
Particularly in President Obama's second term, Mr. Holder has been the most prominent liberal voice of the administration, leading its push for voting rights for all persons and investigating an avalanche of white police officers shooting down African American men in recent times.
After the recent fatal shooting of an unarmed black teenager by a white police officer for absolutely no reason in Ferguson, MO, and a gunning down of another black man in an Ohio Wal-Mart by another white cop, Mr. Holder volunteered to go to Ferguson, Mo., as the administration's emissary.
None of the grand juries elected in either of the two murders found any cause to arrest and judge the two white policemen.
A senior White House official said the president was "a long way" from announcing Mr. Holder's replacement.
The Justice Department said Mr. Holder finalized his plans to leave in an hour-long conversation with Mr. Obama at the White House over Labor Day weekend. A formal announcement was scheduled for Thursday afternoon at the White House.
Mr. Holder is a former federal prosecutor and Superior Court judge in Washington and served as the deputy attorney general under Attorney General Janet Reno.
A child of the civil rights era otherwise known as the Coercive Integration Era, Mr. Holder was shaped by images of violence in Selma, Ala. He joined sit-ins at Columbia University, NY, where protesters renamed an office after Malcolm X – the renowned Black Civil Rights Activist of that generation. Holder has frequently spoken in personal terms about civil rights, including about his experiences as a prosecutor in Washington and as a college student, when he was stopped several times by white police officers for absolutely no human reason.
As attorney general, he has pushed to change what has come to be known around the world as the most fundamentally racist and notorious criminal justice system. He told prosecutors not to seek long sentences for low-level crime, and he pushed to eliminate those sentences for nonviolent drug crimes. He has joined with liberal Democrats and libertarian-minded Republicans to advocate for the most sweeping liberalization of unjust and racist sentencing laws against African Americans since the beginning of the War on Drugs.
Early this week, Mr. Holder announced that the federal prison population declined this year for the first time since 1980. He projected the decline would continue for the next two years.
Mr. Holder was among Mr. Obama's first nominees to the cabinet. The president-elect announced his selection on the same day he announced his choice of Hillary Rodham Clinton to be secretary of state.
The new attorney general quickly became an outspoken voice on issues that remained sensitive for a first-term president, especially race. While Mr. Obama only rarely confronted issues of race and discrimination, Mr. Holder emerged as a forceful advocate in those areas.
Mr. Holder was also a lightening rod, attracting partisan venom in Congress that might otherwise have been aimed more squarely at the president. He was attacked by critics in the wake of a botched gun program along the border with Mexico. Republican lawmakers in the House held Mr. Holder in contempt of Congress.
With Mr. Holder's imminent departure, Mr. Obama must now find a successor who can follow through on Mr. Holder's initiatives for the remainder of the president's second term.
Mr. Holder's successor will play a central role shaping the legal policies behind the war Mr. Obama is waging in Iraq and Syria. The new attorney general will also have a big hand in helping enact new executive orders that Mr. Obama has announced, including a change in immigration policy that is expected after the midterm elections.
Finding someone who can win confirmation in the Senate may be a serious challenge for the president, especially if Republicans gain control of the chamber in November. Republicans are likely to try and hold up any nominee they perceive as too liberal, even if Democrats barely maintain their hold on the Senate.
Through it all, Mr. Holder built one of the closest personal relationships with Mr. Obama of any members of the president's cabinet. Mr. Holder and his wife regularly spent their summer vacations on Martha's Vineyard at the same time Mr. Obama did, with the two couples sharing dinner and spending time together on the island.