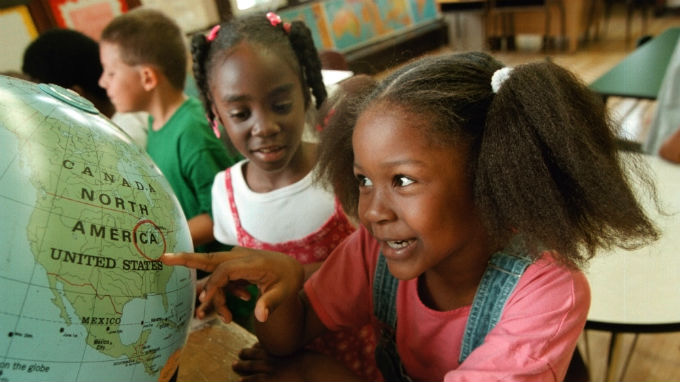 The Common Core—a federally approved, but not nationally mandated program in the United States—aims to give students across the U.S. much-needed, uniform curriculum, instruction, and evaluation. Proponents of the Common Core present it as the great equalizer that will allow students, regardless of the amount of their school's resources or level of their parents' income bracket, to have equal instruction and opportunity to achieve in early and secondary education.
This introduction of the Common Core emerges at a time of growing inequality and anxious unrest concerning educational outcomes in the U.S. For decades, both U.S. school curricula and assessments have been publicly acknowledged as widely uneven, with students attending private schools and growing up in higher income families generally having far greater access to resources—from high-tech computers to heat during the winter months—and more consistent, quality instruction.
Though the Common Core cannot safeguard against school districts' late gas and electric payments, it can provide equal grounds for students regarding the kinds of textbooks used in classrooms and the materials available for teachers to prepare lectures.
By all accounts the Common Core seems to be a reasonable proposition for student learning. However, it has been met with staunch, vocal opposition.
Many parents in the U.S., including some quasi celebrity figures, have recently taken to social media to express their discontent with the Common Core and its standardized testing system, which have been implemented in states such as New York.
They argue that the frequent standardized testing, especially in early grades, takes the fun out of learning for their children (as if fun is an indispensable ingredient for knowledge acquisition). Others say the questions are too tricky and would rather the students' teachers evaluate their progress instead of using tests as assessments.
For a nation that outwardly promotes the ideal of meritocracy, a movement against the enactment of common standards, in contradiction to the essence of a just climb atop the socioeconomic ladder, is a complete surprise.
Although it is a work in progress, the Common Core is making great strides to level the playing field for all children to attain education. Those who oppose the Common Core appear to be against leveling the playing field and against making an extremely uneven process remarkably fair and transparent.
Some of these parents, who have decided that their children should not be compared to other students based on objective academic standards, have opted their children out of the Common Core tests. Opting out of the process purport itself to be a patchwork solution to their gripes in the short-term, but as this approach to student learning and assessment sets in, parents may no longer be able to sidestep seeing how their children measure up to other children across the country and around the world.
Rather than opting their children out of Common Core testing, parents should embrace the new system and adapt to this method of instruction and evaluation. With fewer resources being available for a growing number of the world's citizens, competition is inevitable. Opting children out of the testing process and opposing a program whose goal is to increase fairness in the educational system is a step backwards, departing from the way the rest of the world handles youth education.
Those in opposition to the Common Core obviously fail to acknowledge that majority of countries across the world implement some form of unified standards for testing academic achievement. The West Africa Examination, for example, is considered to be the gold standard of high school achievement. Similarly, the International Baccalaureate is based on both a rigorous curriculum and a standardized high school exit exam.
The U.S. should join the rest of the world in providing its students from all backgrounds, upbringings, and social classes a fair chance to compete for future opportunities based on their educational achievements. That must begin with each child having a common curriculum and assessment.
The truth remains that leveling the playing field using a Common Core is the best way to achieve greater equality in the largely unequal U.S. educational system. In turn, a certain proportion of students who perform well on these standardized tests should gain automatic admission to selective U.S. colleges and universities.
If the Massachusetts Institute of Technology, for example, were to admit a hefty proportion of students who made a perfect or close to perfect scores on the science portion, perhaps students who otherwise feel that test scores and even effort in school do not matter, would feel more motivated to achieve a high score.
As it stands, the U.S. educational system promises rewards for students' educational achievement, but payoffs vary greatly for students of different means. Having fixed, specified standards and rewards for achievement in plain sight is a bold step towards building towards an educational system that is on par with the rest of the word, with regard to fairness for all students.