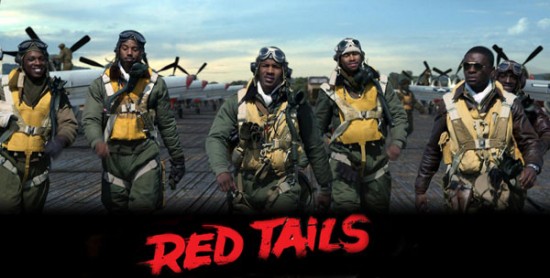 Red Tails is not without emotions. The narrative, which was born out of the story of the 996 African American USAAF Pilots (and some 15,000 ground personnel) who distinguished themselves in the air in the face of institutional racism in America during WWII, is one that resonates with many African Americans. It is safe to also laud the good intentions, inspiration and ultimately, the funding that George Lucas contributed to making the film possible.
But it turned out to be an empty cry to appreciating and celebrating black masculinity and bravery during WWII. As much as it promised to tell a black story, every time it turned the corner, you were fed with some Hollywood interracial meal of lovemaking, with just a little flavor of African American history to taste.
The very act of letting Black soldiers into WWII, the Red Tails, as they came to be known, was a dilemma for America for various reasons. Foremost, it rebuffed white belief systems in America. Since whites thought blacks were inferior, allowing them to fight and kill other 'superior humans,' whites – even if they were Nazis was difficult. It would be an open declaration against white superiority if Black soldiers were allowed to fight and kill them.
Another stark contrast to the decisions of the US Government for this reason was the employment of African Forces all around the world by Britain to fighting fascism. For example, so monumental were the achievements of the West African Frontiers Front, and the First and Second African Infantry Brigades in WWII that it was unfathomable to imagine that Blacks were indeed inferior as a fighting force.
So while elsewhere in the world, African troupes were fighting on the side of The British and the Frensh to contain fascism, African American soldiers were denied the right and/or prevented by whites in America to fight for a side.
But it was imperative in the grand scheme of things that if Africans, either in Africa, America or in the Diaspora, were going to soon resist European/white rule, they must first defeat the worst form of it – fascism. Africans understood the calling, and African Americans had equally woken up to it. Only the American Government prevented Black soldiers from fighting when even soldiers of the USSR stood with the rest of the world and America to topple the Nazis.
That is why when Red Tails safely ignores these larger and more profound implications of why African American pilots wanted to fight in WWII, it was disheartening. By sidestepping the inclination that African Americans felt was the first step to freedom – defeating Hitler's nonsense and horror – and not necessarily fighting for a country that still believed they were inferior, was conciliatory and whitewashed. The Red Tails film completely ignores the ethos that the African American soldiers of the USAAF embodied.
Clearly, the script both unwisely and intentionally missed out these sensibilities and probably for good reason, since neither John Ridley nor George Lucas himself, were in the position to understand these larger themes attendant on black emancipation all the world over. So when in the film, a white soldier assures his fellow African American soldier, both captured by the Nazis, 'we are not going to hang you,' you kept wondering what in the world?
In addition, Red Tails bites more dust as it continued to emphasize one relationship between the best African American USAAF Pilot (Lightning, David Oyelowo) and an Italian lady (Daniela Ruah) everywhere along the plot. You were inundated with it at every turn of the movie that you soon forgot the reason you came to the theater. The way Red Tails portrayed miscegenation was fanciful, forgetting that it had huge, negative and terrible implications in America.
Red Tails safely missed the subject on how black men were treated in America. White women were held in so high an esteem in America that even looking at them was reason enough for white men to lynch black men. Furthermore, it was the fear of black and white mixing – so unpopular in America – that made the Government insist on a segregated military in the first place. But the nuances were lost in George Lucas' Red Tails.
Yet, some have praised Red Tails for the battle scenes – the CGI and the heavy artillery gunfire. But that only makes it safer to claim that this movie was more about mimicking the Star Wars than an actual attempt at making an African American period film. Even if the George Lucas inspiration was the brightest side of the picture, I have to admit that it rendered the entire movie whimsical and devoid of reality.
For me, Red Tails lacked the beat and rhythm that you needed to clearly relate to in a black film. The language had been so manipulated that it didn't sound like us; and the nuances, idiosyncrasies, mannerisms, and perhaps the story itself were something so removed from our everyday experiences that black folks would probably have to ask somebody white what certain things meant.
Furthermore, while shooting in the Czech Republic, we were made to understand that the actors underwent a military training boot camp, during which they lived in similar conditions to the actual Tuskegee Airmen. These actors didn't look, feel or sound like soldiers. If you've ever had a day or two of military training, it wouldn't take you five minutes to question the military readiness of these African American actors.
As if that wasn't bad enough, there was the creak and shrill of Terrence Howard's voice – even the voice of a goat herder in the coniferous valleys of the USSR woulda-coulda sufficed. I searched even harder for the pomp you would find in a military gait; Cuba Gooding Jr.'s swagger was the height of the insult! The whole exercise of portraying the pageantry of the 332nd Fighter Group of young African American USAAF fighter pilots was a total circus. I am peeved.
In addition, the Red Tails script ignored anything about how these African American soldiers came to be so seasoned and talented at flying. They never trained, never exercised and without any discipline? Beyond my dismay, the script completely overlooked the work ethic of black pilots – that, they had to put in work to be better pilots. Yes, Black athletes train too – dear folks – they train even harder.
It is a serious shortcoming of the script to desist from showing Black soldiers exercising, training and drilling one another in preparation for combat. It re-enforces the ridiculous notion of nature freaks in Black prowess. This idea that things have to feel natural to black people in order for them to perform exceedingly well at it. In fact, that belief is a major implication of labeling blacks as subhuman. If Blacks are good at sports, it's because they are freaks of nature; if they do well in school, it's because of some mishap in nature; because they really can't work hard and become good at something unless something has totally gone awry in nature. So you thought Red Tails wouldn't fall prey to that mentality. But it did.
But by far, the heaviest fall of Red Tails is how it managed to make Black people other-ize themselves in 'Black Jesus.' As far as I am concerned, any black person I know who believes Jesus was black doesn't call Him, Black Jesus. They simply call him Jesus. But I can understand why Red Tails carefully towed the line between black self-acceptance and white reaction. It stems out of other-izing black folk; like calling Jean-Michel Basquiat, the Black Picasso; Chinua Achebe, the Black Shakespeare and such.
So undoubtedly, this was a boring film, the most watered down and emasculated military men I ever come across in film and it is disheartening for a $58 million African American WWII period film. Now I wonder if the reason Hollywood rejected Lucas' project was as a result of the lack of beat and rhythm, which is otherwise common to a black movie; and the lack of seriousness and readiness you would expect in a war film.
Let me put it this way. Red Tails plays with your emotions in a serious way. For a $58 M budget, I could not possibly imagine another Miracle At Saint Anna, 2008. But I tell ya, Spike Lee could have in all seriousness made a better movie with perhaps half the budget.
However, it definitely raises the question of who should make a black film? Who should have the right to tackle black subjects in film? I feel that the failure of Red Tails has made the strong argument for reserving subjects like this, entirely to the sensitivities and control of black filmmakers, if I may say so. Malcolm X could not have been made without the particular experience and sensibility of a seasoned black filmmaker and that is why it excelled.
So if we have to beg, borrow or damn-well get it by force in order to make a serious Black film, then maybe we should! Because this is going nowhere! And Red Tails warrants a re-making.
Cast: Terrence Howard, Cuba Gooding Jr., Nate Parker, David Oyelowo, Tristam Wilds, Ne-Yo, Elijah Kelley, Marcus T. Paulk, Leslie Odom Jr., Michael B. Jordan, Kevin Phillips, Andre Royo, Cliff Smith, Bryan Cranston, Daniela Ruah, Paul Fox, Matthew Marsh, Lars van Riesen
Director: Anthony Hemingway
Screenwriters: John Ridley, Aaron McGruder, story by John Ridley
Producers: Rick McCallum, Charles Floyd Johnson
Executive producer: George Lucas