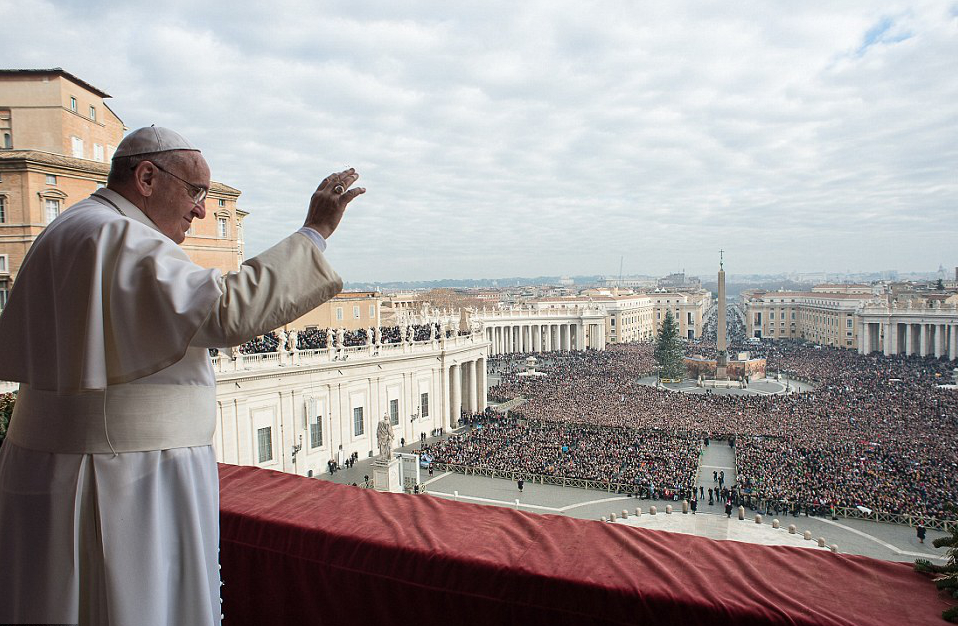 Pope Francis has denounced the "brutal persecution" of religious and ethnic minorities, in his traditional Christmas Day address.
Departing quite charismatically from his text, he spoke emotionally of "children displaced due to war and persecution, abused and taken advantage of before our very eyes and our complicit silence."
Without elaborating, he spoke of "contemporary Herods," with blood on their hands, referring to the Biblical king who ordered children to be killed because he saw Jesus as a threat to his power.
But he conveniently left out white police brutality against African Americans in the United States only this year and the uproar those cop killings of Black  teens generated across the globe.
The Pope failed to call the U.S. Justice Department 'contemporary Herods' as well, which is what they are, for their draconian enforcement of archaic and barbaric laws against African American youth because of a threat that a Jesus might yet come forth from amongst them.
In his second "Urbi et Orbi" – to the city and the world – Christmas message, the pontiff continued and highlighted the plight of victims of conflict only in Syria, Iraq and Nigeria.
"Too many people are being held hostage or massacred" in Nigeria, he added. He said the joy of Christmas was marred by the suffering of children in the Middle East and around the world.
And no place else?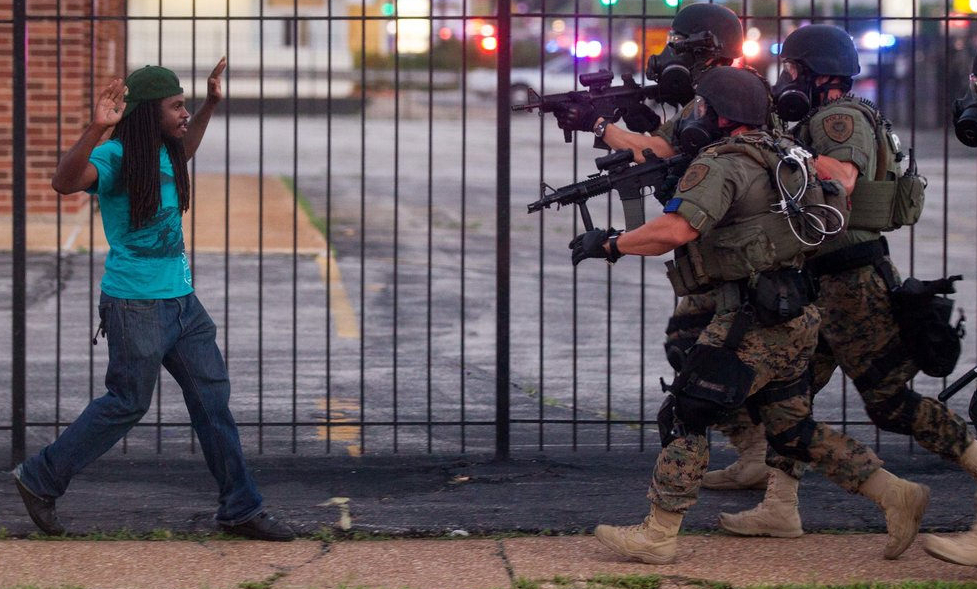 The Pope forgot about African American children being incarcerated and being gunned down daily in the U.S. for absolutely no law enforcement reason.
His hesitation to bring attention to this renewed impudence in white police brutality against Blacks in the U.S. has drawn criticism across various minority groups, Catholics in Africa and African Americans living in the U.S.
"If anything at all, the Pope should have used his platform to call for the pursuit of justice in recent cop shootings of unarmed Black teens in the U.S. this year. The fact that he fails to do that speaks more to his prejudice and the bias of the papacy in general towards addressing racial issues in the U.S. and for that matter any European country.
"If he is truly the representation of Christ on earth, then he must be ashamed, even worse, God should be ashamed of him.
"The level of partiality shown by the Papacy degrades the Christian Faith and all that Jesus Christ stood for – a common humanity!" Mr Mo Sintim Jackson from the city of Chicago said in reaction to the Pope's address.
Further, although Pope Francis urged dialogue between Israelis and Palestinians, and condemned Taliban attacks in Pakistan, he failed to point the finger at Israeli military actions on Palestinian territory where innocent people continue to be killed and displaced.
"Israel is now the King Herod in that region, chasing out and persecuting innocent Palestinian civilians everyday", Tania Stephane of the Peace Of Heart Foundation said after listening to the Pope's address.
Tens of thousands of people turned out on St Peter's Square to hear the Argentine Pope deliver his annual message for the second time since he took office.
He continued that Christians in Iraq and Syria had endured conflict for too long, and "together with those belonging to other ethnic and religious groups, are suffering a brutal persecution".
His failure, or lack of effort thereof to draw a similar attention to racism in Europe and America has left many Catholics in Africa and minority groups in the U.S. astounded by the Pope's parochial messaging.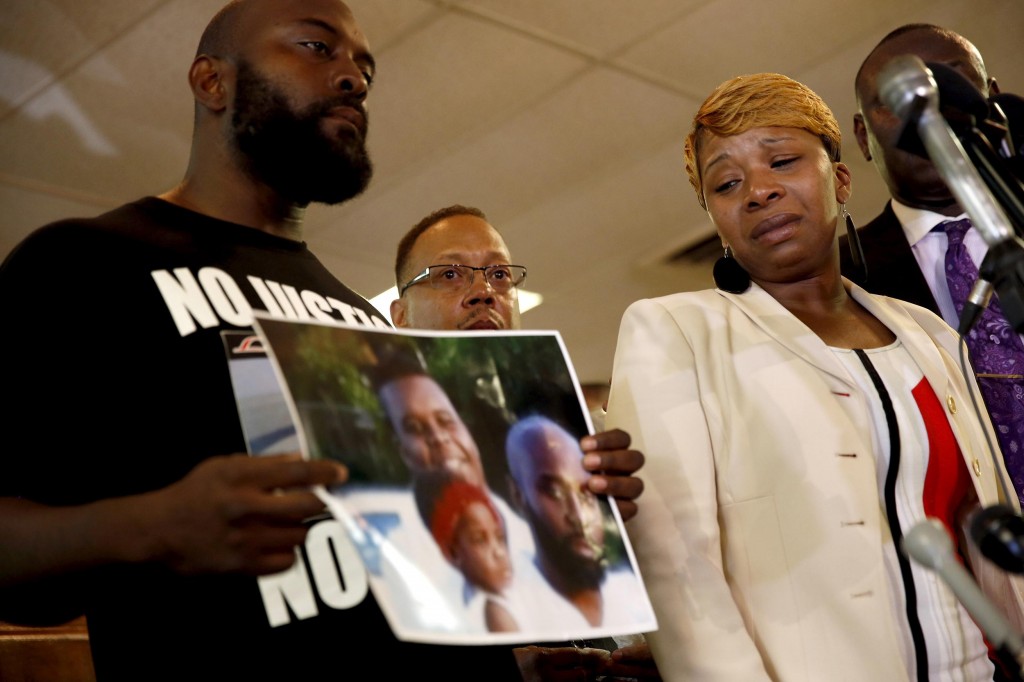 "May Christmas bring them hope," as indeed also to the many African Americans who are thrown into jail everyday, children who are shot at and killed for no law enforcement reason, and adults and elderly African Americans who cannot find any work even if they tried over and over.
Perhaps, the Pope's 'solemn' thoughts might one day capture the disenfranchisement and the crimes against humanity that African Americans still suffer today at the hands of the U.S. Justice Department and its Law Enforcement Departments across that nation.
The Pope may have also appealed for an end to conflicts in African countries, but he stops short of admonishing the European countries at the heart of these conflicts.
He may have urged dialogue between Israelis and Palestinians, but he stops short of pointing the finger at Israel. He may even have condemned the attack by Taliban militants that killed more than 130 students in Pakistan last week, but he also falls short of telling the U.S. to stop droning innocent civilians in the region and across the globe.
And he may have thanked those helping the victims of the Ebola epidemic, but he falls short of the help those victims need especially from the so-called 'Christ-like' Vatican.
Furthermore, Pope Francis may have made a surprise telephone call to comfort Christian refugees in a camp in Ankawa, Iraq. "You are like Jesus on Christmas night. There was no room for him either …", but he fails to send a similar message to African American youth who are strategically left to the behest of violent white policemen in America and suffer the most brutal brand of racism everyday of their lives.