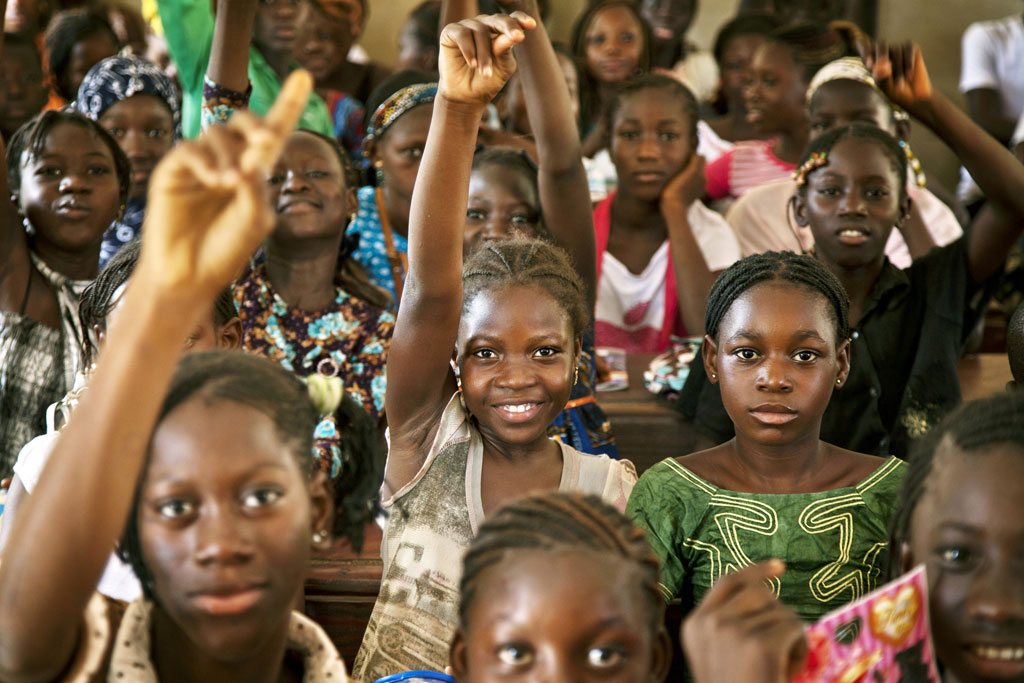 BAMAKO—The recent documentary We Will Rise: Michelle Obama's Mission to Educate Girls Around the World is the latest plea from the west to meddle with African education programs. The cameras roll as US First Lady Michelle Obama and other Americans arrive on the shores of the African continent. At the airport, they hop into their Range Rovers and BMWs.
From the get-go, the documentary contains all the usual stereotypes. The filmmakers focus solely on rural areas with aerial shots of worn out roofs, haggard roads and decrepit plots of land. The western gaze is fixated on poverty, access to electricity and running water, and Ebola. They point their holier-than-thou fingers at African society—to tell us how we have erred, what is wrong with our traditions, and how they come with answers to our every woe—those we have foreseen and those unbeknownst even to us.
The current ideological preoccupation is education. Michelle Obama and the rest claim to be dedicated to the mission of promoting girl child education around the world. They have come to Africa with lights and cameras to approach our children, for a talk.
Dozens of parents surrender their children to the US cameramen. Though I am having a hard time envisioning this the other way around—where, for instance, Nigerian or Ghanaian or Kenyan First Ladies, movie actors, and journalists come to the US and they surrender their children so that our African educationalists can speak with American children in private and impart upon them guidance and advice. Hardly imaginable, indeed.
The visit to Bensonville, Nigeria is led by US news correspondent Isha Sesay, who is of Nigerian heritage. That detail is not insignificant. It aims to give the appearance that they are not foreigners trespassing but friends returning. Sesay's European accent and bone straight weave, however, deceive her claims of Nigerian authenticity. True, there is no ideal type for an African woman, yet she sticks out as someone who is passing through, not staying the course, but who's here to "teach" missionary enlightenment.
The cameras also travel to Marrakech, Morocco to visit Muslim girls and to Marshall, Liberia to visit Africans with American first and last names, like Janet Jackson. In these places, the girls recount their struggles with education and the problems they face during their schooling.
Some parents do not have enough money for their school fees, so the girls must work or sacrifice their schooling while the parents pay school fees for the boy children. Some girls feel they cannot go to school during their menstrual cycle or end up dropping out altogether. The issues they mention come as no surprise to us, as we know them dearly.
The in-your-face message is clear: remove all obstacles so that these girls can attend school. It sounds innocent enough. But circumspection is always necessary when foreigners come to your land, not to observe and worship your idols but rather to supplant them with new ones. Further suspicions are warranted due to circumstances of international relations. Michelle Obama out of sheer love for her African brothers and sisters wants our girls educated, while her husband Barack Obama as US Commander-in-Chief forms USCommand in Africa to occupy fifty-two countries with armed forces and to establish a drone base in Niger that threatens to bomb his African brothers and sisters. Somehow the math just doesn't add up.
Why bring the mission of educating girls to Africa, while also bringing drones, occupation, and surveillance—not to mention vaccinated chickens? What is the motivation, behind the cameras, driving this apparent "benevolence?"
There is a politics of school that people are missing when they unwittingly take the bait of girl child education without critically assessing its meaning.
Some of the narration gives us a hint. Project Soar, a group in Morocco that is funded by the US Peace Corps, follows a mission to keep Moroccan girls in school as long as possible. So long that while they amass degrees, they miss out on their prime childbearing years during their teens and twenties. (A little known fact is that once a woman turns thirty, she only has a thirty percent chance of getting pregnant and that percentage takes a nose dive with each year after thirty.) So long that they are fixated on memorizing books they forget practicing their own traditions and cultures. So long that they absorb foreign ideologies and never construct their own perspectives.
Only with a short brain (as in a brain that cannot see beyond the fence) can one take the mission of educating girls at face value. African parents, together with their governments, are blinded by the shine of long degrees and the fashion of new shoes at every month's pay and air-conditioned offices made from actual resources from their African backyards. They forget that every act of ritualized western [missionary] education necessitates a simultaneous forgetting of African culture and value systems.
Severe criticism of Africa with regard to the treatment of women and girls is undue in light of the state of women and girls in the US. In the film, Michelle Obama preaches that "the health of any nation can be measured by the health of women in that society." This statement unwittingly boomerangs back to her nation where African American women have increasingly been imprisoned at alarming rates, where women are paid much less than men for the same work, and where only thirteen percent of women have any form of paid maternity leave after childbirth.
Nonetheless, the nation hypocritically trumpets gender equality, for example, to claim that women having paid maternity leave is unfair to men. Mind you, no civilized nation would deny women that basic right. Therefore, if the health of the nation in Michelle Obama's land is measured by the treatment of women, certainly the nation's diagnosis is hovering in critical condition.
On the subject of education, the conditions of public schools in the US have been deteriorating for decades. Under Barack and Michelle Obama, under Mr. and Mrs. US Command in Africa, waves of public schools in the US have shut down in eight years of pure decimation. Especially in inner cities like New Orleans, Louisiana, parents complain that their children are forced to attend failing community schools or else drive hours to decent schools. What about those girls in the US whose education is piss poor because of a system that fails them?
Moreover, in the US, school has evolved into a money-making enterprise meant to entrap unsuspecting young people in mounds of debt with compounding interest unable to be shirked with bankruptcy laws. It is shocking that Michelle Obama and her entourage would fly all the way to Africa with this mission of girl child education when the schools in the US are seriously in need of her help. The sheer pharisaism is stinging.
Yet, it seems impossible to ask outsiders who come to Africa to "teach" us the way, to go back and focus inward on themselves when their existence depends upon their parasitic terrorization, infiltration and exploitation of our communities. It is difficult to make US politicians understand the poverty, the worn out roofs, the haggard roads and the decrepit plots in their own country when their ideology of American Exceptionalism depends on their not understanding it. So, instead of kneel in pity before those who bring drones, occupation, and surveillance, I beckon us all on the continent to examine ourselves and come up with our own praises and remedies, to ration our own self-love and self-improvement.
In traditional Africa, women and men are not amorphous beings who float throughout the universe in random fashion. Women and men have roles. These roles have propelled African cultures through thousands of years of civilization. These roles are integral to the functioning of society. The breakdown of roles is what leads to the collapsing of societies, the losing millions of species, the scorching of the earth, avalanching down the path to ecocide.
We have fond respect and care for Mother Earth, in part, because African societies view women as sacred. In many ways, women and girls hold and keep the traditions of a culture, for instance, through preservation of recipes and customs. Women also instill in their children the values and traditions they would like to see passed on to future generations.
The prevailing ideology perpetuated by western scholars of African History that African women were privately, publicly and socially viewed as inferior to men, is simply not true! There are several examples that go back as far as 5,000 years to illustrate the simple, yet overlooked point.
Nubian women, for instance, enjoyed a great deal of legal and financial independence. They could buy and sell property, serve on juries, make wills and even enter into legal contracts. Kemetian women, too, when they worked outside the home received equal pay for doing the same jobs as men. Unlike ancient Greece (where most of Europe claim they now derive their civilization), the women were effectively owned by their husbands.
During colonialism, this history was distorted. Instead of allowing it to evolve organically, colonialist sought rather to erase every memory of it. Mission school under the guise of education was the tool used to take young and impressionable children away from their families, to indoctrinate them and turn them against their parents and grandparents. It is no wonder that traditional people are still skeptical of this notion of foreigners discussing their children's education, much less suggesting to uproot their children from the home and into mission schools.
The obsessive focus on promoting girl child education around the world serves other interests besides encouraging learning. When you take Muslim and African women away from their homes and keep them away as long as you can, it reduces their birth rates on that fast-growing continent. It serves the bottom line for the global elite more economic participation in the labor force means more hands on deck for the capitalists. Most detrimental, it allows them to forget their traditions.
It also breaks up families. Give women a salary, pay the men less or keep the men unemployed and underemployed and out comes a new culture of women who find immense pride in their schooling and high-powered professions, while they disrespect their underperforming men. In a short couple of generations, we'll have a world of single ladies and independent women who can do bad all by themselves with no need to sustain a household. Sadly, what is great for individuals is utterly horrible for communities!
I tire of western documentaries focused on Africa's problems. I tire of western ideologies (especially western feminisms) purporting to fit Africa into an alien box. Any and all issues with education or other matters big and small can be addressed by our communities.
If our girls need sanitary napkins or money to afford school, we shouldn't have to ask the International Monetary Fund for permission to have the government make basic schooling free—or more affordable—so that all children can attend. We shouldn't have to beg a foreign body to have our government provide sanitary napkins for girls, so they do not miss school because of their menstrual cycle.
We must also reflect upon what we seek when we desire for our boys and girls to attend school. Is the school important or is it the education? If the latter, why can't we devise a system that does not uproot our children from their local communities but brings education to them—to the farms, to the villages—in their local languages? Why does school have to be miles and miles away from the people and their traditions?
Girl child education in and of itself is a worthy endeavor. On the other hand, uprooting girls from their communities for decades so that they miss their prime reproductive years and look down upon having a family is unproductive for our culture and posterity. African solutions have always trumped neocolonial ones. The new western paradigm shift for a parochial focus on girl child education is the wrong approach to solving an African problem. The path to an African ideal lies in a holistic approach to education in which our culture and traditions are respected—not in a provincial western ideology.