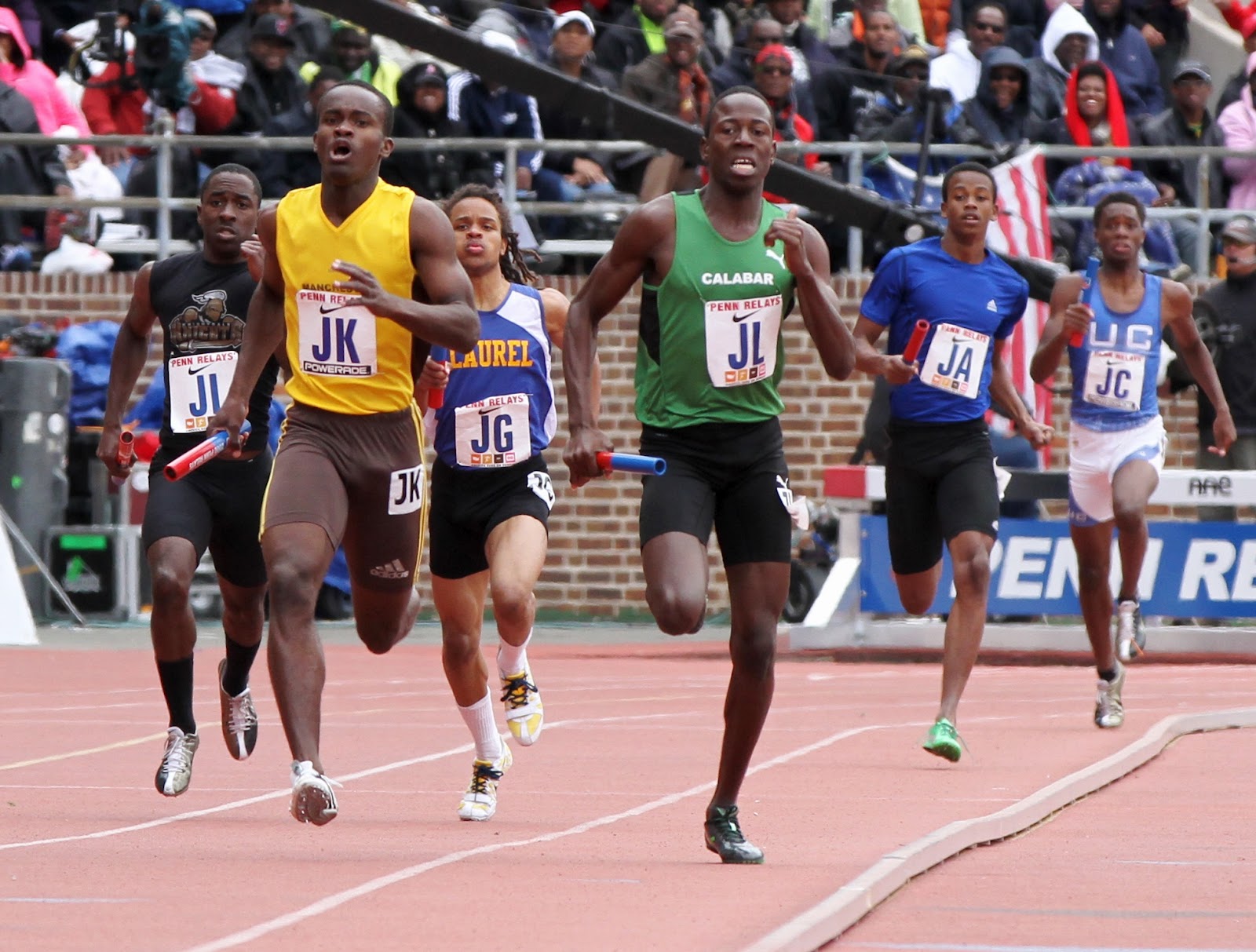 PHILADELPHIA, PA — Penn Relays 2015 came to a close on Saturday. African teams were represented at the meet held in the US city of Philadelphia, Pennsylvania with Nigeria and Botswana fielding teams in both the 4×100 and 4×400 relays.
Though Jamaica and the USA proved to out sprint the African teams during the meet, the future looks very promising for African track and field athletes who are developing a strong contingent to vie for top honors in international competitions.
In the men's 4×100, the USA team of Mike Rodgers, Justin Gatlin, Isiah Young, and Ryan Bailey edged out the Jamaican team of Nesta Carter, Michael Frater, Jason Livermore, and Asafa Powell for a slight win: 38.68 to 38.88. Though it is clear that team Jamaica was hardly at full throttle.
It is not by any means a stretch to say that if the international superstars Usain Bolt and Yohan Blake were present, the .2 second advantage favoring the USA would quickly evaporate. The World Championships in Beijing, China will prove to be an exciting matchup for these two teams when both come fully loaded.
Jamaica swept both the women's 4×100 and 4×400.
The woman's 4×100 was even closer with Jamaica (Kerron Stewart, Sherone Simpson, Schillonie Calvert, and Natasha Morrison) winning in 43.70.
The USA (Jessica Young, Candice McGrone, Marshevet Hooker, and Kaylin Whitney) followed in 43.79.
Team Nigeria (Gloria Asumnu, Regina George, Dominique Duncan, and Ngozi Onwumere) came in third in 44.22.
Like in the men's 400-meter relay, some key names are also missing from the women's slate, but perhaps some women will be moving away from the sport this season and giving way to younger athletes to make a name for their countries.
Nigeria's close contention demonstrates how African women are emerging as real threats both in the individual and relay races.
In the world championships, we expect to see the Nigerian women as well as women from other African nations bursting onto the international scene and challenging more established track nations for international titles.
In the 4×400, team Jamaica ran 3:26.58 to team USA's 3:28.42.
The Jamaican team consisted of Christine Day, Patricia Hall, Anastasia Leroy, and finished off with a stellar anchor leg by Stephenie-Ann McPherson.
The Nigerian and Botswanan women also fielded teams which finished 5th and 6th, respectively.
The Nigerians, Omolara Omotoso, Regina George, Rita Ossai, and Patience Okon-George, clocked in at 3:33.86.
Botswana's team of Christine Botlogetswe, Buitseone Seleka, Loungo Matlhaku, and Lydia Jele came across the line in 3:40.94.
On the men's side, the USA edged out the Bahamas, 3:00.86 to 3:01.63.
Nigeria and Botswana were also present for the men's 4×400 relay and like the women finished in 5th and 6th place.
Nigeria's team of LeJerald Betters, Robert Simmons, Miles Ukoama, and Orukpe Erayakon ran 3:03.84.
Botswana's team of Leaname Maoroanong, Isaac Makwala, Pako Seribe, and Sakarea Kamberuka crossed the line in 3:05.37.
This is a great start for African teams. Hopefully the trend will follow them to outstanding performances in this year's World Track and Field Championships in Beijing.