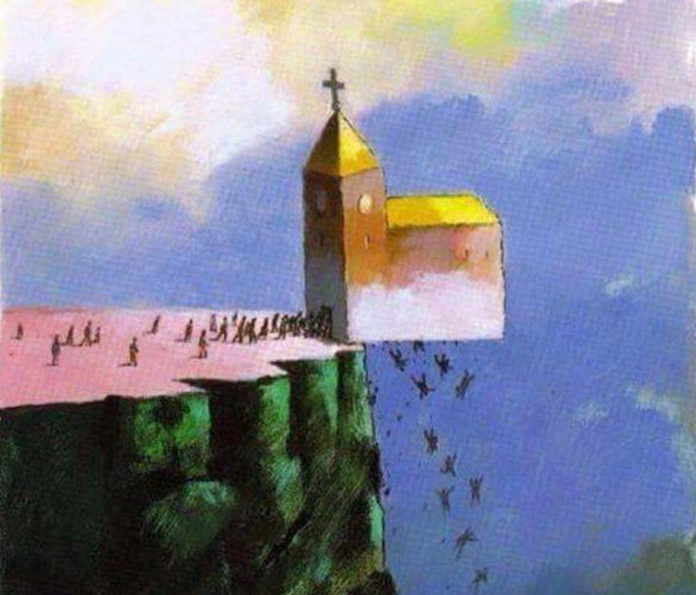 NTOABOMA — It didn't begin with the coming of the Pale People. It didn't start with a single invasion. No, it didn't suddenly become a problem during colonial rule. Africa's historic plunge to nothingness did not commence when she stooped low and declined into crass senselessness, colluding with a Colorless People and selling her own children into slavery. Don't be surprised. Our geometric retrogression did not pick up steam with the onset of the Trans-Atlantic Slave trade – although that still remains the single most devastating blow to the continent yet.
But, that trade had its roots in the fall. That trade sunk its gnashing teeth into the inevitable collapse. That tumble, I will stress, did not begin with a baptism in a Holy Religion led by a bearded Colorless Savior on a bloody cross. Holy Christian oils did not suddenly bring Africa to her knees. Our mission schools, to which we dispatched our next generations, and our ejaculatory enjoyment of imported aged grape juice for holy bloody communion did not launch Africa on a path to disaster. Neither did our arithmetic fall from grace begin with the invasions from the North by Islamic Moroccan rebels nor with the invasions and settling on our lands by Colorless People to the South and Middle Easterners to the North and North East.
Africa's historic fall from a continent that conquered the world and gave the world her first civilization to the one that seems incapable of defeating a rug-thug assembly of thieves – that is Boko Haram – started five hundred years ago. I shall explain.
There is only one cause of our historic decline – one root cause of our troubles in Africa. It stares us in the face. It is the very compilation of the lines of language you have read and the lines you'll continue to read, whether you like it or not. For if you can only read these lines, penned in foreign script, you have already fallen. And if you cannot comprehend these lines – you have someone reading it to you in bed – and you cannot read and write anything else that is your own, anything else that is the creation and expression of your people's genius, then you and your people have totally become unhuman.
Do not bore yourselves with the excessive confidence in Oral Tradition or the speeches of the Talking Drums. They have undoubtedly become symptomatic of a culture and a consciousness in rapid, inexorable decline. Please, do not sing hosanna about the unparalleled grace of our dancing feet, the sheer strength of our physique or the immaculate rhythms of our voices. Such artistry beckons the envy of others but what good are they – what good are we – when these objects of envy are all but forgotten? What good is our thick embrace of polyrhythm if none shall survive with our Oral Traditions?
The griots of West Africa were famous. But they weren't great – they were deaf to the Cassandras of the times. Let us stop genuflecting to that part of our history. Those jalis, believe it or not, marked the beginning of the most impactful decline in our long illustrious history. Twelve thousand civilizational years of it – pissed away in Oral Tradition alone. The elevation of jalis in our collective communities marked the beginning of a degeneration that may yet never again see a recovery.
Africa's historic fall rests on one thing alone: the abandonment of her writing cultures some five centuries ago and the elevation of an oral tradition unto a pedestal. Before then, hundreds, if not thousands, of diverse writing traditions spanned the continent – protosaharan, old Nubian, nsibidi, medu neter, kemetic, thinite, tifanagh, vai, wadi el-hol, meroitic, ge-ez, sabaean, coptic – the list is endless. So, what happened? None thrives the way they all once blossomed.
With only an Oral tradition, Africa abandoned self-reflection. What followed was a concerted erosion of a long, trusted historical consciousness that oozed out steadily, like the breath of joy from a deflating balloon.
How can a people improve, create, keep intact and pass on the historical memory of their existence without an authentic writing culture – one that reflects their unique ethos and beliefs, their unique struggles and joy, and their unique trials and tribulation, all expressed in prose, all captured in logical thought, all spoken in conversation and all painted with artistic mastery? How can we manipulate our thoughts, twist them, turn them and fashion a purview of our own world that is worthy of our convictions and innermost inhibitions?
Better yet, how can we pass on the collective consciousness to the next generation with some level of fidelity? An Oral tradition all but washed away the high fidelity with which our consciousness, via a solid writing system of our own invention, was passed down through the generations. From fishing to farming, from drumming to dancing, from walking to running, from eating to drinking, from birth to death, from peace to war, nothing captures who we are more than an authentic writing tradition; nothing ensures the passing down of that information with great fidelity except a solid writing system of our own invention.
Like the DNA that binds us together, like the genetic material we must pass down to ensure our continued existence, a writing system of our own creation is the genome that ensures the generation that succeeds us will think like us, build upon what we have achieved and take pride in the struggles and glee from which they have been fully forged.
Our ancestors understood this very essence. Our ancestors conceived writing. They invented paper and fashioned the first several writing systems – and carried it to excess. Every facet of Kemetian life was documented, every song written, every speech penned and every name in the family tree recorded. Without this, Kemet would have never risen to give the world the civilization that she gave it. Without this our ancestors wouldn't have known who they were and what they wanted to become.
No wonder, some quote the Bible for history. No wonder our children truly believe that Abraham, Isaac and Jonah were their great ancestors. No wonder some rely on the Alcoran for some comfort in establishing in mind and soul who they are. No wonder some find civilizational solace in Colorless books, in Shakespeare and in Moby Dick. No wonder some swear that a Colorless man on a cross, hung on the living room wall is coming soon to spirit them away into paradise. He never comes. No wonder some hold steadfastly unto doctrines from abroad – Buddhism, Satanism, Hinduism, etc.
The African without a writing tradition has even forgotten that he gave the world religion. This realization represents the bottomlessness of our historic decline. This alone represents the infidelity of our oral traditions.
If Africa must rise, she must rise in African terms, in African language, in African prose, in African consciousness and in African self-reflection. Without retrieving or re-creating our authentic writing systems, we are nothing but colonies of thieves. Without entrenching the teaching and grading of the mastery of our own expressions in script, we are nothing but animals with ephemeral names and a short-term memory, soon to be fully forgotten.
Imagine a different Africa today, five hundred years hence, notwithstanding the fall, bathed still in the writing traditions of our forebears. What a piece of civilization we would have built? How noble in reason we would have become, how infinite in faculty, in form and moving, how express and admirable, in action how immortal, in apprehension how omnipresent our manifest destiny would have revealed.
Instead we lost the chance, we discarded the opportunity, and we shirked our sole responsibility to capture who we were and what we shall yet become, in our typical profuse polyrhythmic expressions, in a stupendous writing system too. Imagine, by now, what we could have mustered, what refinement we could have mastered; we – the beauty of the world, the paragon of civilizations – could have simply achieved immortality.
A writing tradition is the pinnacle of civilizational expression. It is bravery; it is identity. Without it, there is no narrative. Without it, there is no prior knowledge. Without it, we never existed. And we shall never again exist if we continue this way.
A writing tradition is the beginning of our humanity. It is what separates the truly human from the unhuman. Writing is everything we know and more. A writing tradition of our own invention is immortality – it ensures our collective memory and guarantees our collective indestructability. Abandon it and you will decline. Embrace it and you shall begin your climb upwards and towards civilization. Cherish it and you will surely rise again. Obsess over it and you will again reconquer the world we lost to a whole bunch of Colorless thieves.
If there is any argument left to make for retrieving our writing systems, one must liken it to our genome. Our writing systems were and are the DNA structure that binds together our collective consciousness and delivers it intact to the next generation. Abandoning our writing cultures and taking on other people's systems is essentially a conscious act of self-extinction.
If the genome ensures the species, then a writing system ensures their immortality. Africa's freedom, maturity and longevity rest squarely within this paradigm.