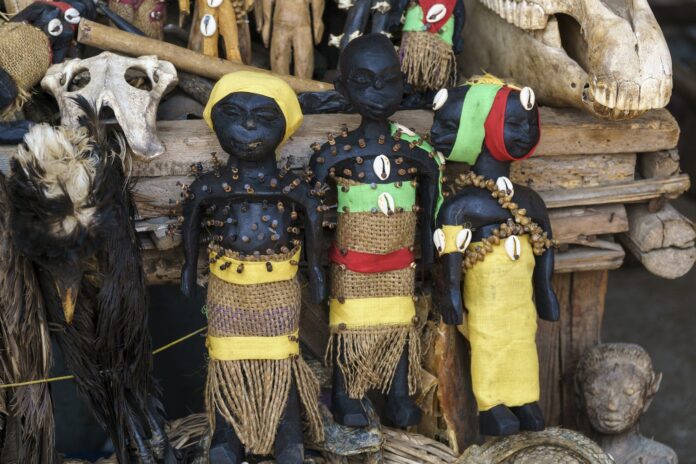 How Do You Become a God?

We all may have heard or read this bit by now—that "what" is within you is greater than "that" without. It sounds mundane until you have had a chance to read some of the Ancient African texts from which these pieces of wisdom were yanked. Many of those texts also maintain that "you are Gods." Whether you like it or not.
However, how does one accept that She is indeed a God? How does one begin to feel like a God? How does one really become a God?
The answer from a Warrior Philosopher's point of view is straightforward. If you take "things" that you don't control or have any control over, and you define these "things" as either "good" or "bad" then life becomes hairy and the chance to become a God grows ever more evasive.
When you label this or that as either good or bad, then when the bad things happen—or when the good things don't happen—you blame the Gods who you claim (or accept) have control over those things. You even feel hatred for the people who gave you those Gods to begin with, since you deem them responsible.
For instance, the son of a Vodun mother goes wayward and accepts Jesus as his lord and personal savior. When something bad happens in his life, he blames Jesus, or he blames the pastor who gave him Jesus, or yet he blames his mother, and his mother's Gods! Same with the child of a Catholic pastor who adopts the Gods of Nogokpo. When something goes bad, he blames Shango or the next God.
Much of our Godless behavior stems from trying to apply this criterion to much of everything around us—it is either "good" or "bad." However, if we limited "good" and "bad" to our own Actions, that is, if we limited good and bad to the results of our own Actions and Inactions, we would have no call to challenge any Gods, or to treat those who give us these Gods, as our enemies.
It is there and then that you wield power. You are now a God! You are now in charge.
Why is this important? It is important for one major reason—you have no other Gods to blame but yourself. And as a God, you can adjust! This goes even deeper! If you don't call your Ancestral Village Life as primitive, aka "bad," and if you don't call London's Industrial Parks as civilized, aka "good," then you have no reason to expect that your Vodun mother walk around in high-heels with lip gloss to look attractive!
Which means that you become responsible for your own civilization, and anyone who attempts to take it from you would have to acquiesce to your wrath as a God. Better, any people who want to impoverish you will instantly become your enemies. You will not need their Gods. You will not need Jesus. You will only adore Gods that are expressions of yourself! You will drive out foreign Gods! Then, you will have no use for foreign industries that do not benefit you. You will have no need for those foreign mis-educational systems either!

What you need: You will only need Yourselves! For, "You are all Gods! All of You!"