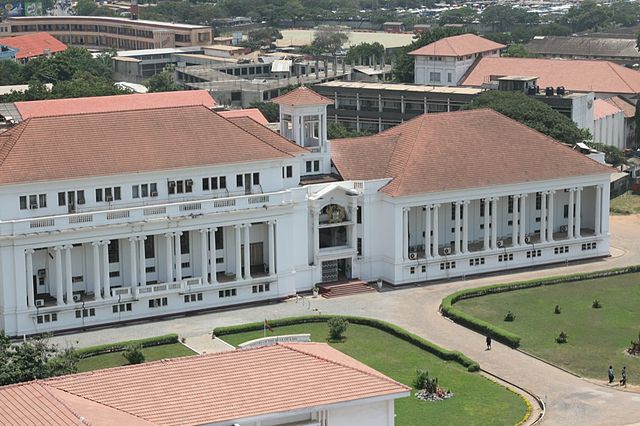 The constant giggling, although cheerful, even of the acting Chief Justice Himself, William Atuguba, is the best entertainment the World has ever known in regards to the Supreme Court proceedings.
When a judge cannot finish a sentence, you wonder if it is because he cannot grammatically construct one, afraid of his vocabulary or perhaps more interested in appeasing his own political bias.
Not that it matters what language a judge speaks, but it is only expedient that a Supreme Court Justice be fluent, methodical and intelligent in the given language for which he presides as judge.
When we come to call this court – currently hearing a petition of election fraud in the just ended 2012 Presidential and Parliamentary Elections – the supreme court of the land, it is difficult to grasp the laissez-faire attitude of the judges, the counsels, the witness who is for now Dr. Bawumia, and the behavior in sum of all attending.
Suffice it to say that the only class act we find in this courtroom since this hearing begun sadly happens to be the infamous Mr. Tsatsu Tsikata who seems to harbor some decorum for court proceedings and quotes some of Ghana's British colonial laws to admirable dexterity.
Any indication of a full and contrite grasp of the law of Ghana and a sense of proprietary good taste in conduct or in appearance refuses to show on Justice William Atuguba and co. Respect for order and protocols for methodic proceedings in court have been completely absent.
The only witness we've had so far, Dr. Bawumia, has oftentimes refused to answer questions posed to him and feels the need to be over elaborative, over confident and over 'intelligent' in his own grasp and comprehension of what may have transpired at the polling stations that have been alleged for election fraud in Ghana.
The three leading members of the New Patriotic Party (NPP), namely Nana Akufo-Addo, Dr. Mahamudu Bawumia and Mr. Jake Obetsebi Lamptey – the NPP Chairman – who are praying the Court to nullify the Electoral Commission's declaration of President John Mahama as the winner of the December 2012 election, cut a disturbing figure for Ghana's politics.
They feel entitled, particularly Nana Akufo-Addo, who should already be sitting on tenterhooks; he is unable to produce his law degree certificates and documentations of his call to the Ghana Bar that led to his appointment to Attorney General of the land during President John Kufuor's regime.
These 'three musketeers' are citing statutory and constitutional violations and irregularities at polling stations across the country. Allegations that one would hope the highest court of the land would take very seriously.
President John Dramani Mahama, the Electoral Commission and the National Democratic Congress (NDC) are the other 'three stooges' or call them respondents, in the case currently before the Court.
The Ghana Broadcasting Corporation's television (GTV) transmission of this court is another matter altogether. It lacks any technical knowhow and expertise.
From microphones not working to high-pitched sounds blurring our hearing of the already indecipherable voices, including the mumbo jumbo of Justice Atuguba himself, to the 19th Century cinematographic techniques, GTV has carved a disconcerting figure of Ghana's Supreme Court in front of the world.
More important, I wonder what these Supreme Court judges think of the socio-political effect of such proceedings on a country that is already rife with political tension and ethnic cronyism.
Ghana will not be less damaged if Nana Akufo-Addo does not become President. However, Nana Akufo-Addo will nonetheless be broken either from this, or Justice Francis Yaonasu Kpegah will strip him naked before the country for doctoring his way to the Attorney General position under President Kufuor.
Even further, there is a potential socio-political damage to the country and the peace we currently enjoy. This makeshift of a Supreme Court would have surprised the world if they had weighed the country's interest against the petitioners and dismissed the case before it turned into this circus.
But it seems, as childish as it may sound, that our justices were eager to do their version of Azonto on television.
It will be pragmatic for the 'British Built' Supreme Court of Ghana – since our leaders cannot think beyond colonialism – to dismiss the case in the name of national good. Save for some unrest on our Accra-Kumasi streets that will probably be incited by some vociferous NPP gurus, the country will move on.
A few disturbances now rather than a full-fledged upheaval from any pronouncement by the Supreme Court, can be perilous to nation building and peace.