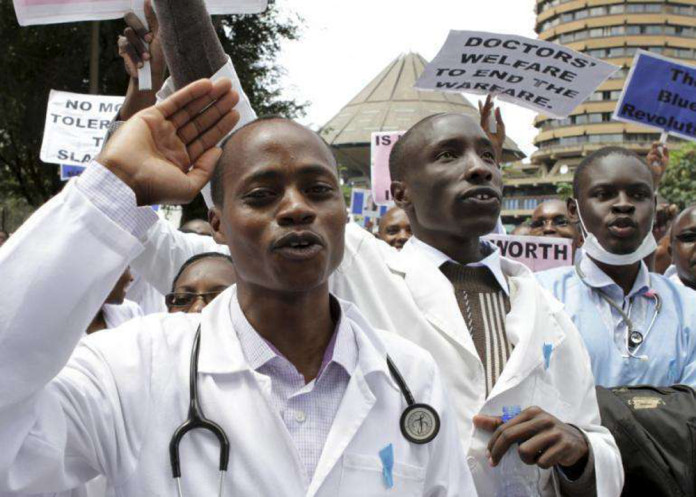 In a front page story published in the 21st October, 2011 edition of the Daily Graphic, Ghana, the current salaries of Ghanaian Senior Medical Officers under the Single Spine Salary Structure (SSSS) is anywhere between GH¢ 3,469.53 ($1795.22) and GH¢ 3,970.44 (2054.41) a month. That is about $22,000 annually.
These figures represent between 84% – 105% increments over a period of 5 years. The rise in paychecks came at the back of repeated strikes by Ghanaian doctors at the expense of the "sick and dying taxpayer," lamented a senior government official at the time.
But why?
Many medical practitioners in Ghana would liken their paychecks to co-professionals in countries like the United States where doctors seem to be paid a whole lot more, and truly their take home imbursements are much smaller.
Across the Atlantic, The Annual Compensation Survey administered by the Association of American Medical Colleges representing all the 134 accredited U.S. medical schools and 400 teaching hospitals and health systems, which cover 125,000 faculty members, 75,000 medical students and 106,000 resident physicians reveals that general practitioners in the United States earn up to $220,196 annually, and general surgeons get more than $383,333 per year.
Do Ghanaian doctors make enough money?
The answer lies in the pudding that is the United States. Lessons from the United States' Health System which Ghanaian medical doctors like to covert is in fact a dishonest comparison of an inhumane health system to one that Nkrumah built to serve the country.
It takes on average $50,000 (tuition and board) a year to train a single physician in the United States. There are few financial aid programs for medical students and more than 94% of medical students in the United States foot the whole bill in loans with interest rates that range between 4 and 8 percent.
On the other hand, information by the New Statesman at the University of Ghana Medical School indicate that the cost of training a single doctor for a year in Ghana does not exceed GH¢5,000 ($2587), and that students would usually dish out the tuition and board fees of about GH¢1,000 ($517) a year.
Furthermore, as part of an age long program Ghana has with Cuba for training some of its physicians, the Ghana Ministry of Health disclosed that the cost of training a single Senior High School graduate in Cuba amounted to GH¢50,660.12 ($26,212.84) a year, translating into GH¢303,960 ($157,300.00) per head for a six-year period.
In general the taxpayer in Ghana pays over $15,000.00 to educate a medical doctor at home and about $160,000 in Cuba. While in the United States, the taxpayer pays zero dollars. The students are fully responsible for their $200,000 medical school loans, which they must repay with exorbitant interest.
In addition, students in the United States can only apply to medical school after an undergraduate education, which would usually cost another $200,000 in loans at a private university (the pre-med programs of choice amongst US high schoolers).
This brings the post medical school total debt of a United States physician to about $400,000, which they are required to repay with an average of 6% interest! This will require a medical doctor to pay $2,398 a month for a 30 year repayment plan (360 payments). In sum, a medical doctor owes the United States taxpayer and government $863,500 due in monthly payments.
Any further training needed to become a medical specialist is also an additional expense in loans that a medical doctor has to consider. A specialist trained in the United States is easily in a total debt of about one million dollars ($1,000,000) before the have performed their very first surgery!
The post medical school debt of a Ghanaian physician assuming they trained in Cuba is zero! That for a home trained physician is at most $3,000 for the entire six years. Then again that's assuming they borrowed all the money to pay their part of their heavily subsidized education!
What do these numbers mean and why does a Ghanaian trained physician feel short changed in an economy that pays him $20,000 a year?
The Purchasing Power Parity (PPP) of Ghana's 2,479.5 PPP Dollars based on GDP versus the United States' 41,889.57 PPP Dollars means that a Ghanaian medical doctor's $20,000 a year salary translates into a whooping average of $337,000 annually in the United States.
PPP GDP is gross domestic product converted to international dollars using purchasing power parity rates. An international dollar has the same purchasing power over GDP as the U.S. dollar has in the United States. GDP at purchaser's prices is the sum of gross value added by all resident producers in the economy plus any product taxes and minus any subsidies not included in the value of the products. It is calculated without making deductions for depreciation of fabricated assets or for depletion and degradation of natural resources.
Compared to the United Sates Association of American Medical Colleges numbers on physician salaries, $220,196 per year, Ghanaian doctors are making quite simply a titan sum especially at the back of paying close to nothing for their education.
Essentially they are fat cows walking around with every trimming of the taxpayer at their behest. They are educated and paid by the taxpayer.
But, these Ghanaian doctors cannot seem to understand their responsibility to society – the social responsibility needed in this equation is missing. Some run away with the expensive education to the United States in the name of better working conditions at the sheer cost and detriment of the Ghanaian taxpayer!
Is that not unfair?
If there was any sense of morality left in these greedy medical doctors, they would apologize to the average Ghanaian for causing so much pain with their ungodly random strikes and disrespect for the hand that made them and continues to feed them.
Perhaps it is time for medical students to pay in full for their education. The taxpayer will be happy to loan them the money with 6% interest. Only then can they ask the government for higher and higher salaries.
Only then! But as it stands, they are greedy, inglorious and ungrateful.