ATLANTA, GA, U.S.A – With all of the white-on-Black brutality going around, U.S. television shows with Black talent behind-the-scenes are increasingly finding it difficult to stay mum on racial issues.
Lee Daniels and Danny Strong's Empire has hooked viewers around the globe with its rapid pacing, meandering plot twists, thumping hip hop beats, and catchy melodies. Empire has also stepped up to mic to speak on racism, and racial violence facing millions of Black people in America.
The wildly popular hip-hop melodrama Empire opened its second season with a rally against mass incarceration. Hip-hop producer Swizz Beatz opened the episode with the question: "Did you know there are 1.68 million Black men being held under mass incarceration in America's prison system today, right now?"
In the episode, record mogul Lucious Lyon (Terrence Howard) is in jail being held on a murder charge. His sons and ex-wife Cookie (Taraji P. Henson) host a #FreeLucious concert that demands a bold stand against mass incarceration.
In one scene, Cookie appears in an iron cage, her face firm with a conviction that rivals that of activist Angela Davis. Civil Rights era posters of protest signage and marches plaster the background. There is a tinge of deja vu in the air. We have done this before, though still locked in the cage, we must muster the courage to fight again–this time with victory as the only option.
One could say that Empire is subtly calling out other Black people who have a platform to similarly take a bold stand against the inhumane U.S. criminal justice system. Surely many rappers have had their lives personally effected by the prison system. And many Black performers have given free concerts in support of the Black Lives Matter movements.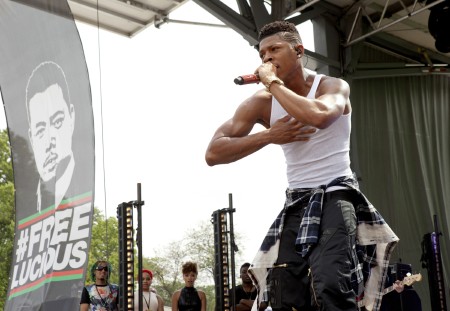 Make no mistake, Empire does not have an ambiguous take on the social justice movement. The show is abundantly clear that the criminal justice system has produced nothing but injustice. It is a reprehensible system that has no place in civil society, only in a nation run by barbarians.
The #FreeLucious poster embodies the bold colors–green, red, and black–of the African liberation movement. The background of the poster is a solid black, also reminiscent of the Black Power movement and African independence period of the 1960s. Next to the poster, Hakeem (Bryshere Gray) raps with a plaid shirt tied around his waist, an image that is similar to the style of dress of 1990s rappers, whose lyrics were also tied to political struggles.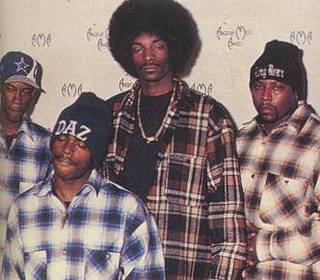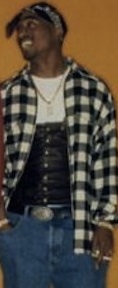 Those who side with the dominant narrative of racism and against Black Lives have no place in the movement for social justice. In the episode, Cookie and Porsha (Ta'Rhonda Jones) snubbed the Black mainstream media, represented by CNN's Don Lemon and MSNBC's Al Sharpton, whose points of view often more strongly reflect those of their parent network than of the Black community.
Hakeem (Bryshere Gray), though in his youthful naivety, tells his mother Cookie, "We should be performing for the brothers and sisters that are innocent." (And not in the name of his father who actually did commit the crime.)
But for every Black man in prison who committed a violent crime, there are thousands more who are in jail or prison for a nonviolent offense, and others who are behind bars for absolutely no law enforcement reason. In no way does the culpability of one person negate the inhumanity of incarcerating 1.68 million people and affecting millions more families. The criminal injustice system must reform and rid itself of racism if the U.S. should ever join Africa in the civilized world of sensible human beings.
The first season of Empire had other memorable political moments. In one unforgettable moment, Hakeem made an impromptu video where he said that white people only voted for Barack Obama to cleanse their inner racism. He ended the video rant saying that "Barack Obama is a sell out." Unlike most shows on network television, Empire is clearly no stranger to provocative perspectives on race.
The second season opener, therefore, continued on this trend of putting race in the conversation. Empire and social justice television make it possible that these stories are told in American popular culture so that African American history is not forgotten.