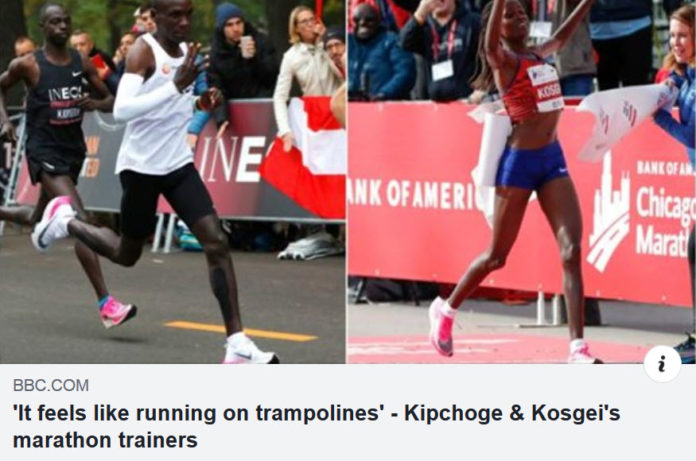 As for the British, they are the integral part of the witchcraft of Anti-Blackness. The British taught the Americans how to be racist, proper. And the British are still better at it! When Africans beat Caucasian British Records in track, it must be due to the SHOE they wore! (According to, at least, the BBC.)
Take for instance Kenya's Brigid Kosgei who eclipsed the 16-year-old women's marathon world record held by Britain's Paula Radcliffe.
The 25-year-old Kosgei recorded a time of two hours 14 minutes 04 seconds, easily inside Radcliffe's mark of 2:15:25 set at the London Marathon in 2003. It added to the Kenyan's win in London this year when she clocked 2:18:20 and became the youngest winner of the race.
How did she beat the Caucasian woman's record? That's really what the British are asking? How can a Black woman beat a white woman? The answer. The new FLYING-SHOES!
The British claim that the shoes "feel like running on trampolines." And what is the "science" behind the shoe? The claim is that the Nike Vaporfly has a carbon-fibre plate fitted in its chunky foam sole which supposedly (key word: supposedly) helps propel runners forward.
Dr Thomas Allen – senior lecturer in sports engineering at Manchester Metropolitan University – told the BBC Sport: "You can't radically change a shoe, but reducing the mass of it might give you a 1% gain. Again, the key word here is "might". However Dr. Allen continues: "Adding more cushioning to the midsole might give you another 1% gain. And if you introduce a stiff plate to the midsole, does that give you another 1% gain? The idea behind those is running efficiency improves."
Put another way, you add the five conjectures of Dr. Allen: (1) supposedly, (2) might, (3) might, (4) question mark (?) and (5) the idea, and you have what we know, for sure, passes for British scientific accomplishment in improving running efficiency! How laughable!
You see, even if you want to believe in the mythology of flying-shoes by following British Science, you need no introduction to also become fully aware of other actual facts: (1) That 16 years ago Paula Radcliffe would have used all kinds of drugs during training and at the time of the marathon that many athletes today (like Kosgei) are banned from using! And finally (2) that the previous point is besides all the drugs, or pharmaceuticals that we know, for sure, that western athletes still use without any African oversight!
But, you know what, lets concentrate on the mythology of the flying-shoes since it is there that the British performance of the witchcraft of Anti-Blackness shines brightest!