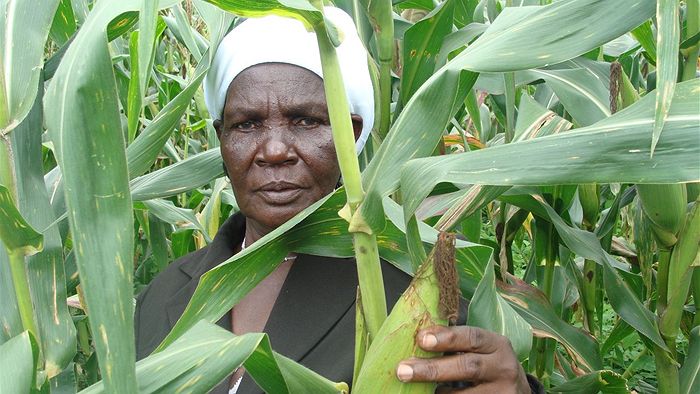 The 23rd Ordinary Summit of the African Union has opened in Malabo, Equatorial Guinea, with 44 African Heads of State (AHOS) in attendance. They have been beckoned to remain resolute in pushing The African Agenda (TAA) in the face of mounting US, EU, and Chinese influence.
Though the summit opened under the theme – Agriculture and Food Security – there was first, wide condemnation of Boko Haram in Nigeria, while peace efforts in Mali, Guinea Bissau and Egypt were extolled.
On the topic of TAA and Food Security on the continent, AHOS seems to harbor some good intentions. There has been much talk, much consideration, and even much thumping of chest about making the continent food secure. But not much progress has been made in the last decade.
Africa still commands 70 percent of the world's share of uncultivated arable land; and though the AU is hopeful about making this an integral part of the wider AU market economy, it has failed to map out any feasible strategy to bringing the various African states to a common agenda.
So far, it has been just talk.
Further, the policy inconsistencies within a few countries pose a real threat to TAA and African Food Security.
More notable is Ghana's John Mahama. The better part of the year was spent by this Head of State influencing policy making in support of Genetically Modified Foods (GMOs) in a country that has long boasted of its subsistence farming, seed security and consequently, food security. Some well-known, though lazy, Ghanaian scientists have come to support Mr Mahama and his seeming love for America's Monsanto seeds.
What is not clear is whether Mr Mahama and his government comprehend the underpinning of Monsanto's Agenda – an agenda to rid the continent of her natural seeds, her seed security, and replace them with patented non-reproducing seeds to farmers.
What is not clear is whether Mr Mahama understands that by supporting GMOs, and Monsanto, and all the foreign Chemical Companies droning around the continent, he exposes not only Ghana's Food Security to a great risk, but the whole continent's seeds to a greater irreversible security issue and an economic threat never before fathomed.
What is further stupefying is the gross confusion with TAA that Mr Mahama's government continues to show. In addition, he, his scientists, and his often clueless government continue to show that they lack a basic understanding of the biology, the economics, and the geopolitics of patented seeds that can only be sold and only reproduced by foreign companies.
How is that for an African Food Security? How is that for an African Seed Security?
It is only prudent that African Heads of State do not lose site of the fact that an African Food Security is based not entirely on her 70 percent uncultivated arable land, but even more important, on the Seed Security of the continent. Without controlling our lands, our seeds, our waters and our roads it is unclear how the AU and AHOS intend to reach the TAA goal of African Food Security.
In several dialogues on what should be done to modernize or mechanize Agriculture to make it attractive to the youth, AHOS demonstrated a similar lack of intelligence.
President of the AU Commission, Nkosazana Dlamini-Zuma, noted that Africa must address skills development issues in the training of "Bio scientists, Mechanics and other skills necessary for the Agro industry to thrive".
The import of her comments are terribly misleading if they do not, at the least, lack a measure of awareness and aptitude.
How exactly was African Food Sufficiency achieved before the turn of the 20th Century?
This is an important question to ask. When we have asked it, it is obvious what the answer should be. From this premise, it should not be rocket science to Ms Dlamini-Zuma, how Africa can achieve Food Security without 'Bio Scientists', without 'Engineers', and without 'Mechanics'.
Alas, to what end? Farming, mechanics and engineering may have something in common, but the occupation still remains farming. The desire to train Bio Scientists for agriculture is the same mentality employed in hiring a nuclear scientist to teach a toddler how to read the alphabet.
The claim that Bio Scientists, in any hue, are important for farming is a ridiculous ideology, the least of which is a show of the vestiges of colonization in mentality. Why not throw in priests, teachers, blacksmiths, goldsmiths, nurses, doctors, computer scientists, nano-engineers, and soon the whole plan, or lack of a plan, for reaching African Food Security becomes obtuse and unattainable.
The invitation of a special guest to the summit, President of Spain, Moriano Rajoy Brey, and the UN Secretary General, Ban Ki-Moon, has not helped the image of the summit nor of the AU. Spain is a failed European state, with almost 50 percent unemployment, and on the verge of bankruptcy. How is that not for a special genuflecting to an irrelevant white man at an African summit?
Talk must be focused, or it is just cheap!
The African Talk on achieving food security must be backed with a concrete strategy – a strategy that the gathered 44 Heads of State can read and comprehend clearly, or it is just another meeting on the tax payers' dime.
President Obiang Nguema Mbasogo is right when he puts it quite bluntly that it is about time the African continent takes control of her development – both agricultural and economic – and desist from being constantly influenced and bribed by the monopoly of the world market, the World Bank and the IMF.
It is about time.