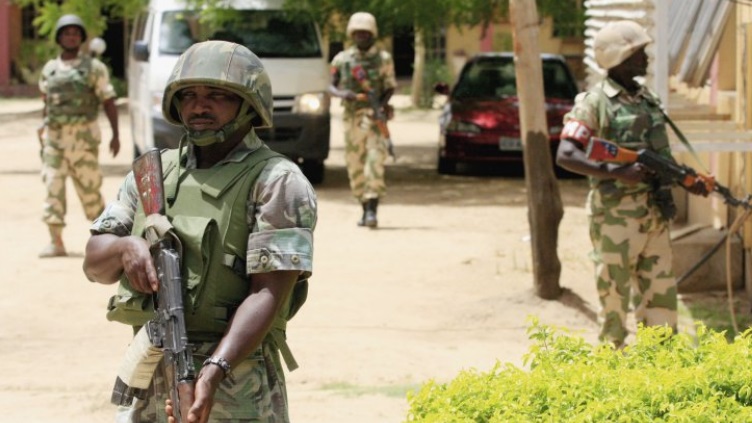 ABUJA, Nigeria — A court-martial panel on Thursday began hearing charges against 97 soldiers, including 16 officers, accused of mutiny, assault, cowardice and refusing to fight against the country's northeastern uprising by Islamic insurgents.
The mass trial comes two weeks after 12 soldiers were sentenced to death by firing squad for mutiny and attempted murder of their commander.
Troops regularly have complained that they are outgunned by insurgents of the group Boko Haram, that they are not paid in full and that they are abandoned on the battlefield without enough ammunition or food.
Endemic corruption in Nigeria means millions of dollars goes missing from the budget to fight the five-year-old Islamic uprising that has killed thousands.
Some soldiers have said that some of their colleagues collude with the insurgents, giving them weapons and information.
The Nigerian military on Thursday at the Defence Headquarters Garrison inaugurated a nine-man General Court-Martial to try 97 military personnel.
The personnel are being charged for different offences ranging from mutiny, assault and misconduct to tampering with military property.
Of the 97 soldiers, 66 have been accused of committing mutiny, a crime punishable under the military law by death sentence.
Highly placed military sources told PREMIUM TIMES that among the personnel set to face the General Court Martial include some senior officers: two colonels and some lieutenant colonels.
A list obtained by PREMIUM TIMES which contained names of 60 soldiers, said the soldiers conspired to commit mutiny triable by a General Court Martial.
The soldiers attached to the 7 Division, Nigerian Army in Maiduguri include two Corporals, Cpl, nine Lance Corporals, LCpl and 49 Private soldiers, court martialed on a two-count charge of mutiny and conspiracy to commit the offence.
The charge sheet said the soldiers conspired to commit mutiny against the authorities of the 7 Division on August 4, at the Mulai Primary School camp, opposite AIT Maiduguri, Borno State.
It also said the soldiers refused to join 111 Special Forces battalion troops led by E. A. Aladeniyi, a colonel, to the Maimalari Barracks for an operation.
"In that you at the Mulai Primary School Camp opposite AIT Maiduguri on or about 4 August 14, refused to join 111 SF Bn troops led by Col EA Aladeniyi (N/9695) to Maimalari Barracks in connection with an operation," the charge sheet read.
The charges came two weeks after a military court sentenced 12 soldiers to death for shooting at a vehicle conveying their commander in Maiduguri.
The sentences await the approval of the army chief.
Five other soldiers were discharged and acquitted while one was sentenced to 28 years jail term with hard labour.
The soldiers were also accused of insurrection and firing at the utility vehicle of their general officer commanding, GOC of the same 7 Division, Ahmadu Mohammed.
Many Nigerians have condemned the death sentences and have demanded they be suspended.
A previous statement by the Army spokesperson, Olajide Laleye, said Thursday's court martial was in line with efforts by the army to clear all cases relating to violation of the Armed Forces Act.
Mr. Laleye, a brigadier general, said the general court martial would try officers over ongoing military operations in the northeast Nigeria.
Below is a list of 60 of the 97 soldiers facing mutiny and other charges.
1. Cpl Andrew Ogolekwu
2. Cpl Saturday Efa
3. LCpl Henry Shuaibu
4. LCpl James Maifada
5. LCpl Ndubuisi Sabestine
6. LCpl Dauda Dalhatu
7. LCpl Kasega Aoso
8. LCpl Mallam Jacob
9. LCpl Nwonu Friday
10. LCpl Joshua Friday
11. LCpl Anthony Simeon
12. Pte Olayode Oluwasegun
13. Pte Tijjani Jimoh
14. Pte Kabiru Abubakar
15. Pte Mamuda Sywasan
16. Pte James Emmanuel
17. Pte Mukaila Musa
18. Pte Magaji Ahmadu
19. Pte Amao Bukola
20. Pte Wuyep John
21. Pte Oti Kelvin
22. Pte Ameh Mathew
23. Pte Olaitan Joseph
24. Pte Kulukulu Endurance
25. Pte Usman Isaac
26. Pte Ocheje Williams
27. Pte Adila Dangana
28. Pte Sudan Hannania
29. Pte Sunday Godwin
30. Pte Datti Hassan
31. Pte Abubakar Garba
32. Pte Joseph Dauda
33. Pte Chiemela Azubuike
34. Pte Abubakar Mohammed
35. Pte Anagu Mark
36. Pte Danbaba Francis
37. Pte Oton Asuabiat
38. Pte Nwachukwu Udo
39. Pte Ibrahim Saliu
40. Pte Abafe Sylvester
41. Pte Eze Isaac
42. Pte Abubakar Mohammed
43. Pte Samuel Michael
44. Pte Ishaya Musa
45. Pte Ogai Douglas
46. Pte Atim Peter
47. Pte Hemas Okpe
48. Pte Ahunaya Temple
49. Pte Eyaknse Uwah
50. Pte Ilesanmi S.
51. Pte Solomon Ishaku
52. Pte Nasiru Zubairu
53. Pte Audu Daniel
54. Pte Buaz Lucky
55. Pte Muhammed Abubakar
56. Pte Anas Awalu
57. Pte Babangida Jamilu
58. Pte Hashimu Ibrahim
59. Pte Mohammed Suleiman
60. Pte Shehu Sa'adu
EDITOR'S NOTE: This post has been updated to reflect the new information at our disposal that the number of soldiers facing the Court Martial are actually 97 and not 60 as earlier reported.