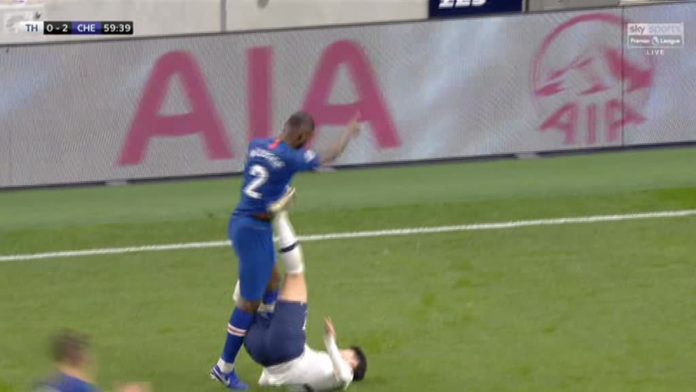 SOCCER, England – Tottenham Football Club (England) should get ready to sack their coach, Jose Mourinho. The man has simply lost it. He has no decency. I am not sure if he had any character before, but he simply doesn't have the character to lead an elite football club in the twenty-first century.
After Mourinho's favorite player of all time, a Korean star, who Mourinho affectionately calls "Sonaldo" (after the great Brazilian striker, Ronaldo) was shown a straight red—in a match against Chelsea—for digging out Rudiger's ribs with soccer studs as giant and as fatal as a dagger, Mourinho was asked what he thought of the incident.
This is what he had so say: "I am speaking about that incident, the red card…. In the Premier League I love there is no space also for what Rudiger did. Stand up and play man. This is the Premier League."
(This is also after Rudiger had been racially abused by a fan right after the red card was shown to Son. There's no doubt that the English love the Koreans more than they care about Black Germans. Because to the typical racialized European, Black is evil, European or not.)
It is also in this light that Mourinho's statement must be examined. What at all did Rudiger do? To even imply that Rudiger, whose ribs, diaphragm, internal and external oblique muscles, intercostal muscles and lungs could have been ripped out of his chest by Son and his barbaric act—to imply that the victim of Son's barbarism is also at fault is not only notoriously stupid, but racial.
Reverse the act. Imagine it was Rudiger's boots in Son's chest? (Of course, a civilized person like Rudiger would never in a million years do that to anyone), but imagine that for a thought experiment nonetheless. Do you think the same Mourinho would be questioning his bedfellow, that is, his favorite Korean star's integrity?
Even more nonsense is made clear when one continues to examine Mourinho's statement. What exactly is the premier league? Is it a Mixed Martial Arts Soccer parade? I doubt the English would brand their league as such. Even if that was the case, what makes Mourinho think that Son would have a smelly chance against Rudiger in an MMA soccer? The idea that "This is the Premier League" neither helps Mourinho's argument or does it clarify his state of mind.
Of course, when Frank Lampard, Chelsea's new coach, who once played under the cantankerous Mourinho at the same Chelsea, was asked what he thought about Mourinho's stupidity, he did not mince any words to make clear Mourinho's pharisaism, un-sportsmanlike behavior and complete disrespect for the English game.
This is what Lampard had to say: "With Toni, in this incident when he's having to post after the game about something we know is a huge deal [racism], I think to question his integrity in that time is disappointing for sure… Pretty universally, certainly what I heard in the commentary and the post-match reflection was that the Son incident was a red card… It wasn't brutal but it was instinctive that warrants a red card in the modern day. It was pretty clear that was the case. I wouldn't question Toni's integrity on that."
Although Lampard questions Mourinho's stupidity, it is still difficult to digest his comment about the brutality of Son's action. Either Lampard himself was attempting to dance about the subject of a man stamping his cleats into another man's rib cage or not, is another matter. Lampard should also be ashamed of himself. "It wasn't brutal?" How is stamping your cleats into another man's rib cage not brutal?
Suffice it to say that Lampard's statement is a clear rebuttal of Jose Mourinho. Which all go to show that Mourinho in particular has lost it. He was outclassed by a former player turned coach in a game that an average coach with the squad at Tottenham would have done better. Much better. For instance, Frank Lampard—who played alongside the maestro and controller general of midfields, Michael Essien—had the balls to drop America's superhero, Pulisic, to the bench in order to win a game against a Mourinho who lacked the balls to drop Richard Dier, Mourinho's favorite English player, when everything about modern soccer showed that Dier is all but a soccer player. Dier is refrigerator in any midfield. He can't move and he can't kick.
Obviously, Lampard completely outclassed Mourinho on the pitch and off the pitch. Tottenham Hotspurs F.C. have no choice but to sack such a man as Mourinho sooner than later, else, he would bring sourness, disrespect and dishonor not only to English football in general but to Tottenham football in particular. I am not sure if the man Mourinho had any character before, but he simply doesn't have the character to lead an elite football club in the twenty-first century.